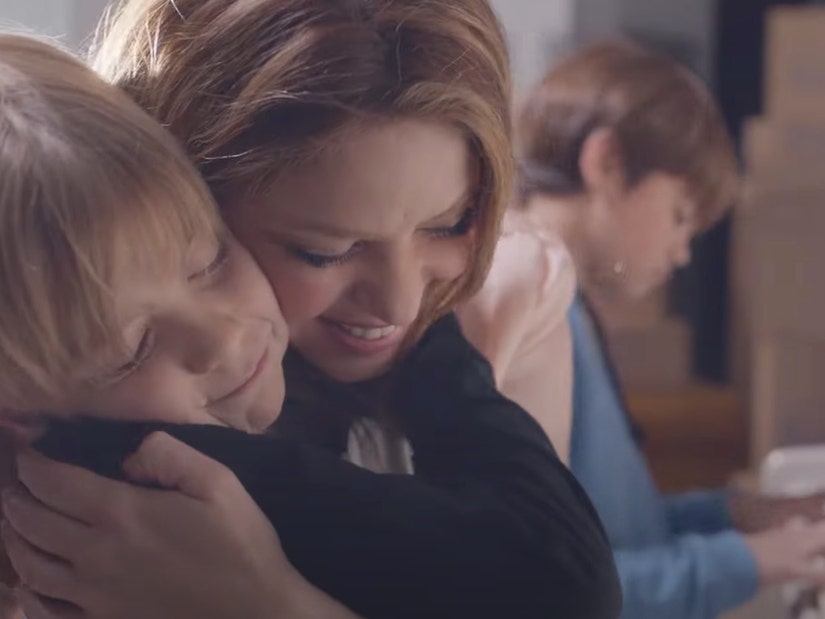 YouTube
The song alludes to her heartache following a bitter split, while the video shows her packing up the family's things following their real-life move out of Barcelona.
Shakira recruited two adorable costars for her new music video: her sons, Sasha, 8, and Milan, 10.
The two kids appear alongside their mom at the piano -- singing and playing as well -- in the just-released video for "Acróstico," a new ballad about moving on after heartbreak. While the song comes after the singer's real-life split from the father of her two boys, Gerard Pique, it's more about how her children have helped her through the tough time and less about the breakup itself.
The roughly-translated lyrics have Shakira singing about how her boys "taught me that love isn't a scam and that when it's real it doesn't end." She also sings about how she doesn't want them to see her cry or see her "fragility" as they embark on a new chapter of their lives.
"Although life treated me this way, I'm going to be strong just for you," she also says.
The boys, meanwhile, sing about how her love soothes their own pain, as they promoise they'll be there for her whenever she needs it most.
The accompanying visuals for the song also show her packing up all the kids' things into boxes, as they move out of their home. This comes after Shakira and the boys moved out of their home in Barcelona to relocate in Miami; the move happened 10 months after she and her soccer star ex announced they were separating.
Waiting for your permission to load the Instagram Media.
"I settled in Barcelona to give my children stability, the same that we are now looking for in another corner of the world next to family, friends and the sea," the Grammy winner shared on Instagram, via translation, last month. "Today we start a new chapter in the pursuit of their happiness."
She continued, reflecting on her time in the country, "Thanks to everyone who surfed so many waves with me there in Barcelona, ​​the city where I learned that friendship is undoubtedly longer than love. Thank you to everyone who has been there to cheer me up, dried my tears, inspired me and made me grow."
"Thanks to my Spanish audience who have always wrapped me in their love and loyalty," she concluded.
The 46-year-old singer is reportedly moving to Miami, after hashing out a custody agreement with Pique last year. According to TMZ, a source close to the former couple said the pair "signed an agreement that is best for the kids -- which is their main focus and after 8 years of living in Barcelona -- her and the kids will now move back to her longtime home of Miami, where all the maternal family is."