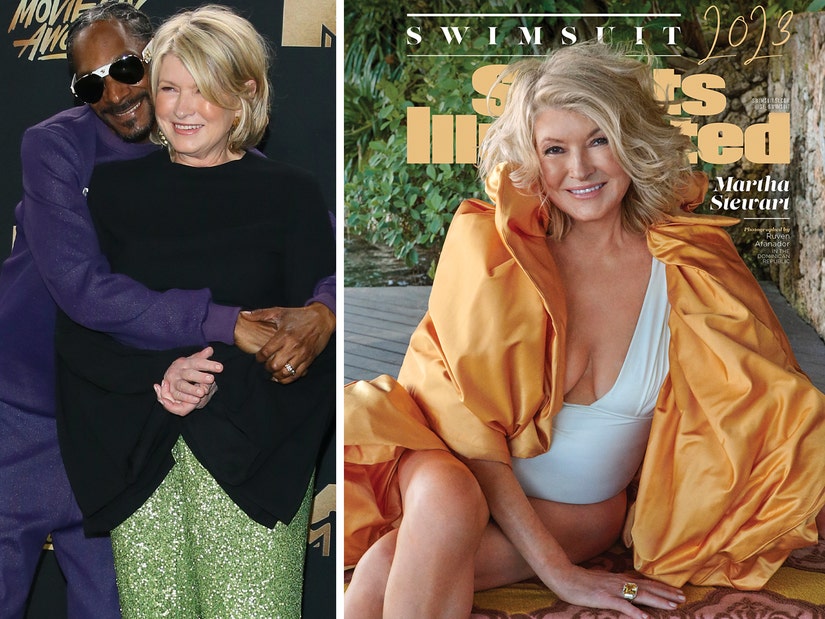 Getty
The lifestyle icon revealed she bonded with the rapper via inhaling his "secondhand smoke" and Justin Bieber
In a video interview for her historic Sports Illustrated Swimsuit cover, the 81-year-old lifestyle icon revealed that she first met the rapper when he appeared on her eponymous cooking show. However, her viral friendship with Snoop didn't begin until they both performed at Justin Bieber's comedy central roast.
"Well, Snoop came on my show, and what was really charming about Snoop, first of all, was his giggle. He giggles in a very, very nice way," Stewart recalled. "And his quest for learning! He is a real student, and that's what really appealed to me."
When the pair were seated next to each other at Bieber's roast, the media mogul recalled how the "California Love" artist smoked weed during rehearsals.
"All he did was smoke, and everybody was in such a good mood and we were all roasting each other," she said, which allowed her to relax and remove some pressure from her upcoming performance.
Martha continued, "And luckily, Snoop's secondhand smoke really kind of eased the pain for me a lot, and it was hysterical because I just felt, 'Okay! I'll go with the flow here.' After like six billion views around the world, it turned out to be one of the best things—and it cemented my relationship with Snoop."
Their friendship has been history ever since. Following the roast, Snoop went on to appear on "The Martha Stewart" show multiple times and the two have co-hosted VH1's celebrity cooking show "Martha & Snoop's Potluck Dinner Party" and "Snoop and Martha's Very Tasty Halloween."
The duo have even co-hosted various Puppy Bowl competitions and have appeared in Super Bowl commercials.
Stewart made history as the oldest cover model for the 2023 Sports Illustrated Swimsuit Issue. Though she doesn't "think about age very much," the business woman revealed she was motivated by showing the world that people her age can still grace the cover of any magazine.
"When I heard that I was going to be on the cover of Sports Illustrated Swimsuit, I thought, 'Oh, that's pretty good, I'm gonna be the oldest person I think ever on a cover of Sports Illustrated,'" she said elsewhere in her interview. "I don't think about age very much, but I thought that this is kind of historic and that I better look really good."
"I was motivated by showing people a woman my age can still look good, feel good, be good, blah blah blah," Stewart added. "I want other women to feel that they could also be on the cover of Sports Illustrated Swimsuit Issue."
"Age is not the determining factor in terms of friendship or in terms of success, but what people do, how people think, how people act, that's what's important and not your age," she said.
As for what her longtime buddy Snoop will think of the photos? "Snoop is gonna just think it is fantastic!"