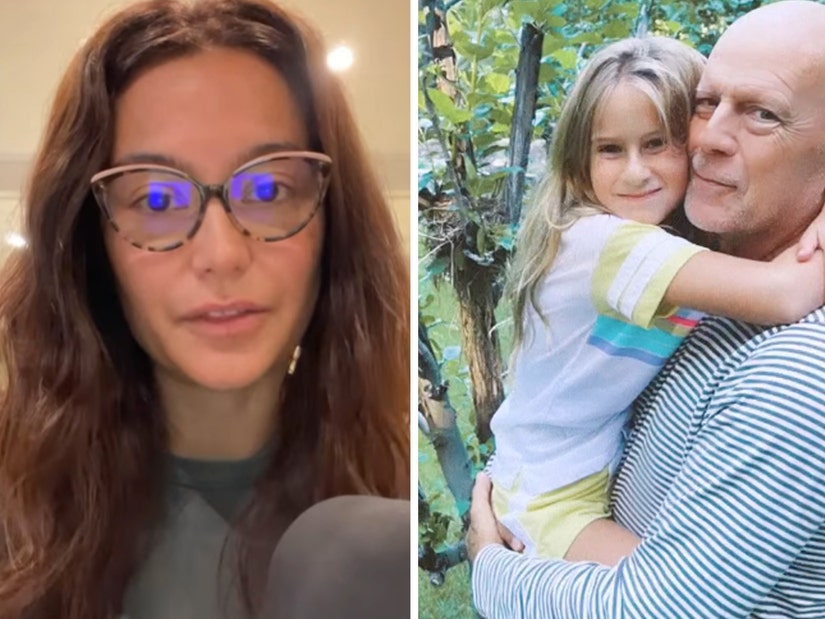 Instagram
"When Evelyn told me this story I was an absolute puddle," said Bruce's wife Emma, while his daughter Scout reacted with tears.
Even Bruce Willis' 9-year-old daughter Evelyn is doing her part to help out the family amid the actor's ongoing battle with dementia.
On Monday, the "Sixth Sense" star's wife Emma Heming Willis took to Instagram to share a story about the pair's youngest daughter that brought her to tears when she first heard it straight from the child's mouth.
"So I have to tell you this story and I'm going to try to do it without crying, because when Evelyn told me this story I was an absolute puddle," Willis explained in the video. "So Evelyn says to me the other day, 'Did you know that people with dementia can become severely dehydrated?' I said, 'I didn't know that, but how do you know that?' She says, 'I was at school the other day and I had some free time and I was looking up fun facts about dementia.'"
Waiting for your permission to load the Instagram Media.
"Now, that's not funny, but it's kind of funny and she really is her father's child because these two love some random facts," Emma continued. "So I said to her, I said, 'Okay, Evelyn, we will always make sure daddy has a bottle of water in hand, thank you for letting me know.' I said, 'That is the most loving and compassionate thing you can do, is to be curious and educate yourself on your dad's disease.'"
While Willis was initially diagnosed with aphasia in March 2022, his family revealed in February 2023 that he had since been diagnosed with frontotemporal dementia -- a condition they called a "cruel disease" with no treatments.
"It really is one of the most loving and compassionate things we can do as caregivers, friends, family, is so educate ourselves about our loved ones disease so we can best show up for them and support them in the best way possible," Emma continued in her video, reiterating advice she previously received from Speech Language Pathologist and Certified Dementia Practitioner Adria Thompson.
"So keep educating yourself, stay curious and remember to hydrate your loved ones," Emma concluded.
Scout Willis, one of Bruce's daughters with ex-wife Demi Moore, reacted to the video in the comments -- writing, "Omg Evelyn!!!!!!! 😭that story made me a puddle of tenderness!"
Jillian Barberie also added, "Now I'm in a puddle. What a beautiful child. My heart. ❤️❤️❤️ you're a pretty incredible woman. God bless you and your family Emma."
Evelyn is one of Willis' two daughters with Emma; the pair also share 11-year-old daughter Mabel. Bruce and Moore also share daughters Scout, 31, Rumer, 34, and Talullah, 29.