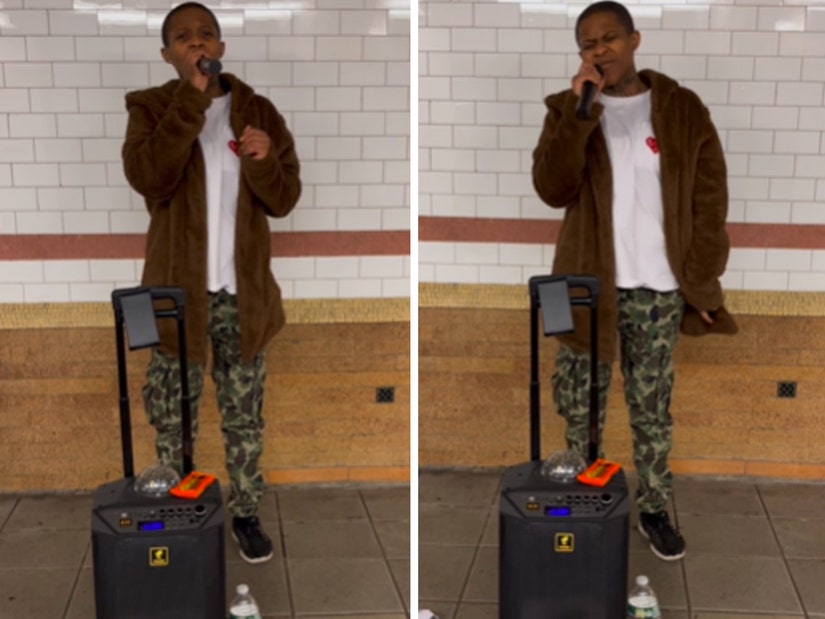 Instagram
"I don't like my situation, but it won't be this forever," she wrote in a since-deleted Instagram post detailing how "super embarrassed" she was to be "going back to the trains."
Samantha "Just Sam" Diaz has returned to performing in New York City subways for money, three years after winning Season 18 of "American Idol."
The singer's amazing voice and sentimental story, which included her busking past, propelled her to beat out Arthur Gunn back in the show's May 2020 finale. But it wasn't long until she was back to where she started, singing for commuters underground in NYC.
In a since-deleted caption for a video of her singing Ariana Grande's "Almost Is Never Enough," the 24-year-old opened up about her post-"Idol" experience and explained why she returned to her former source of income shortly after her win. On her season, the contestants were forced to compete virtually starting mid-season, amid the Covid pandemic.
Waiting for your permission to load the Instagram Media.
"Back in 2021, I was super embarrassed to be going back to the trains. I didn't want people to know that I legit needed the money & I didn't want people to know that it wasn't optional," she explained (via The Sun). "I was disappointed in myself for allowing myself to fall so low after winning 'Idol,' but then I had to take it easy on me and remember that I started my journey with 'Idol' at 20 years old. Not even knowing anything about Hollywood or the music industry."
"Since then, I have learned so much and I've been able to take my experiences and share them with other artists in hopes that they don't experience the same things that I did when it comes to making it in this life," Diaz continued. "Everyone wants to know what happened and why this or why that & I will answer those questions someday, but in the meantime I'll say this, I never expected to win, but I did, I was so grateful and I know that people are feeling like I let them down."
While she said she "used to feel like I was letting myself and everyone down too," she now is confident "there's more coming for me." She added, "I know that everything happens for a reason and I know that this too shall pass no matter what things may look like right now."
Diaz also claimed that "we had absolutely no help" after her win, saying she "didn't know what to do" with the honor at the time.
Waiting for your permission to load the Instagram Media.
"There are people who have had more success than me and good for them I'm happy for them, but I am not them," she concluded. "I don't like my situation, but it won't be this forever."
Though she was signed to Hollywood Records after her 2020 win, they parted ways shortly after, without ever releasing an album. In 2022, she said she could no longer "afford to release music" on her own because "mixing and mastering music costs a lot of money."
"I invested in myself and ended up broke. That's the truth. Not broke, broke – like I'm living. I have my own place," she added, but said she had couldn't "put music before rent."
"I'm not even going to tell you guys the amount of money that I had to pay after leaving the label to claim songs that I had already recorded," she added. "I tried, I really genuinely did try to pay off my music, the way that the label suggested after we parted ways. I tried their way and it did not work. I'm doing it God's way. I'm trusting the process."