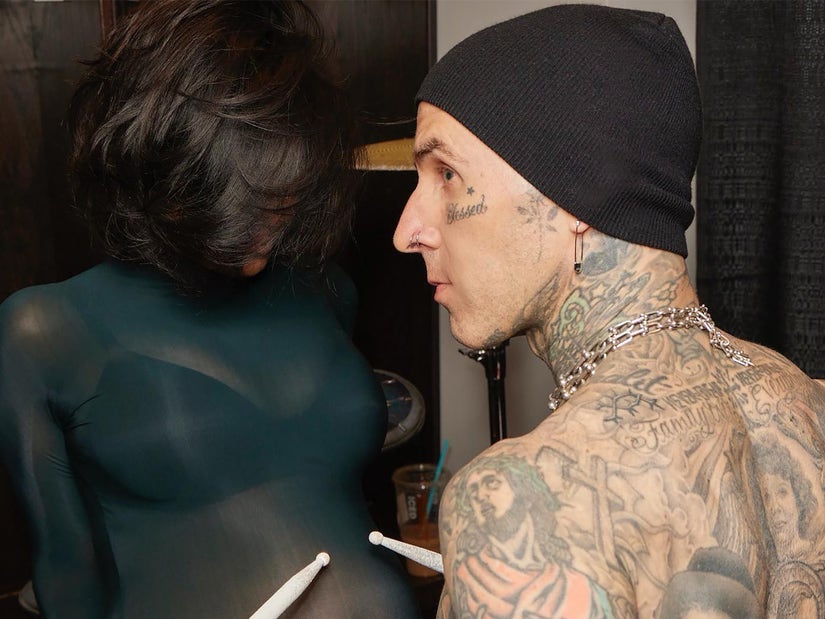 Instagram
Kourtney Kardashian and Travis Barker announced they were expecting with a cute video reveal of her in the audience of a Blink-182 concert holding up a sign reading, "Travis I'm Pregnant."
It certainly seems less likely that Kourtney Kardashian, 44, was revealing her pregnancy to Travis Barker, 47, with that video announcement they shared of her holding up a sign as he performed on-stage.
That video was posted on Saturday, followed one day later by the first pics of Kourtney's visible baby bump -- just in time for Father's Day. In a carousel of images shared to her Instagram page, the Poosh founder and Blink-182 drummer are all smiles.
Waiting for your permission to load the Instagram Media.
The pics seem to be taken around the same time as the video, as Kourtney is sporting the same semi-sheer bodysuit and in one of them, she appears to be working on the sign. Others feature Travis kissing her bump and even appearing to drum on it.
Her bump is also clearly visible in the actual moment where she held up the sign telling Travis that she was pregnant. Unless he hadn't seen her in quite awhile, it seems unlikely he wouldn't have already known at that moment. Instead, despite his apparent shock in the original video, this was likely a staged moment for the public.
Travis' ex-wife Shanna Moakler seemed to confirm that idea in a since-deleted comment after the video was posted. When asked her thoughts on the baby, she expressed that she was happy for her ex-husband and his new wife, but she also noted, per TMZ, "I've known for weeks. This is not new news to me."
That comment was quickly deleted, but Kourtney made it just as obvious herself -- or seemingly so -- with this new batch of photos spotlighting a pretty clear baby bump.
Regardless, this marks the seventh addition to her and Travis' large shared family. Kourtney shares three with Scott Disick -- Mason, 13, Penelope, 10, and Reign, 8 -- while Travis shares Landon, 19, and Alabama, 17, with Shanna, as well as stepdaughter Atiana, 24.
Alabama was among those chiming in with congratulations for the parents-to-be. She, quite simply, commented, "Baby #7." Kylie dropped into the comments, too, with nothing but love: "😍😍😍😍😍😍😍😍😍😍"
Kim and Khloe, as well as momager Kris Jenner, all shared Kourtney's video to their IG Stories, with Kim adding, "Congrats!!! We're having a Kravis baby!!!" and Khloe captioning it, "Congratulations my cuties!!! My baby is having a baby!!!!!!!! I love you and baby soooooo much"
Waiting for your permission to load the Instagram Media.
On Friday night, Kourtney announced that she and Travis were expecting their first child together. While watching Travis' band, Blink-182 in concert, the Poosh founder held up a white sign that read: "Travis I'm Pregnant."
Kourtney smiled and jumped in excitement as she revealed the news while the crowd cheered. After Travis saw the sign, the drummer came off stage and ran to Kourtney. The couple embraced and shared a kiss.
For those who don't know, the creative way Kourtney announced her pregnancy was actually an homage to the music video for the Blink-182 hit, "All The Small Things."
You can check out all the details of the big announcement, as well as more behind-the-scenes moments, right here.