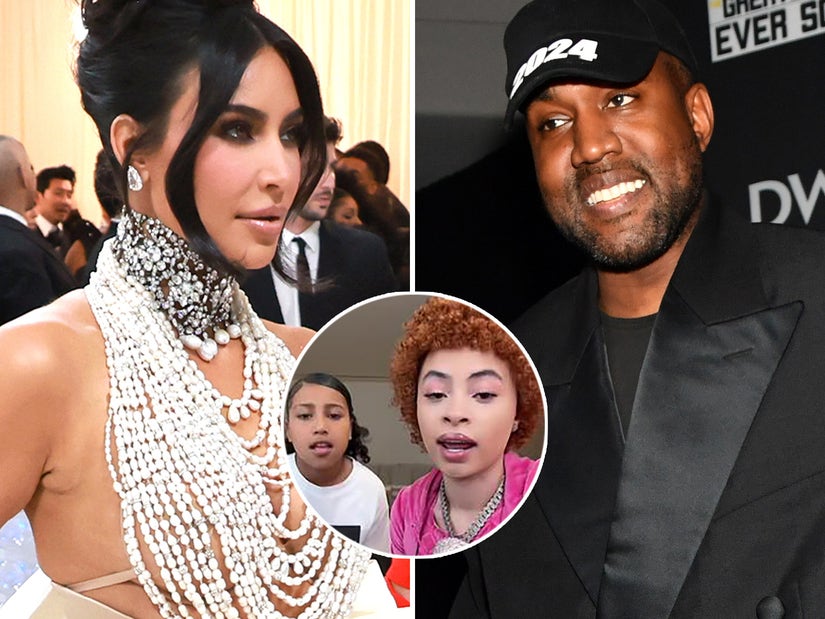 Getty/TikTok
Some Kardashian fans were critical of a TikTok posted with 10-year-old North West lip-syncing explicit lyrics from Ice Spice -- Kim took down the video and clarifies her stance on North and TikTok after Kanye West said he was against it.
Kim Kardashian has admitted that Kanye West was "right" when it comes to a TikTok of North West that she ultimately took down. So where does that leave the 10 year old on the platform?
In a new interview with TIME, Kim acknowledged the backlash after North posted a clip of her lip syncing to an explicit track with Ice Spice; it was the latter's collaboration with PinkPantheress "Boy's a liar, Pt. 2." that caught everyone's attention.
"As soon as I saw the words, I was like, 'Oh no, we're taking this down,'" Kim told the magazine. When she did so, she said she could see people online saying, "'Kanye was right,' and maybe he was in that instance."
Kanye has gone on record multiple times saying he doesn't approve of North being on Tiktok. In a since-deleted post from February 2022, he wrote, "Since this is my first divorce I need to know what I should do about my daughter being put on TikTok against my will?"
It launched a war of wills between the ex-spouses, who were still embroiled in their emotionally fraught divorce, with Kim shooting back via her IG Stories that "as the parent who is the main provider and caregiver for our children, I am doing my best to protect our daughter while also allowing her to express her creativity."
"I think it's always tough when you're co-parenting and someone wants something and someone doesn't, I would say," Kim told TIME. "So I think that's the trial and error sometimes."
Now, she's conceding that there is some weight to Kanye's concerns about North's TikTok activities, but she's also standing by her own convictions that their daughter be allowed to express herself.
"She loves making slime videos and doing her little hair tutorials, and I will fight for her to be creative," Kim told the magazine. "It's always a compromise, no one is always going to agree."
In December, Kim spoke about the family's use of social media -- and it's a huge part of every generation -- on Gwyneth Paltrow's Goop podcast. She shared the compromise she and Kanye reached about their kids using the platforms.
"You know, he's not happy about that. I respect that," Kim said. "But it can only be on my phone....And it's not something where she can scroll and look at things."
Perhaps most importantly, Kim added, "We don't do comments." That's just good advice for everyone.