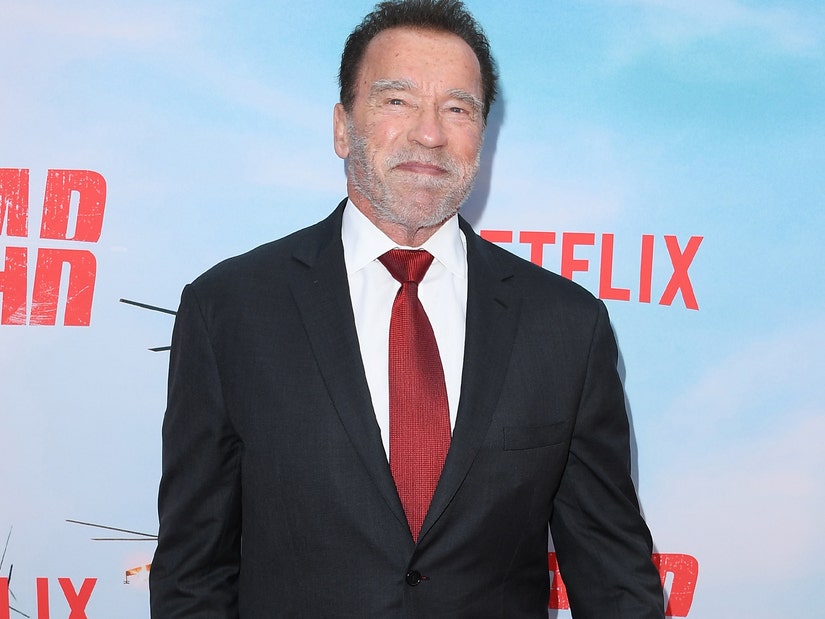 Getty
From Arnold Schwarzenegger to Clint Eastwood these celeb dads later learned they had sired surprise offspring
Life is full of surprises and sometimes those surprises can be pretty life changing. For a few famous parents, that means getting the unexpected news that their family is a little bit bigger than they thought.
Discovering that they have a child that they didn't know about can be pretty shocking but considering the circumstances, these celebs all welcomed their new family members with open arms.
Read on to find out how these stars discovered they had another child…
In 1997, Arnold Schwarzenegger had an affair with his family's housekeeper, Mildred Patricia Baena. Mildred ended up getting pregnant and giving birth to Arnold's son, Joseph. Despite the fact that Mildred worked for Arnold, he had no idea the little boy was his son. At the time, Arnold believed that Joseph's father was Mildred's then-husband.
Arnold says it wasn't until Joseph "started looking like me," that he "kind of got it" and "put things together." When he found out the truth, he says he started to financially care for Joseph and Mildred. Arnold ended up telling his wife Maria Shriver during a couple's therapy session years later, and news of the affair was not publicly revealed until he was no longer governor of California and the couple later divorced. Joseph and Arnold are now incredibly close.
"Queer Eye" star Karamo Brown didn't learn he was a dad until his son Jason was 10-years-old. While Karamo had come out as gay when he was 16, the girl he had dated the year before had actually become pregnant and didn't tell him. It was a whole decade before she reached out to him to get child support -- and Karamo ended up getting custody of his son.
"I came out at 16 years old as a proud, gay man. My last girlfriend in high school -- when I was 15 -- became pregnant with my child but did not tell me. She moved away, and I never had contact with her again," he shared, adding he was "confused, sad, angry, and weirdly excited" when he found out he was a dad.
In 2004, it was revealed that Gavin Rossdale was actually the father of his goddaughter Daisy Lowe. Growing up, Daisy believed that her father was her mother Pearl Lowe's ex Bronner Handwerger but reportedly began to question things when neither of her parents shared her O-type blood. Things eventually led to Gavin taking a paternity test and discovering he was her biological father. While their relationship started off rocky, they now share a close bond.
"The funny thing was, the moment that I found out that he could be my dad, I was like, 'Oh this makes perfect sense.' We think in the same way and we have so many quite frightening similarities. The guy who I thought was my dad, I didn't really know, and when I met him I came home and I said to my mum, 'I feel no connection with this man,'" Daisy said on the "That Gaby Roslin" podcast.
In 2013, "Jersey Shore" star Pauly D met a woman named Amanda Markert and during a one night stand, the pair conceived a baby. Pauly reportedly did not find out about the little girl until after she was born. According to Us Weekly, Amanda contacted him shortly after the baby was born and he then took steps to confirm the baby was his. Pauly is now the proud father of his nine-year-old daughter Amabella.
While Chuck Norris was married to his first wife Dianne Holchek in the early 1980s, he had an affair with a woman named Johanna. At the time, Chuck admits that he never told Johanna that he was married. Then, unbeknownst to Chuck, the affair resulted in a child -- a little girl named Dina. He didn't become aware of her existence until 1991 when she wrote him a letter, claiming to be his biological daughter.
"Johanna confirmed to Dina that I was her biological father but that I was married and had children and she shouldn't disrupt my life," Chuck wrote in "Against All Odds: My Story," later adding, "I didn't need DNA or blood tests. I went to her, wrapped my arms around her, and we both started crying. At that moment, it was as if I had known her all my life."
In 1970, David Jason had a fling with actress Jennifer Hill and it resulted in his daughter Abi. David didn't find out about her existence for over 50 years, when Abi finally reached out with suspicions he could be her father. While David admits the news was a surprise, he says he's been happy to get to know his daughter.
"To say it was a surprise to find out I had a daughter from years ago is an understatement," David told Daily Mail. "However, on settling with the news, I am delighted that I am now able to get to know Abi and so we meet up when we can. My wife, Gill, and daughter, Sophie, have been very supportive and understanding and have embraced Abi and welcomed her and her young son into her now wider family."
In 1976, Steven Tyler had a brief relationship with Bebe Buell and she ended up getting pregnant. Bebe opted not to tell Steven and after giving birth to their daughter Liv in 1977, the little girl was told her father was Todd Rundgren. By the time she was around 10, Liv had gotten the chance to meet Steven and began to have her own suspicions that he might be her father.
"Todd basically decided when I was born that I needed a father so he signed my birth certificate. He knew that there was a chance that I might not be his," Liv told Wonderland, adding that she met Steven for the first time when she was eight.
She continued, "I didn't know who Aerosmith was. And my mom said, 'Come here I want to introduce you to someone,' and I was watching Todd play and I was like, 'Ugh, I don't wanna come!' And she pointed to this guy standing at the bar and I was like, 'Is that Mick Jagger's son?' And he bought me a Shirley Temple…I fell madly in love with him. I had no idea who he was. After we met, he, Steven, started calling and we'd go see him. He was just out of rehab, so part of going through those steps is making amends by reaching out to my mom after years of being a drug addict and not ever being there."
Clint Eastwood has eight children from various relationships -- and didn't find out about all of them right away. Before he married his first wife Maggie Johnson, Clint had a fling that resulted in a pregnancy. The woman didn't tell Clint about the baby and the little girl named Laurie was put up for adoption. It was reportedly decades before Clint learned about Laurie. While he didn't publicly announce the news about his daughter, she has accompanied him to events through the years. In 2004, she attended the Oscars with Clint and his mother, and in 2018, she joined him for the premiere of "The Mule."
Dog the Bounty Hunter already had thirteen children when he found out, according to a June 2023 post, that he actually had a fourteenth kid he only recently discovered. In a twist of fate, this full-grown son's birthday falls on the day his wife Beth Chapman passed away, giving the day new meaning for him.
Waiting for your permission to load the Instagram Media.
While details are still sparse, he shared on Instagram, "For the last four years, this day was a terrible reminder of one of the greatest losses of my life. But God redeemed this day when I discovered my son Jon, who I just met recently, was born on this day."
"So now instead of sorrow, this day has a new meaning. This is my son Jon and his wife Jodi," he continued, sharing a photo of the man and his wife. He promised to share more in his upcoming, 2024 book, Nine Lives and Counting.