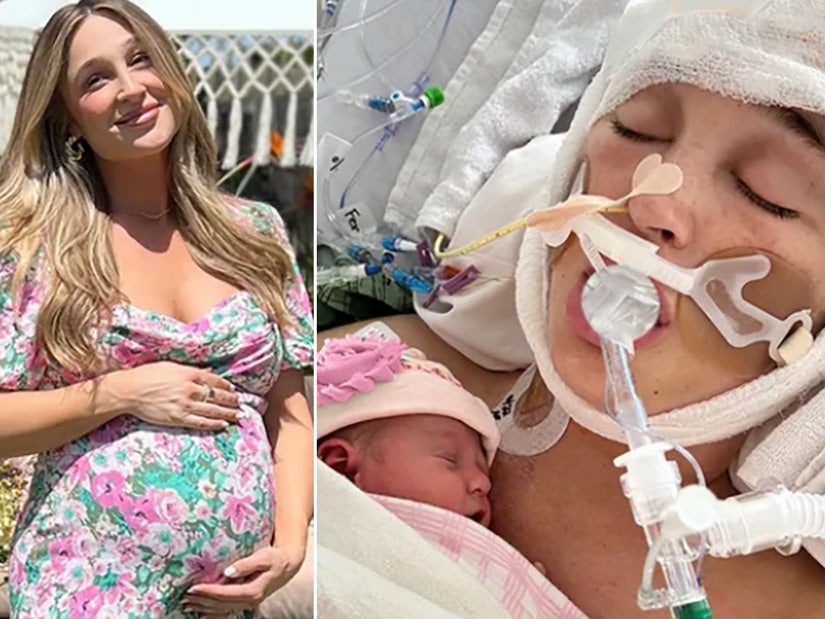 GoFundMe
Social media influencer Jackie Miller James was put into a medically-induced coma while pregnant after suffering a brain injury that subsequently led to five different brain surgeries.
Jackie Miller James is getting her life back on track after a terrifying brain injury left her in a medically-induced coma while her baby was born early by emergency c-section.
The family of the 35-year-old social media influencer shared the good news in an Instagram post on July 2, updating her fans with the news that she has awakened from the coma and is now in a neurological rehabilitation center. She and husband Austin had been chronicling her pregnancy.
At 39 weeks pregnant, James suffered a brain aneurysm rupture and collapsed in her home, per People. She was found unconscious by her husband. This led to severe bleeding and the emergency c-section.
After her daughter Knoxly Rose was born, the baby was placed in James' arms while she was in her coma before spending the next 12 days in the NICU. Afterward, Knoxly was able to go home, while James remained hospitalized.
While she was in the coma, James underwent five different brain surgeries, alongside the c-section. Now, according to the family's post, "doctors have been pleased upon her latest tests, numbers, and evaluations, noting that Jackie is performing above expectations at this stage of her recovery and is progressing more with every passing day."
Waiting for your permission to load the Instagram Media.
"While Jackie is making wonderful strides, she has an incredibly long road to recovery ahead of her," the message continued. The family has set up a GoFundMe to help cover James' ongoing medical expenses. As of Monday, the family has raised $330,000 toward their $450,000 goal.
"Jackie & Austin's baby girl is a constant source of light for the entire family and continues to grow into a happy, healthy, and animated little angel," the update from the family stated. Even better, they emphasized that James and her daughter have been reunited and that the new mom "spends a great deal of each day with her entire family while in the hospital."