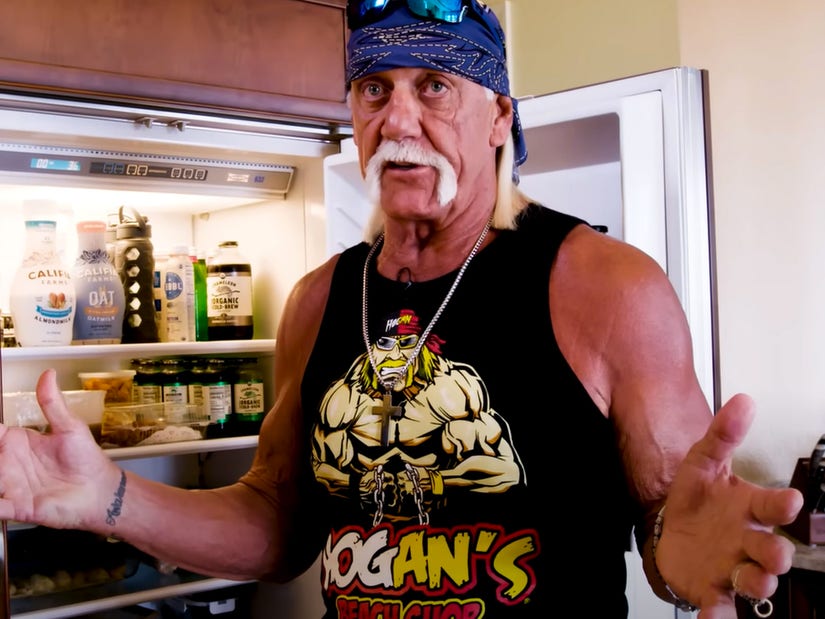 YouTube
The WWF legend says his "post-match meal was probably 12 Miller Lites" in his heyday ... as he details dozens of surgeries and his new outlook on diet and life
Hulk Hogan is getting candid about why he decided to stop drinking and his health complications that led him to lose 40 pounds.
On Men's Health's "Gym & Fridge," the wrestler discussed a variety of topics surrounding health, beginning with his pre-match diet back in the day.
"I wasn't aware, I wasn't educated as far as quality of food and how much quantity I should eat," revealed Hogan, now 69 years old. "I was just hungry all the time. The pre match meal was probably three Miller Lites and two Tylenols."
The last time I weighed 265 was in ninth grade
That was the pre match meal," he continued. "And then afterwards, the post-match meal was probably 12 Miller Lites. That's how it was."
Despite his past drinking habits, Hogan noted that he stopped drinking six months ago.
"I don't drink alcohol at all. I just don't drink, don't take Tylenols, I don't do anything besides drink really good water," he said. For those curious, he also added that he drinks Mountain Valley water in glass bottles.
Hogan shared that he gave up alcohol because he "just got tired of it."
"It got to be a way to kinda numb me a little bit because I had a bunch of crazy business problems and personal stuff going on at the time," said Hogan. "I caught myself, after I would train, getting too aggressive once again with the alcohol and I just decided to stop it."
Hogan also opened up about his weight loss journey, in which he lost forty pounds.
"About 15 years ago my body kinda shut down on me," he revealed. "I had several knee surgeries, and then after wresting 40 years almost, my body shut down on me. I went in for one back surgery and it was turned into 10 back surgeries. Both knees needed to be replaced. Both hips were replaced. A couple surgeries on my face from getting my orbital socket broken a couple times. And it ended up being 25 or 26 surgeries, or a couple more, over a 10- or 12-year period."
"So it changed the game on me. It made everything different for me," continued Hogan. "And I changed my whole lifestyle because at the time, being in so much pain and getting older and older I couldn't carry that much weight. When you are sedentary and not wrestling or moving every night, it's easy to put weight on. So, I decided to drop weight and get down to about 265. Actually, the last time I weighed 265 was in ninth grade."
Hogan also noted that he's feeling better than ever after his changes in health.
"I feel great ya know. Without and all the other extra stuff, you actually feel alive, because a little bit of pain makes you know you are alive."