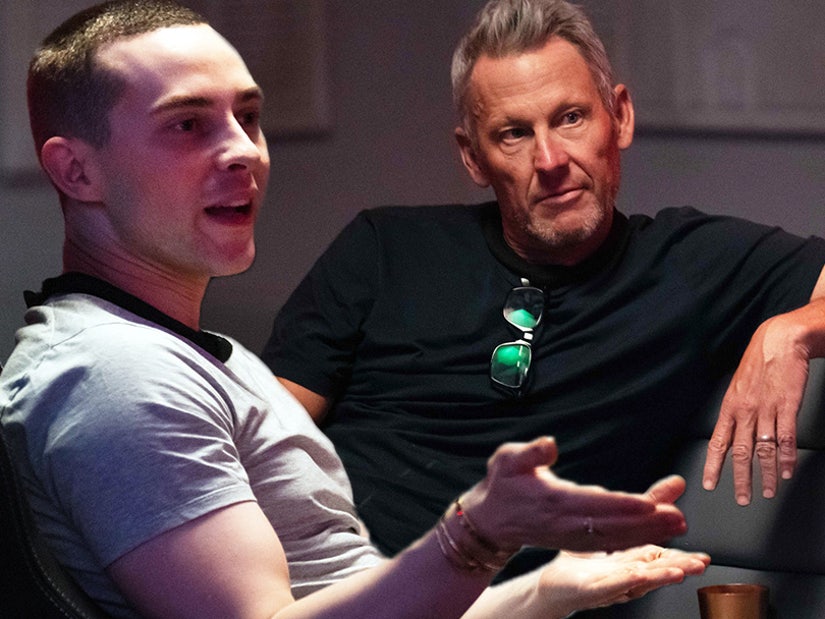 Fox
The "Dancing with the Stars" champ says he almost quit Fox's "Stars on Mars" after disgraced cyclist Lance Armstrong talked about separate categories for transgender athletes and reveals how "Modern Family" star Ariel Winter laid into him off-camera.
The latest episode of "Stars on Mars" strayed from what Olympic figure skater and "Dancing with the Stars" winner Adam Rippon called a "cute little reality show" into uncomfortable territory when disgraced cyclist Lance Armstrong started talking about transgender athletes.
In particular, Armstrong was speaking with fellow contestant Ronda Rousey about the idea of creating a separate category for transgender women, questioning how that could be seen as "unfair."
Tinashe said that it's important to "care about if you otherize people; it's not good for their mental health." "Real Housewives" star Porsha Williams wondered if this was the right venue for such a controversial conversation. "Modern Family" star Ariel Winter kept her quiet at that moment, but was visibly uncomfortable, rolling her eyes.
In an interview with The Daily Beast, Rippon called the topic "inappropriate," saying, "Nobody wanted to have this conversation," especially as they had to live together for weeks as part of this Mars simulation program.
But Armstrong would proceed to bring it up again the following night, per Rippon, this time asking the figure skater why he wouldn't engage. The "problem with America is that nobody wants to have these uncomfortable conversations," Armstrong purportedly said. He also insisted that he is for transgender rights and equality, he's just not so sure about sports.
"By the way, I sound like a right-wing lunatic. I'm not," Armstrong said in the episode. "I'm the most liberal person, but from a sporting perspective--"
"I'm not afraid of having difficult conversations," Rippon told The Daily Beast. "But if we're going to fully open that particular conversation, I want trans athletes, I want people who are doing research into this, and people who are real proponents of seeing women's sports succeed [involved]."
"I don't need to hear what the greatest cheater in American history has to say about what he thinks is an unfair advantage," he added.
Rippon said that Winter didn't let Armstrong off the hook, either instead confronting him off-camera during their daily Covid tests.
"She marches right up to Lance and goes, 'I forgot you cheated. I forgot you had seven titles and an Olympic gold medal stripped from you for being the head of a doping ring,'" Rippon shared. "My jaw is on the ground—I cannot believe she is actually saying this."
When Armstrong pushed back that he wasn't the "head" of the ring, Winter shot back that that's not what the court documents said. "I was like, oh my God, she spent the night reading court documents!" Rippon marveled.
After the United States Anti-Doping Agency determined he'd been taking performance-enhancing drugs in 2012, the seven-times-consecutive Tour de France champ from 1999 to 2005 was stripped of his titles. Armstrong chose not to contest the charges.
The whole experience, though, made Rippon so uncomfortable that he found himself wondering if he should even stay on the show. It was through the urging of his husband and a close friend -- the cast is allowed limited contact with their loved ones -- that he chose to stick it out.
"It was so personal to me, and to my own experience," he explained. "We'd just had Pride Month. I hate to see the way that trans people are talked about, because it wasn't too long ago that that was the way that queer people, gay people, lesbians, were talked about. And all anyone is trying to do is just live their life."
He also said that there was a permanent shift in the dynamics of the cast after that. This may be more specific to Armstrong in particular, though, as he also said that everyone except for Armstrong has stayed in touch.
Meanwhile, Armstrong has continued the conversation on his own Twitter feed, delving again into the topic of trans athletes in the midst of Pride month with a lengthy thread asking, "Is there not a world in which one can be supportive of the transgender community and curious about the fairness of Trans athletes in sport yet not be labeled a transphobe or bigot as we ask questions?"
Since June 26, Armstrong has dropped seven different podcast episodes of "The Forward" series about transgender athletes to have that very conversation.
He has welcomed guests like Olympians Caitlyn Jenner and Inga Thompson, transgender athlete Chris Mosier, and various professors and doctors on both sides to, as he wrote, "dive into this issue with an open mind in an attempt [to] learn as much as possible from all sides of the debate."