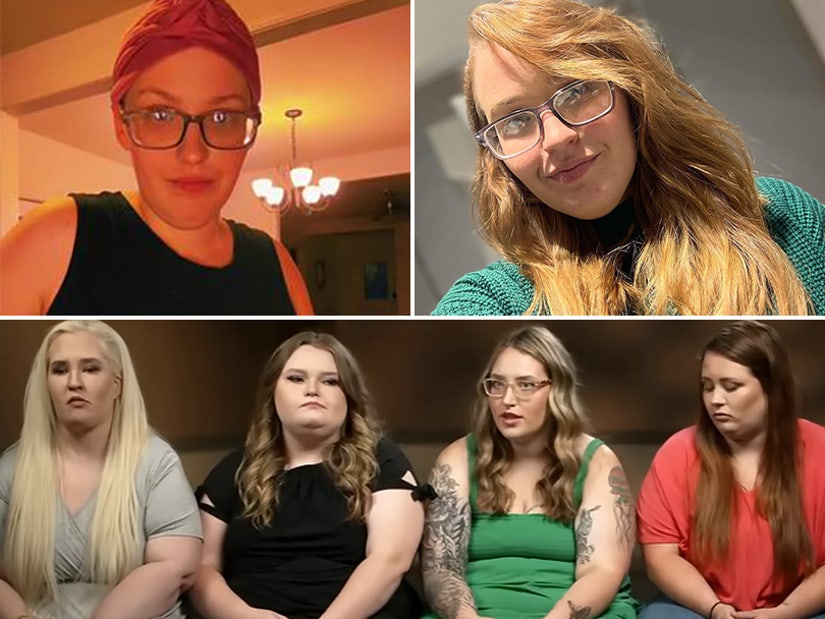 Instagram/ET
"Mama June" Shannon opened up about daughter Anna "Chickadee" Cardwell's stage 4 cancer diagnosis alongside daughters Lauryn "Pumpkin" Efird, Jessica "Chubbs" Shannon, and Alana "Honey Boo Boo" Thompson.
Even as the family continues to hold out hope, "Mama June" Shannon has revealed that her eldest daughter Anna "Chickadee" Cardwell's cancer is "terminal."
The rest of the family sat down for a recent chat with Entertainment Tonight about Anna's status and how the family is dealing with her diagnosis, treatment and taking things day by day. "It's an emotional rollercoaster sometimes," said June. "Mentally it's always on my mind."
June said that her daughter's diagnosis has changed several times throughout her treatment, which has involved four rounds of chemotherapy, but nevertheless, "We know it's terminal." Anna was diagnosed with stage IV adrenal carcinoma in January.
June said the cancer is "very aggressive," noting that it "grew from nothing to something huge all on the left side of her body really fast."
"She's stage IV," June said. "She's not gonna go into remission. We've all accepted that." At the same time, she knows that a terminal diagnosis doesn't mean that doctors can honestly say how much longer a patient has.
"Somebody can tell you six months and you can live five years," she said.
"It is crazy to think that she will not be here probably in five years," interjected youngest daughter Alana "Honey Boo Boo" Thompson. "But I'm hoping that she can pull through and fight 10, 20 years ... That's my sister."
Despite her diagnosis, the family says that Anna is still doing well and keeping active, driving herself and staying involved with taking her kids where they need to go. Anna has two children, Kaitlyn, 10 and Kylee, 7.
"The 10-year-old is aware," said Lauryn "Pumpkin" Efird. "I don't think she fully understands. I think she understands that Mommy is sick and Mommy might not be here for a while."
"She's 10, but she's a lot more mature than that because she's been raised around older people," she added.
June said that while mother and daughter have always been close, Kaitlyn is even more attached to Anna these days. "I get that because she's thinking if Anna goes somewhere then maybe Anna might not be at the house when she gets back," she said.
As for Kylee, the family doesn't think she grasps fully what's going on at all yet. "She just knows Mama's sick," said June.
Despite her current diagnosis, there are still treatment options for Anna that she and her family are considering. Those include clinical trials and immunotherapy. At this time, though, Anna isn't yet sure if she wants to continue treatment at all.
Anna has been sharing her cancer treatments on her TikTok page, including her rounds of chemotherapy. According to June, she's bounced back pretty well from these, though she has now lost all of her hair.
You can check out the family's full discussion about Anna's diagnosis and health below.