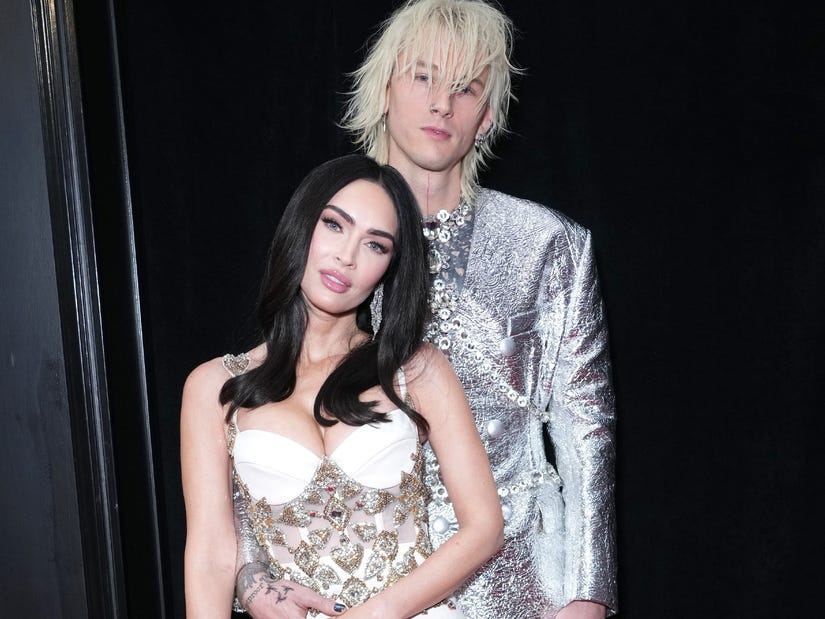 Getty
After Fox shared some sizzling swimsuit photos to Instagram, Kelly was one of the first to show his thirst in the comments.
Over the weekend, Fox took to her Instagram to share some pictures from a recent swimsuit shoot she did with photographer Cibelle Levi. In the images, Megan -- clad only in a knit green bikini and rocking blonde extensions -- appears on all fours atop a large tree branch.
"the forest is my oldest friend," she captioned the pics.
Waiting for your permission to load the Instagram Media.
The post was flooded with comments, as fans and celebrity fans praised the photos. Among them was one from Machine Gun Kelly, who wrote, "if this is what a wild animal looks like, i'd let it maul me."
His comment comes after the pair's relationship status appeared up in the air earlier this year.
Fans and the media began speculating about a possible split back in February, after Fox appeared to delete all pictures of Colson Baker (MGK's real name) from her IG page.
Waiting for your permission to load the Instagram Media.
She also added a carousel of images of herself looking fierce capped off with a video of what appeared to be an envelope being burned. "You can taste the dishonesty/ it's all over your breath," Fox captioned the share.
After deleting her Instagram, Fox later returned to the platform to say, "There has been no third party interference in this relationship of any kind. That includes but is not limited to...actual humans, DMs, AI bots or succubus demons." She later absolved Baker's guitarist, Sophie Lloyd, of any wrong-doing, after Lloyd was dragged into the rumors.
It appears the engaged duo did later patch things up, however, traveling together to Hawaii and for public appearances like Fox's Sports Illustrated Swimsuit Issue launch party back in May.