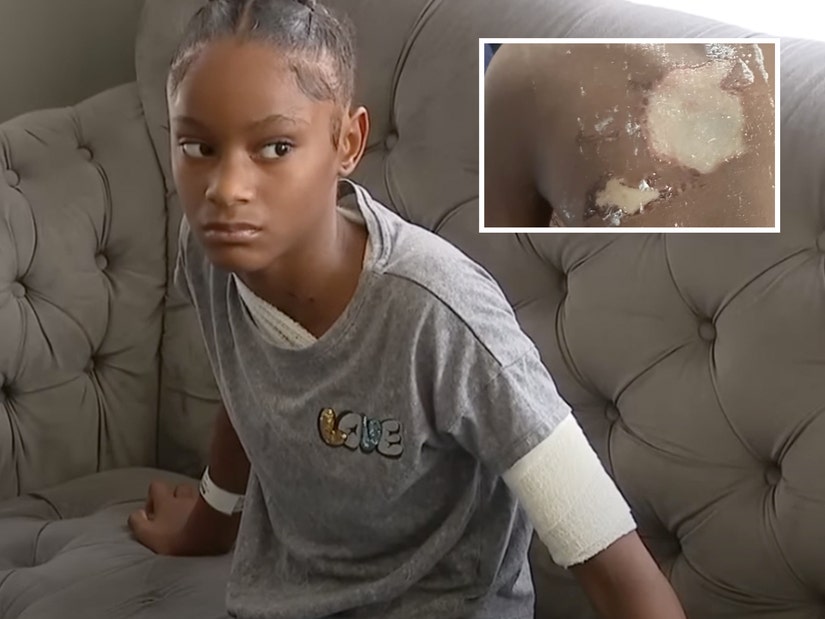 FOX 2 Detroit
According to the victim's mom, the mother of the other girl allegedly supplied the chemical and "told the kids, that's what they get for messing with her daughter."
A 12-year-old Detroit girl has been charged with assault after another child, 11-year-old Deaira Summers, was allegedly "doused with acid" following a playground fight.
According to Deaira, who was interviewed alongside her mother Dominique by FOX 2 Detroit, she was at the park with her siblings and cousin, when the latter and the unnamed suspect "started fighting" with one another. "Once they got done fighting, [the other girl], was like, 'I got something for you all," said Deaira.
That "something", prosecutors say, was acid.
"Her mother met her in the park, by the park and gave her the substance, the chemical, to throw on the kids," Dominique alleged. "And she told the kids, that's what they get for messing with her daughter."
Though Deaira and her family say they made a run for it, she realized she had forgotten her purse and went back to retrieve it. That's when prosecutors say the child -- who they called a "bystander" -- was "doused with acid" by the 12-year-old.
"Two seconds after it hit me, it just started burning," the child recalled, as her mom said "Smoke was coming off her body from head to toe and holes were coming in her clothes."
Summers said her back, arms and legs are covered in second and third degree burns, which can be seen in the video report above. According to a GoFundMe page set up by her godmother, the child spent four days in the hospital and is "lucky to be alive" after the attack. She now has trouble walking and, according to her mom, it now "takes maybe two hours what used to be 20 minutes getting dressed."
According to Wayne County Prosecutors, the suspect was ordered to have no contact with the victim or witnesses and will appear in court this afternoon. Per People, the prosecutor's office said police are investigating whether an adult will be charged in connection to the case.
"Whoever was involved with her, I would like them all to be arrested for what they did to my daughter," Dominique told WXYZ. "I hope she get what she deserve, and they all get what they deserve."
"This is an extremely troubling set of allegations. Instant horrible decision making can have lifelong effects on others," said Prosecutor Kym Worthy. "There is no excuse for this."