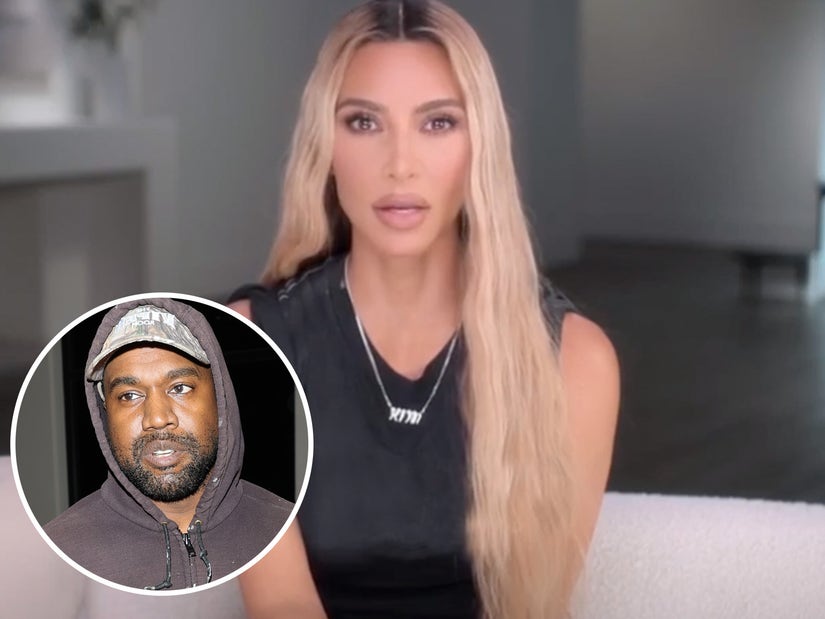 Hulu / Getty
After sharing what "sucks" most about divorce while filming her reality show the day it was finalized, Kim also opened up about shielding their kids from "all of the mean things" Kanye's done and feeling "at peace" with their split.
On Thursday's new episode of The Kardashians, the reality TV star was cleaning out her storage units on the milestone day -- storage units which included a ton of Kanye's stuff, like Yeezy concept pieces and shoes, as well as his clothing and other items collected throughout his career.
According to Kim, West had 32 units filled with his belongings when she first met him and eventually whittled them down to three. She claimed Kanye told her to "burn his stuff" -- and while she held onto a lot of it for sentimental value, the new hour showed her working her way through items they accumulated throughout their marriage, choosing to keep some and get rid of others for good.
In addition to Kanye's goods, the unit was filled Kim's belongings as well -- including her many Met Gala looks throughout the years, an actual Hazmat suit she had during Covid, a drawing Jennifer Lawrence made her and Elizabeth Taylor's first contract. By the way, the "unit" in question looked more like an actual warehouse than the smaller rental spaces most of us regular people use.
"I finally am getting rid of some of it, because I need to purge and realize that even for me, a lot of these pieces don't mean anything, but the ones that do, I love them and I'll keep them," she explained, saying a lot of the belongings she's keeping are things for her children in the future.
"Today is the day that your divorce is final and you're here with all of his stuff," a producer noted, as Kim said she was "really at peace with it." She added, "There's so many amazing things that came out of my marriage and my divorce," before explaining why she kept "every single Yeezy."
"For me, I think this is me holding onto the Kanye that I know," she said in a confessional, before getting choked up. "And I'm definitely not going to cry off this makeup, I'm going to get it together ... no, it's okay, I feel like I've cried enough over this. I would never take back any of the hard things that have happened or any of the hard times. I love my life. But it's time to do something different and I just need to like, I need a minute. It's like, the memories. It's sad ... yeah."
"This is like my time capsule of like the best times. But you can't keep it all," she continued. "The reality is, life is really different and when you know it can never get back there, that's what sucks and that's what's hard. But my kids will have the best memories and this will be the best tribute for them."
She added that she's in a "purging phase," realizing that it's "good to get rid of some things" from the past and make new memories going forward.
Noting how she still has a lot of her own father's items, Kim also said she had "the best dad in the world" and "would never want to take that experience away" from her own children with West.
That's something she touched on later in the hour, as she sat down with sisters Kendall Jenner and Kylie Jenner -- opening up about how she's weathered some of her ex's more controversial moments and shielded them from their kids.
"After all of the mean things he's done, the kids have no clue. They don't know a thing. They think their dad is the best thing and the most amazing thing and he's so great with them, why would I take that away from him because I'm angry?" she said. "Granted, I have a lot to be angry at, but they don't know that."
She mentioned how she even has a stocking for West in her home for the holidays, expressing some concern that fans could think that by still including him in their lives, it means she also agrees "with some of the things that he says." Kylie, however, told her not to worry about it, saying she doesn't need to explain herself about anything she's doing for the children -- while Kendall said sometimes their fans and the media forget they're real people at the end of the day.
"I don't know how Kim handles everything with her ex-husband," Kendall added in a confessional. "It's impressive, it's amazing, I give her so much props ... I just could never. I'd be spiraling."
Kim added that she doesn't want to look at their time together negatively, instead trying to focus on what she can learn from the experience or how it can make her "a better person." She then said that following their split she "definitely jumped into another relationship so fast" -- referring to Pete Davidson -- and added that she learned that wasn't a good way "to run from things" going forward.
In the future, she vowed to "feel, deal, heal."
Kim and Kanye tied the knot in May 2014, before she filed for divorce in February 2021. The pair share four children together: North, Saint, Chicago and Psalm.
New episodes of The Kardashians drop Thursdays on Hulu.