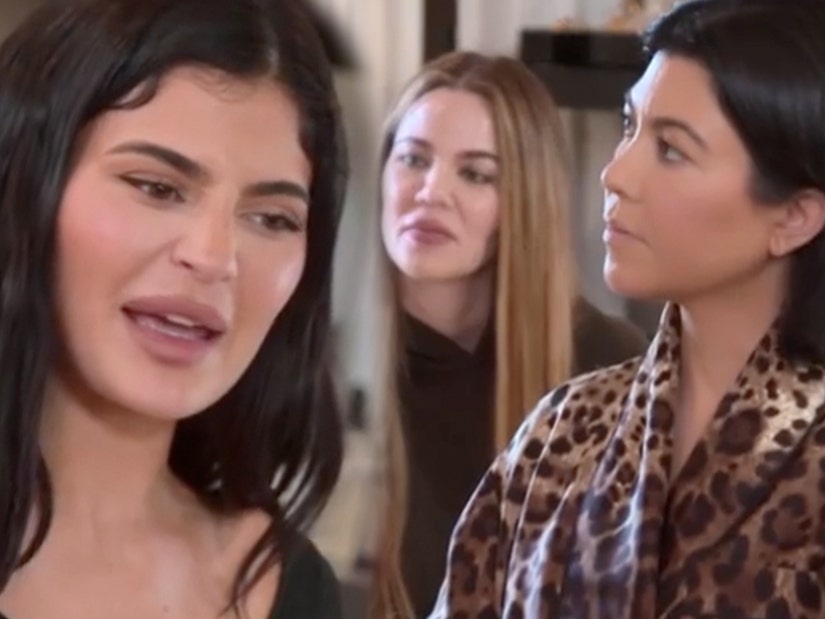 Hulu
Kylie, Kourtney and Khloe open up about their insecurities and how being in the spotlight only highlighted them as they question their influence on young women.
After spending most of the season in the background, Kylie Jenner really came to the forefront of this week's episode of The Kardashians, as she and her sisters opened up about how beauty standards, the media and trolls have all affected the way they feel about themselves.
Jenner showed up to Kourtney Kardashian's home to help her with glam at the top of the new hour, with Khloe Kardashian already there when she arrived. As Kylie got to work on her sister's makeup, Kourtney stressed the importance of feeling confident "even in your imperfections," before sharing that she was recently reflecting on "the beauty standards in the world today."
"I just feel like we have huge influence and like what are we doing with our power?" asked Kylie, before she expressed disappointment in how many young women are now "fully editing" themselves on social media. Admitting she "went through that stage too," Jenner said she's in a "better place" now.
In a confessional, Jenner said it's "normal to be insecure," before recalling how confident she was as a child. She added that while she's been painted as "this insecure child" in the media, Kylie went on to say that "one of the biggest misconceptions" about her was that she "got so much surgery to change my whole face." Calling that claim false, she said the only thing she's ever done was get fillers -- adding that all she wants is for "people to just love themselves."
She went on to say that while she's "heard every negative possible thing and rumor anyone could say about me" from her haters online, it's only made her "stronger and more numb to it" over time. While she noted social media "can be a really dark, dark place sometimes," she chooses to focus on her "beautiful personal life" and the support of her family, who can "understand exactly" what it's like to be in the same position.
After Kylie then pointed out to her sisters how others can "instill insecurities in you," Khloe said that's actually where all of hers came from.
"I had the most confidence, I was chubby and in a skintight body-con dress, you couldn't tell me otherwise. Society gave me insecurities," she confessed. "I've been torn apart the minute that I've gone on TV. I didn't look like my sisters, so therefore it's not good enough. Then when I started changing my look, you get better makeup, you do fillers, I got a nose job, and there's still people constantly bullying you. So which one is it? You need to do things for yourself."
Though Kourtney said her sister wasn't ever "chubby," Khloe insisted she was and said that was okay -- before pulling up an old photo and commenting, "It's like I'm wearing a fat suit."
After Khloe began to wonder if she ever would have touched her nose if her mom Kris Jenner hadn't "talked about" it all the time growing up, Jenner then shared how her siblings impacted the way she felt about herself by talking about her ears all the time when she was a kid.
"I received it as everyone's making fun of my ears, calling me Dopey. That f---ed me up," she said, as Khloe and Kourtney insisted they were never trying to be cruel. "I never thought about my ears and then for 5 years I never wore an updo. Then I had Stormi and she has my ears and it made me realize how much I love them. Now I wear an updo every carpet."
The three women said they hoped to not pass on their insecurities to their own children, with Kourtney saying she's made a conscious effort with her kids to give them "the freedom to express themselves and not put so much pressure on perfectionism." She added, "I think the message is, you're good enough just the way you are and owning who you are."
New episodes of The Kardashians drop Thursdays on Hulu.