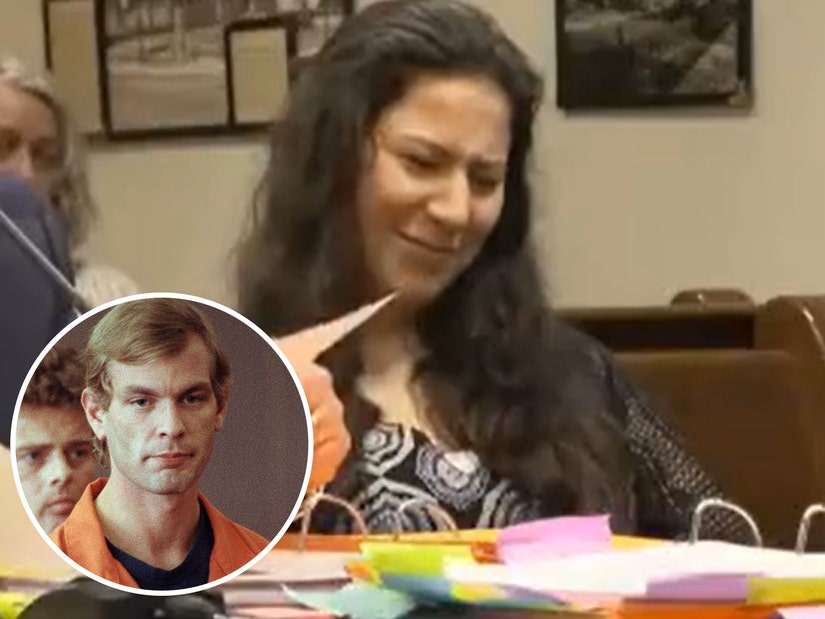 Getty / Twitter
Taylor Schabusiness' Google searches turned up queries for "Jeffrey Dahmer butt," memes related to the infamous serial killer and more; her lawyer argued the testimony warranted a mistrial.
Prosecutors in the Taylor Schabusiness trial attempted to draw a link between the woman accused of murdering, decapitating and dismembering her lover and Wisconsin serial killer Jeffrey Dahmer.
On Tuesday, Green Bay detective Jenna Luberda testified about some of Schabusiness' internet searches in the days leading up to Thyrion's grisly death.
"There was searches, things of like … things such as flaming pentagram, Jeffrey Dahmer, things like that. KKK I believe was one of them," she testified. "It was around the time of the homicide. In the days shortly before."
On February 12th and 13th, around 10 days before the murder, Luberda said Schabusiness searched for "Jeffrey Dahmer," the definition of "cadaver," and "blow up doll customized face." She said there was also search for "Jeff Boyardee," which is a meme mashing up the serial killer with Chef Boyardee.
Luberda also claimed a warrant for Schabusiness' Google account turned up additional photos and references of Dahmer.
After her testimony, Schabusiness' attorney asked for a mistrial because of the evidence -- revealing some additional search terms during his argument. He said he took issue with testimony that would include mention of her alleged searches for "rare Jeffrey Dahmer GIF," "Jeffrey Dahmer walking in all sexy in court" and "Jeffrey Dahmer's butt"; when reading the last term out loud, Schabusiness smirked.
Her lawyer argued that while some of the searches were close to the date of the murder, others were not. He felt the testimony would be "highly prejudicial" and was only being used by prosecutors to paint his client "in the worst light possible with probably, maybe, the worst killer in human history."
"I don't believe that is fair … I don't think it's necessarily relevant … this is gonna be a trial within a trial and create a sideshow," he continued. "This is not the Jeffrey Dahmer case. This is different."
"People do searches on the internet all the time, people do dumb things, they search for weird things, they search for odd things," he concluded. "I don't see how this is even relevant to what we're talking about in this case."
The prosecution, however, argued that her searches related to Dahmer were absolutely relevant to their case against her, calling it motive evidence because "it's suggestive of the fact that once she went down this road, she enjoyed this and she did this for her own pleasure and out of her own curiosity and interest."
Prosecutors also believe the searches suggested she had an interest in Dahmer and his methods and Thyrion's death wasn't solely the result of meth use, an accident, mental illness or reckless behavior.
The judge said the searches showed she had a "great deal of interest" in Dahmer and felt they were relevant, denying the move for a mistrial and allowing the evidence to be shown to the jury.
In the early hours of February 23 2022, police in Green Bay were contacted by a woman who said she'd found her 25-year-old son's severed head in a bucket. Her 911 call was played for the jury on Monday. Bodycam footage from police arriving at the home was also shown in court, showing the moment authorities also saw the bucket in the basement.
According to the criminal complaint, Schabusiness told investigators she had spent the day with the victim smoking meth; After arriving at his mother's home, they started having sex, and incorporated chains.
Authorities say she told them she blacked out at some stage and just went "crazy" and started strangling him with the chain, him facedown and her on top of him; She insisted she didn't mean to kill him, but since she enjoyed choking him she continued to do it.
She said he began coughing up blood and noticed he was turning purple, but since she was "already this far" she kept going, according to the complaint. She reportedly asked detectives "if they knew what it was like to love something so much that you kill it."
"Schabusiness responded that the police were going to have fun trying to find all of the organs as she dismembered the body," the complaint states.
Authorities claim she initially told them all the body parts should be in the basement, but then added there should be a foot or a leg in the minivan; When they asked her what she did with the head, she said she put it in a bucket and threw a blanket over it.
She has entered a not guilty plea.