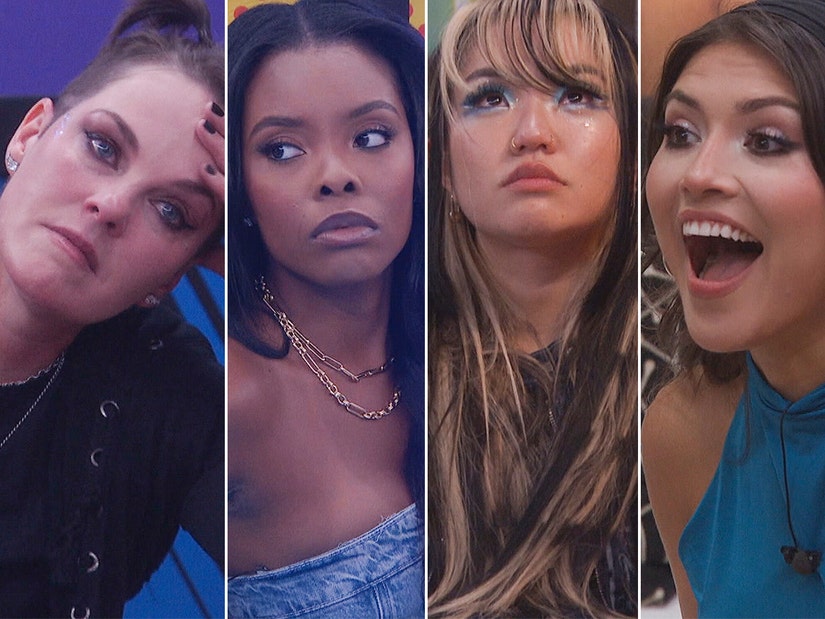 CBS
After getting burned last week on Big Brother when his alliance betrayed him and sent his Chillers ally Red home, new Head of Household Cameron is ready to light the match and burn the whole house down, starting with shocking nominations.
We are all about giving credit where credit is due, and Cameron came into his latest Head of Household reign ready to play Big Brother. It was the win heard round the world -- because there was absolute silence in the house.
To say the house was not happy Cameron won would be a massive understatement. To say that they did a terrible job of pretending to be happy that he won would be an even bigger one. If the goal was to make him feel utterly alone (except for Bowie Jane ... which is kind of the same thing), the house pulled that off beautifully.
Only Bowie Jane and Cameron voted to keep Red during Thursday's live eviction, with his exit from the house coming as a huge shock to the both of them, and himself. When Cameron rose to power, he decided to return the favor.
The power trio in the house of Cirie, Izzy, and Felicia has been growing on everyone's radar for weeks as they've had power and influence over each HOH reign. For the first time, we got to see what happens when their backs are against the wall. It wasn't pretty.
Actually, we'll give Cirie credit for trying her damnedest. Her speech to Cameron about how Red had thrown him under the bus had a ring of truth to it, because there was truth to it. Thanks to Jared poisoning his friendship with Cameron, Red felt that Cameron had betrayed him, so he started spilling secrets.
In the faster-paced game of Survivor, her plea might have proved effective, but there's so much time on Big Brother. On top of that, she's had Jared running his mouth off for a few weeks, raising suspicions, and as we saw tonight, Mama Felicia has been fumbling the ball, too.
All this time we've been worried about Izzy turning on Cirie and Jared (considering she knows the big secret that they're mother and son), but it's Felicia and Jared himself who've been the biggest threats to their games.
That relationship proved beneficial again, though, as Felicia made a Final 2 plea with Jared, admitting to having one with Cirie. Jared, of course, told his mom all about it, further eroding the trust between the two women. Felicia is becoming a bit of a liability.
With no competitions in this episode, Big Brother was definitely not short on content, though. This is also the beginning of a week from the Humili-verse, meaning there is plenty of humiliation in store for the contestants.
The first one came in the form of a Stink-O-Meter and gas masks. The Houseguests have to announce when they're going to use the restroom, and then there's a Stink-O-Meter dial that announces how stinky it was. If it reaches 10, everyone has to wear their gas masks.
Considering it registered a 10 for Blue just going a number one, we have a feeling it's random. That definitely makes things more humiliating.
But the humiliations kept coming. For one, the Houseguests had to go and grovel before the new HOH, who was playing a game of his own. For one, he feigned that he totally believed Cirie's explanation as to why he was left out of the Red vote.
He then proceeded to tell everyone in the house that his targets this week were Blue and Jag, the same two people he targeted in Week 4 when he was last HOH. Blue even pulled out her best fake tears to try and win some sympathy, but she needn't have bothered.
Cameron was playing a game of chaos and control. With the house all believing one thing was about to happen, he pulled the rug out from under everyone. As Big Brother plays go, it was pretty brilliant as it definitely left the house in a state of shock.
As a gift, the Humili-verse even helped him make a spectacle of it. Rather than turn two keys in the nomination block, he was given nine pies. He wouldn't reveal nominees one at a time, but would rather reveal who was safe one at a time.
Cameron was relishing every moment of this, smashing pies into the faces of his fellow houseguests to declare them safe. Izzy took off her glasses in anticipation, and Felicia even took out her teeth. But the moment Jag got a pie, she put them back in.
It became immediately evident that it had all been a lie to leave them unbalanced until the last possible moment. With one last pie in America's face, Cameron revealed his nominations to be Izzy and Felicia.
In a confessional he explained that he's targeting the triumvirate of power in the house, which he sees as President Cirie, Vice President Felicia, and Secretary of State Izzy. As he put it, you don't target the president directly, so instead, he's taking out her support.
We knew Cirie and her people would be in trouble this week, and things went down just like that. We also knew he wouldn't come right after her. She's still very good at this game and it may not be that easy to get her out.
Now, if Izzy wants to play dirty, she could certainly throw Cirie and Jared under the bus by exposing their secret, but that bond between them feels a little too real. We could see her carrying it with her outside of the house and rooting for Cirie if it is her that goes.
But, for as much as Cameron can control who's on the block, he doesn't have the numbers to determine who goes home. If he can win Veto, he can get Cirie on the block, but even then, we're not sure she'd go home. As he's not a stupid player, we're not sure he'd make that move.
Right now, it's looking bad for Miss Felicia. She's never been as tight with Cirie as Izzy, so if Mama C has to lose one of her closest allies in the house right now, she'd probably choose to let Mama F go.
That said, this house has been flip-flopping like bosses all season, and Cirie knows that Izzy can and eventually will leverage what she knows to hurt her ally. Could she confidently cut her now and protect her secret? If Izzy outs her now, could she and Jared survive it?
There's a lot dependent on who the nominees are come Thursday, which makes this the most important Power of Veto of the season.
Matthew Klotz (27, deaflympics gold medalist) continues to hold one of the overall strongest places in the game. He hasn't really made any enemies in the house, and is in fact quite beloved. On top of that, he's proven himself a challenge beast, and someone who can be trusted. He's positioned beautifully right now. [Grade: B+]
Cory Wurtenberger (21, college student) is lying low and exploring his options, which is the perfect thing to do in this week of outright war. No one is looking at him as someone that needs to be dealt with sooner rather than later. That he's as aware as Cameron of the power trio and what's what in the house means his time to be a problem -- or the solution -- is still coming. [Grade: B-]
Mecole Hayes (30, political consultant) is quiet in this house, but potentially devastating. Her biggest detriment right now is that a lot of people don't really see her as playing, even though you see her in the room for a lot of those key conversations. Riding the middle right now, though, feels pretty safe. [Grade: C+]
Cirie Fields (53, nurse) is in the worst position she's been in in this game, and yet we're still not horribly worried that she's in any immediate danger. The biggest risk factor is what Izzy knows, but we have an odd feeling that secret remains safe. Cirie can pivot out of tight jams and we see her and her allies being able to keep her off the block as a backdoor option. She might lose a lieutenant, but the president's reign should continue. [Grade: C+]
Blue Kim (25, brand strategist) had better hope that these weeks of people targeting other people will allow her and Jag to fall off the radar as potential targets. Otherwise, they're going to find themselves in trouble again pretty soon. We have to give credit even to her fake crying as evidence that she's playing this game hard. We think she's underestimated because she's just so damned extra. [Grade: C]
Jared Fields (25, exterminator) is so lucky his mom is in the house because he is erratic, emotional and an extremely messy player. Her talks help keep him grounded, and we're again seeing the fruits of their secret relationship when it comes to sharing intel. For now, he seems good, but he's always one dumb comment away from being a huge liability. [Grade: C-]
America Lopez (27, medical receptionist) has a good strategic partner in Cory and a strong sense of what's going on in the house. She's a capable performer in competitions, but she's also slowly growing on people's radars as someone to target. Maybe they can tell just how smart she is (it's not easy to hide for everyone). She seems like an easy target still for a lot of people. [Grade: C-]
Jag Bains (25, truck company owner) continues to try and find his way in the house with only Blue as someone he can really trust. The problem is that the house still sees him as this huge threat. As someone who's won a comp, he's someone this season wants out sooner rather than later. He needs to win an HOH to reset his standing and alliances. [Grade: C-]
Bowie Jane Ball (45, barrister/DJ) was on the wrong side of the numbers because no one respects the game that she isn't bothering to play. That she turned her back on the Bye Bye Bitches (effectively) and sided with Cameron, throwing her trust into only him, is just going to make things worse. [Grade: D+]
Cameron Hardin (34, stay-at-home dad) definitely blew up the game in spectacular fashion, and as BB fans, we love to see it. But there is no real future in what he's doing because he's not really building anything for him to build on. Bowie is not the ally that's going to carry him forward, and he's burning a lot of different bridges with his style right now. There's still time to build a post-HOH plan, but right now, he's going to be public enemy number one until he's gone. [Grade: D+]
Izzy Gleicher (32, professional flutist) is probably the bigger threat of the two on the block, but we suspect she's also the more protected of the two. The only scenario where we could see her going, if nominations stay the same, is if Cirie feels confident she can eliminate this person who knows her secret without said secret getting out. Otherwise, she's become a good acolyte for the current president. [Grade: D]
Felicia Cannon (63, real estate agent) has been making herself a bit of a liability in recent weeks anyway, when it comes to the power group that's been running the house. Considering they'll likely be the ones who have the power and influence to determine who goes home ... if she's still on the block, we have a feeling it might be the end of her journey. [Grade: D-]
"There are 11 people in that house squirming." --Cameron (in DR after HOH win)
"Not even toast and jelly. I'm instantly depressed." --
"I just want everyone to know that I voted [Red].' --Bowie
"They know you did." --Felicia
"And who, Cameron? So you've all left me with him." --Bowie
"We haven't left you with him." --Felicia
"Well you have. He's Head of Household, so it's a bit funny." --Bowie
"You choose who you want to be with. You still got this if you want it." --Felicia (referring to Bye Bye Bitches)
"I'm not sure if I do. I mean, what was that?" --Bowie
"Dishonestly flows through this house. It's not like you're here Mother Teresa." --Cirie (to Bowie)
"Felicia scares me. She sent me out of the room." --Matt (to Jag)
"There's just been a lot of stuff coming around that could only come from people that are close with you. You had a Final 2 called The Chillers. He said the Final 2 was since Day 3 … He said he was done with you, he was putting out all of that information so we know that he's targeting you right after this HOH. Verbatim. He's on a hate-Cam campaign, I don't know why. We just couldn't risk it blowing up." --Cirie (to Cameron)
"Bulls--t. Y'all are protecting yourself. I got played by this entire house. The only person I know who was true was Bowie. I'm gonna burn this sucker to the ground." --Cameron (in DR)
"This is going to be the week to remember. This is when it goes down, baby!" --Cameron (in DR)
"I have a Final 2 with Cirie. But a part of me is actually thinking that I'd rather have a Final 2 with you." --Felicia (to Jared)
"I guess I could probably tell you what's going on, but you would leave out of here upset." --Cameron (to Blue)
"What is that supposed to mean?" --Blue (starts fake crying)
"Blue, I know that you don't see my big picture. I don't want anyone to see my big picture, other than me. I hold the paint brush, okay? I just need you to hold it together, relax, control your breathing, get your face together, go downstairs and make the appearance that you hate me." --Cameron (in DR)
"I have nominated you, Izzy, and you, Felicia. Considering my journey in this house, you two have had a pretty comfortable ride. You two were very closely aligned with two males in the house that are no longer here. You turned on them. Two times might be a coincidence. I don't plan to stick around to be the pattern." --Cameron
Big Brother continues with a two-hour episode Wednesday at 8pm ET, Thursday at 8pm ET and next Sunday at 10:30pm ET on CBS.