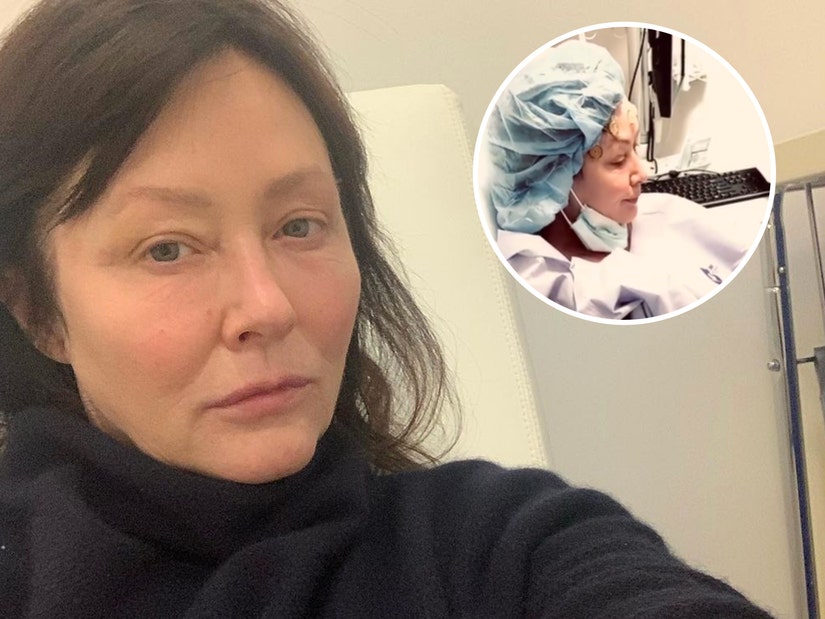 Instagram
"Thank you so much," a tearful Doherty said to the crowd. "You guys know how much I love crying constantly. And I do, it seems. So, thank you."
Doherty, who played Brenda Walsh on the teen drama, was met with a standing ovation as she discussed her ongoing battle with stage four breast cancer while serving on the show's panel in Tampa, Florida.
Reuniting with much of the cast, Doherty joined Tori Spelling, Jason Priestly, Jennie Garth, Ian Ziering, Brian Austin Green and Gabrielle Carteris for a trip down memory lane, as they recounted their past experiences together on the long-running series.
Waiting for your permission to load the Instagram Media.
Things took a took a turn for the emotional toward the end of the panel, however, when Doherty brought the discussion back to present times, touching on her very public struggles with her health.
"Thank you so much," a tearful Doherty said to the crowd. "You guys know how much I love crying constantly. And I do, it seems. So, thank you."
In June, Doherty, 52, shared the devastating news that her stage 4 cancer had metastasized to her brain, with the TV star undergoing surgery to remove a tumor in her head.
"The fear was overwhelming to me. Scared of all possible bad outcomes, worried about leaving my mom and how that would impact her. Worried that I would come out of surgery not me anymore," Doherty wrote at the time.
"I have a fight for my life, that I deal with every day," She told the crowd of her years-long cancer battle Sunday. "I think I am really great."
While the Charmed alum is currently undergoing treatment, she has several projects in the works, including a podcast, set to launch in November.
"It's going to be called Let's Be Clear, and it's a live interactive memoir," Doherty shared with panel attendees. "So you get to hear everything that I've refused to say before. I'm spilling the tea, but nicely!"
Doherty was first diagnosed with breast cancer in March 2015, and after years of treatment, entered remission. However, in February 2020, she announced on "Good Morning America" that her cancer had returned and it was stage 4.
The actress, who has been open about her experiences with cancer treatment and how it's impacted her life, told "GMA" in 2021 that she did "not want to operate [like I'm dying]."
"I just want to operate as I don't have things to check off because I'm going to keep fighting to stay alive," she shared.
Her fellow cast members have also shared updates on her health, including Green, who praised Doherty's strength during an interview with Australia's the Herald Sun earlier this month.
"She's an incredibly tough person," Green told the outlet. "If there's anyone who could put up a real fight to cancer -- she's one of them."
"It's not an easy situation, obviously," He continued. "But I love her to death."