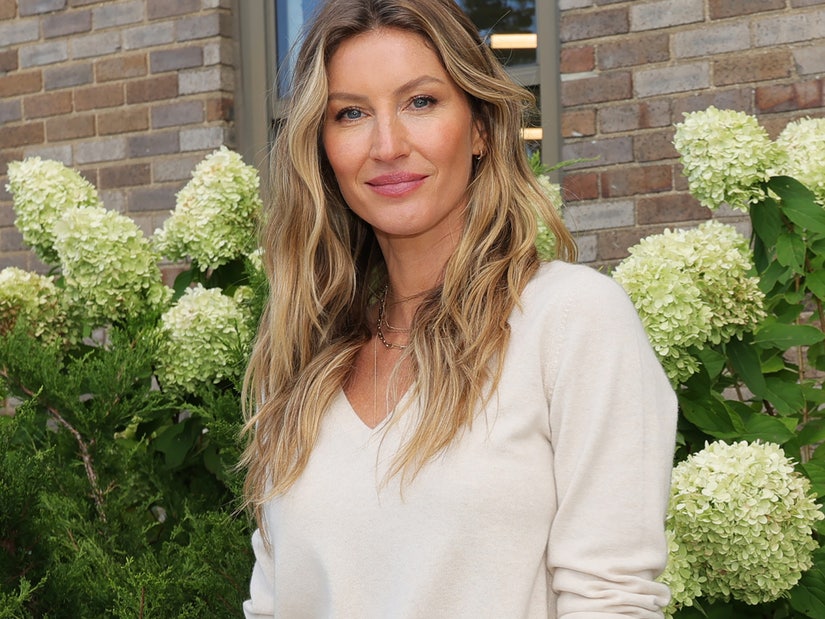 Getty
Supermodel Gisele Bündchen details the challenges she's faced these past few years from moving to Florida with Tom Brady, divorcing him, caring for her sick parents, and the pandemic -- and why she decided to stop drinking through all of this.
Gisele Bündchen feels more present in her life, even as that life has proven to be "a lot." The supermodel opened up about how difficult the past few years have been -- including her divorce from Tom Brady -- and why she stopped drinking through it.
"I feel like whenever it rains, it pours," she told People in a new interview. "With all the different twists and turns that life takes, all we can do is the best we can given what happens in our surroundings."
For Bündchen, those twists and turns included moving her whole family to Florida when Tom Brady signed with the Tampa Bay Buccaneers, privately taking care of her sick parents, and ultimately getting divorced.
"It's been very tough on my family," she admitted. "It's been a lot -- in every area of my life. I feel like whenever it rains, it pours."
What she's learned through all of the challenges life has thrown her way is the importance of self-care. It's something downplayed by so many, or considered selfish, but Bündchen emphasizes just how important it is to be your best self so you can help others.
"No one is going to do it for you. The only person that's going to make those choices is you. Because ultimately, you're the first person who's going to be impacted by it," she said. "then, it's your children, it's your husband, it's your family."
"You got to put the oxygen mask on you first," she emphasized, assuring everyone that self-care is "not a selfish thing."
One of the ways Bündchen has prioritized herself is by dropping alcohol completely. She said that she hasn't had any for two years now, and has found tremendous benefits in her day-to-day life.
"Right after I turned 40, actually, I felt a huge difference between when I had the glass of wine and when I didn't have the glass of wine," Bündchen explained. It was by listening to her body that she was able to sense that the alcohol wasn't benefiting her, even as some argue a glass of wine can be healthy.
"Well, it is not healthy for me," she emphasized. "If you want to ask of your body what I ask of my body, which is a lot, I can't be having all these things -- alcohol, caffeine -- because they add up."
As soon as she let it go, she discovered that she felt "more clear," describing her previous sense of the world as "a bit more foggy." She said she feels sharper, notices more around her, and is even sleeping better.
"You have to be loving to yourself. You ask a lot of your body, you've got to do a reset," she said. "You have got to take care of this only vehicle you got, right?"
She went on to explain, "When you feel good, you're a better mom, you're a better friend, you're calmer, you're more patient, you're more loving, you're more grounded. So you can't feel guilty about prioritizing yourself."
After settling in Miami with their two kids Benjamin, 13, and Vivian, 10, Bündchen and Brady wound up divorcing in October 2022. Nevertheless, Bündchen says their kids are doing well and enjoying their new home.
"They like it," she said. "It's just all new. But they're really liking it and they're getting into their things." Those things include football for Benjamin and swimming for Vivian.
You got to put the oxygen mask on you first
As she watched their children grow into their own individual people, Bündchen says she's proud of how they're beginning to express themelves and takes a moment to pat herself on the back for raising "children who have values."
"It makes me proud to see how they're all becoming their own little individual selves, but how their principles and their values are so strong," she noted. "It makes me so happy to see that, they're flourishing into their own beings."
At another point in the interview, she reflected on her children as her legacy, noting, "Whenever I'm ready to leave, I know I have left something behind that is beautiful and that is an asset versus something different."
As for her, Bündchen said she works on herself every day and tries to lead with love in everything she does. She explained, "I hope I can become a better and more aware person and continue to spread love wherever I go."