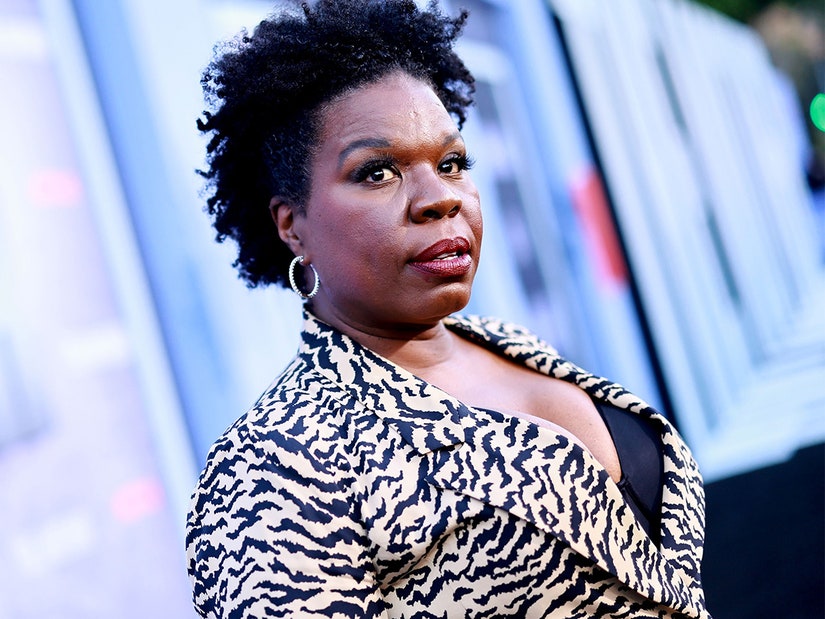 Getty
Saturday Night Live alum Leslie Jones opens up about the online abuse she suffered after the release of the 2016 all-female Ghostbusters film, and the "unforgivable" comment Ghostbusters: Afterlife director Jason Reitman made later.
One of the more disturbing things that's come out of this online world is the empowerment and proliferation of absolutely disgusting behavior. Leslie Jones found herself the victim of an onslaught of unwarranted hate so bad the founder of Twitter got involved.
The comedian opens up about that horrific time in her life -- when she faced death threats and daily abuse just for starring in a movie -- in her new memoir Leslie F*cking Jones, available now.
In an excerpt published by Rolling Stone, Jones talked about the unrelenting backlash the cast received from the film. During the European press tour, she recalled one journalist's question: "I don't like this movie, and you've got five minutes to prove to me that it is worth watching."
From blind hatred for the film to "racism and misogyny," Jones said she found herself trying to take on the growing wave of online hate. "I'd tried to fight back -- I was a comic -- I was used to someone heckling me, so for every piece of bulls--t on Twitter I had a reply," she wrote.
Eventually, though the relentless attacks got to be too much, with Jones admitting she broke down in tears as attacks and abuse turned to death threats. She wrote that she was "sent films of being hanged, of white guys [masturbating] on my picture, saying, 'You f---ing n----r. We going to kill you.'"
"Why are people being so evil to each other?" Jones wondered. "How can you sit and type 'I want to kill you.' Who does that?"
"I cried not because I was being bullied, but because this is our world and because I can't believe anyone would do this s--t to someone, anyone, for working," Jones wrote. "The world was not as rosy as I'd hoped it was. But none of that s--t was about me."
As for why she was getting hit so much harder than her co-stars, even as she was the smallest -- and least paid -- star on the bill? Jones had no doubts about that.
"For a start, sad keyboard warriors living in their mothers' basements hated the fact that this hallowed work of perfect art now featured—gasp! horror! -- women in the lead roles," she wrote. "Worst of all, of course, was that one of the lead characters was a Black woman. For some men this was the final straw."
Jones said that the attacks got so bad people started trying to hack into her Twitter account, and it was all so much that it got the attention of the platform's then-owner Jack Dorsey.
"He was aware that I was being brutally attacked with racial slurs and worse, and started putting people on my account," she wrote. "This was basically the start of Twitter taking this s--t more seriously."
"I can't believe anyone would do this s--t to someone, anyone, for working," she wrote. "This is awful. I am in a movie. Death threats for something as small as that?"
Jones wanted to believe that maybe things would be different now if an all-female Ghostbusters film were announced, but then she realized it probably wouldn't, writing, "Oh no -- I forgot about the reaction to the Black mermaid."
Another reaction that she definitely hasn't forgotten, though, is something Ghostbusters: Afterlife director Jason Reitman said about his 2021 franchise reboot that essentially ignored the 2016 film and tied directly to the original two films.
Jones recalled Reitman saying on a podcast that his film was "trying to go back to the original technique and hand the movie back to the fans." Those same fans that had been threatening and abusing her? Those are the fans we're handing the franchise back to? We're rewarding that behavior?
Jones called the comment "unforgivable." Even after Reitman said that his words came out wrong and heaped praise on the "bravery" with which director Paul Feig and the cast made their movie, Jones wrote, "The damage was done."
"Bringing up the idea of giving the movie 'back to the fans' was a pretty clear shout-out to all those losers who went after us for making an all-female film," she emphasized.