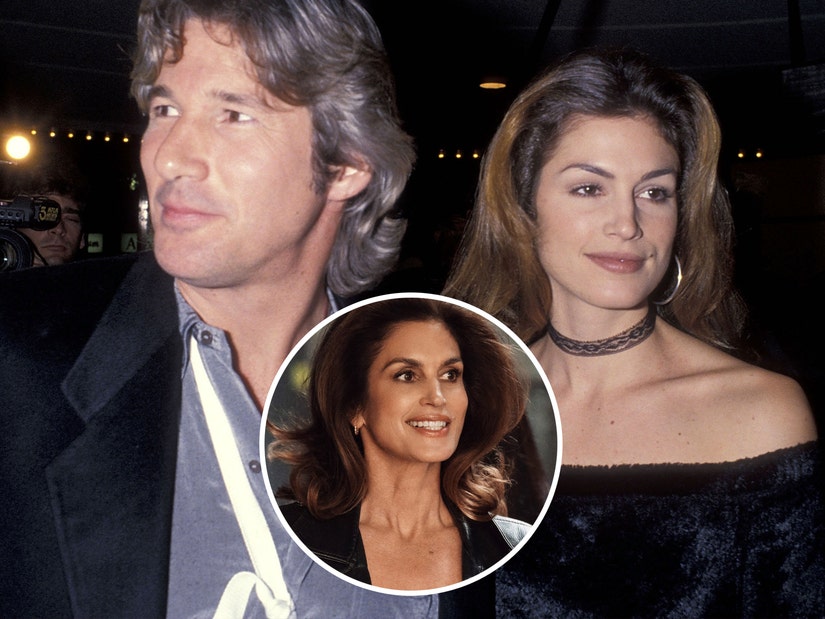 Getty / Apple TV+
In the Apple TV+ docuseries The Super Models, Crawford made rare comments about her past marriage to Gere, whom she met at 22, sharing that she was "willing to kind of mold" herself to the actor's interests.
In Episode 3 of the Apple TV+ docuseries, The Super Models, which dropped on Wednesday, the 57-year-old model reflected on her relationship with Gere, 74, recalling falling in love with him when she was only 22 and he was 39.
"I think I was 22 when we met. In the beginning of a relationship, when you're a young woman, you're like, 'You like baseball? I like baseball. You're really into Tibetan Buddhism? I might be into that. I'll try that.' You know, you're willing to kind of mold yourself around whoever you are in love with."
The supermodel said around the time of their romance, she made a slight pivot in her career and was focused on other projects outside of fashion, including her 1992 Pepsi commercial.
"[Gere] was older," she said of Gere and their 17-year age gap, "so I just was, like, in a different circle and not doing some of those same fashiony things anymore."
"That was a time in my career where I veered away from the high fashion elite and kind of took more charge of my career," she added.
Crawford also recalled attending the 1991 Academy Awards with Gere.
"I got invited to go to the Oscars with Richard. I'm like, 'Well, I mean, what do models do well? We wear clothes well. I better look good,'" she said. "That was kind of what my thinking was: if I'm going to go to the Oscars, I better be a freaking supermodel."
"I had just done a Versace show in Milan, so I had asked Gianni [Versace] to make a dress for me," Crawford said. "When I showed up in that red dress, I think it was a little like, 'Wow, fashion is back at the Oscars.'"
Crawford and Gere tied the knot in 1991. The former couple divorced in 1995.
During an appearance on Oprah's Master Class in 2013, Crawford spoke about what led to her split from Gere.
"I think a lot of what happened with Richard, and I was still 22, and at 22 as a young woman, I was kind of still figuring out who I was and what I wanted to be...," she said at the time. "He was already 37, so in some ways, he knew that I was still growing and changing. I didn't want to hear it from him because at 22, you think you know everything, and you think you're already formed, and then you realize 10 years later, you're like, 'Oh my gosh, they were totally right.'"
Following her marriage to Gere, Crawford moved on with Rande Gerber, whom she married in 1998. The pair share two children: Presley, 24, and Kaia, 22.
All episodes of The Super Models are streaming now on Apple TV+.