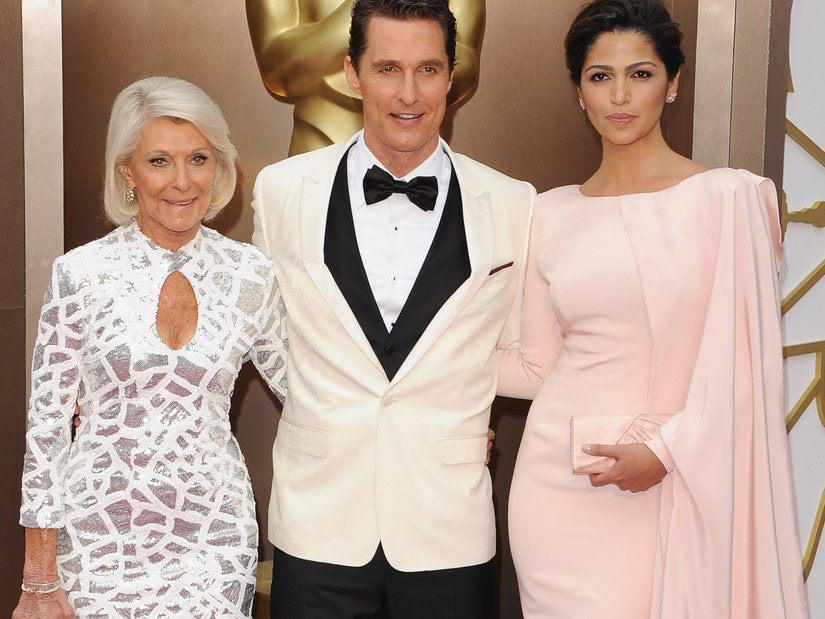 Getty
"So there are initiations, rites of passage that my family's always enjoyed."
"My family is big on rites of passage and initiation, and you don't get into the McConaughey family easily," said McConaughey.
"We test you. And even in our own family with my brothers, and mother is one of us," he added.
"Oh, my family, we humbly wait, we make you cry, and then we pick you up and make your favorite drink, 'You're welcome back," continued McConaughey. "So there are initiations, rites of passage that my family's always enjoyed."
The model recalled being "test[ed]" by Matthew's mom, Mary Kathlene McCabe -- AKA Kay -- AKA Ma Mac -- at the beginning of their relationship, and revealed how she was ultimately able to get her mother-in-law's approval.
"She did all these things when I first came in the picture. She was really testing me. I mean, really testing me," Camilla, 41, said. "She would call me by all of Matthew's ex-girlfriends' names. She would start speaking Spanish with me in a very broken way, kind of putting down a bit. I mean, all kinds of stuff."
The mother of three said that she invited Ma Mac to join her on a trip to Istanbul, where she was going for a modeling job, completed with first-class airfare. However, things didn't go according to plan.
"The whole way there, the whole plane ride to Istanbul, she was telling me all these stories and putting all these things in my head," Camilla recalled. "Enough that, when we landed, I was like, 'OK, alright. Let me buckle up. Let me get ready for this situation.'"
"And then about day three, I was taking her to her room, and she got into this whole other thing that it's not my place to share, and she starts crying, and I'm like, 'Oh my gosh!' You know, 'Ma Mac!' feeling so sorry," she continued. "And as I put her to bed, I look at her, and I'm like, 'Oh my gosh. She's full of s--t."
"So I just flip it on her and brought my spicy Brazilian, Latin side, and I let her have it," Camilla added. "So I went back at her, and we had it back and forth, back and forth. And then at the end, she just looked at me, and she was like, 'OK. Now you're in.'"
She said she realized it was all a test, noting that "all [Ma Mac] wanted was for me to fight back."
"And then from that night on, we have [had] the most amazing relationship," Camilla shared. "I have so much respect for her. She has so much respect for me."
Cut to many years later, she said that while things can "get tricky sometimes," she and her mother-in-law "always end with a good laugh and a joke."
Camila and Matthew first met in 2006, and the couple tied the knot in 2012. They share three children: Levi, 15, Vida, 13, and Livingston, 10.
Camila said her husband and mother-in-law are "very similar in a lot of ways."
"When we first start dating, [there] was this image of Matthew of getting high, laid back, no shirt, whatever. Which I'm like, 'The guy doesn't even smoke. What is this vision coming from?'" she explained. "He's actually the opposite, and he's like his mom. She's very organized, very minimalistic, very on time, very prepared, and he gets a lot of those traits from her."