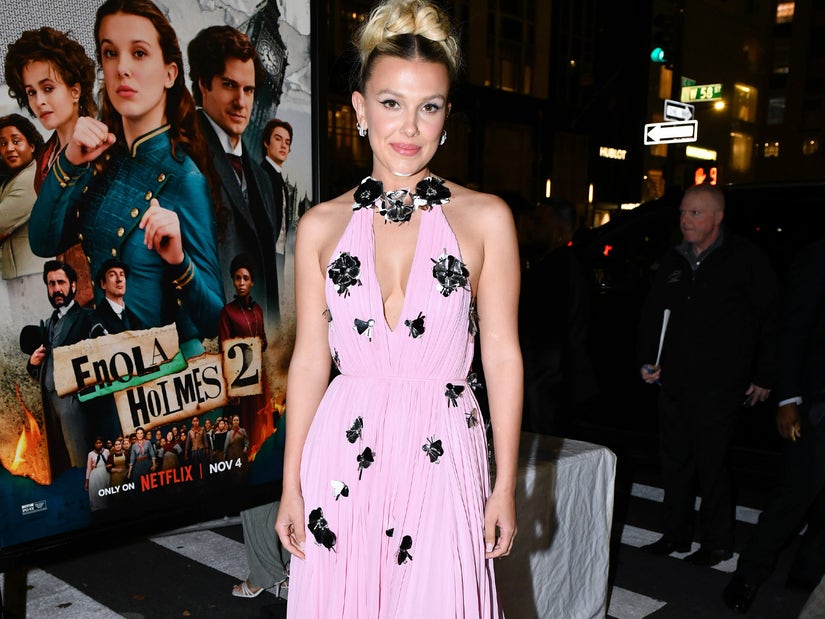 Getty
The Stranger Things star also talks about what it's like wedding planning with fiance Jake Bongiovi.
While appearing on Today, the actress discussed her wedding plans, and her intention to let future father-in-law Jon Bon Jovi rest.
"I feel like that's asking me to go and do a full-on play for everyone," said Brown. "I think the man needs a break, he doesn't stop."
"He's always doing tennis or singing lessons," she added. "I think he needs a break. A three hour break."
Brown, 19, also added that wedding planning has "not been stressful at all" for her.
"Jake is very involved. He's very helpful during the whole process," she continued. "I've never felt alone in it, which I think is really nice."
"I'm always like, 'Is this a good idea? Is this a good idea?' But ultimately, it's just a very intimate day for the both of us and we're really both very excited," said the Stranger Things actress.
The rock star spoke with Andy Cohen on Radio Andy, where he had nothing but praise for his soon-to-be daughter-in-law. While many brought the couples young age to attention, Bon Jovi has no concerns.
"When your almost 21-year-old says, 'I'm getting engaged,' do you worry for them that they're too young?" asked Cohen, who also noted that Bon Jovi was high school sweethearts with his wife, Dorothea Hurley.
"I don't know if age matters," responded Bon Jovi. "If you find the right partner and you grow together."
"That would be my advice," he added. "Growing together is wise."
Bon Jovi also proudly mentioned that three of his four children are engaged.
"I think that all of my kids have found the people they think they can grow together with and we like them all."
"Millie's wonderful. Her whole family are great. Jake is very happy."