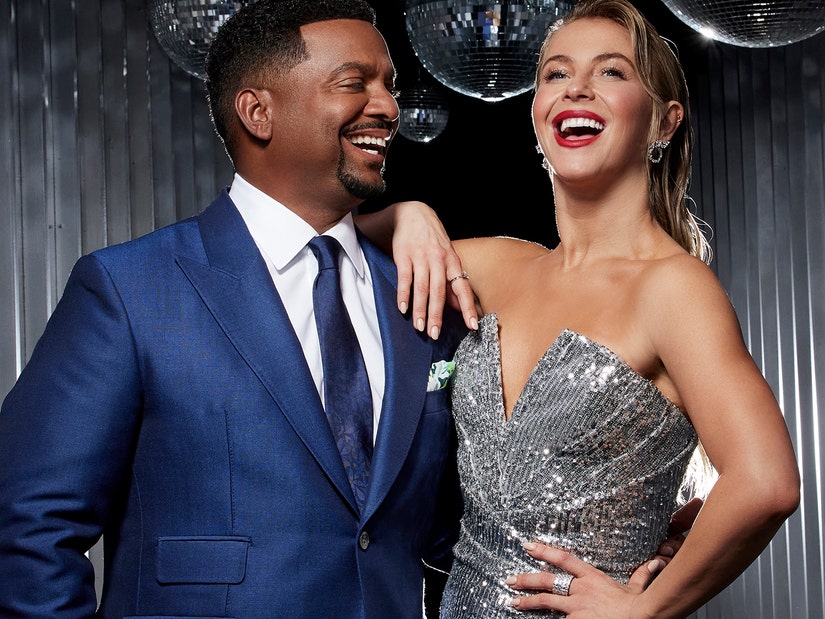 ABC
Even as Dancing with the Stars is considering delaying its premiere amid WGA picketing and contestant Matt Walsh stepping away until the strike is over, SAG-AFTRA announced they're in support of the show airing and contestants fulfilling their contractual obligations.
The saga of Dancing with the Stars is just getting more and more complicated as SAG-AFTRA, the actors guild, has now come out in support of it premiering next week amid ongoing strikes, saying its members should fulfil their contractual obligations.
This declaration comes after Veep alum and contestant Matt Walsh said he will step away from the production until the WGA, the writers guild, strike is concluded. For its part, the WGA has been picketing the show, which it considers a struck show because it employs one WGA writer to work with its hosts.
"Our members appearing on Dancing With the Stars are working under the Network Code agreement, which is a non-struck contract," a spokesperson for SAG-AFTRA told Variety on Thursday. "They are required to go to work, are not in violation of SAG-AFTRA strike rules, and we support them in fulfilling their contractual obligations."
SAG-AFTRA union members this season include hosts Alfonso Ribeiro and Julianne Hough, judges Carrie Ann Inaba, Bruno Tonioli, and Derek Hough, and contestants Walsh, Alyson Hannigan, Ariana Madix, Barry Williams, Jamie Lynn Spears, Mira Sorvino, and Xochitl Gomez.
"The program is a SAG-AFTRA non-dramatic production under a separate agreement that is not subject to the union's strike order," the union's statement continued. "The majority of our members on Dancing With the Stars had contractual obligations to the show prior to the strike. Many are under option agreements that require them to return to the show if the producer exercises their option which the producer has done."
Veep alum Walsh, who is also a member of the WGA, told Deadline via a statement that he was "taking a pause" from the show in solidarity with the writers union. "I was excited to join the show and did so under the impression that it was not a WGA show and fell under a different agreement," he said.
"This morning when I was informed by my union, the WGA, that it is considered struck work I walked out of my rehearsal," the two-time Emmy winner continued. "I have been and will always stand with my union members of the WGA, SAG and DGA."
"Beyond our union artists, I am sensitive to the many people impacted by the strike and I hope for a speedy and fair resolution, and to one day work again with all the wonderful people I met at DWTS who tolerated my dancing," he continued. Walsh was set to perform with Koko Iwasaki.
While no final decision has been made about the show itself, there are multiple media reports that indicate producers and the network are seriously considering delaying the premiere, currently scheduled for this Tuesday.
Professional dancer Gleb Savchenko should be pleased with SAG-AFTRA declaring that actors should participate in the show. He spoke about the possible delay during an appearance Thursday night at the Elizabeth Taylor Ball to End AIDS at the Beverly Hills Hotel.
Calling it all "crazy," Savchenko claimed that they don't have any WGA writers, though he may be unaware that the hosts do reportedly work with a writer. Despite Walsh's "pause," Savchenko asserted that he hopes the show will go on for everyone else involved.
"It's just going to be unfair to a lot of people because it's not just Matt who is an actor and represents that world, it's also my partner, Mira Sorvino," Savchenko said. "I just hope that before the premiere, which is literally in four days, we can figure it out because we have a lot of actors on the cast for this season."
"She's very supportive, but at the same time, she is supportive of all the other people who are on strike," Savchenko continued, emphasizing the complex situation many in the cast are in. Many picketers targeted Sorvino, along with Walsh and Hannigan, with their signs while picketing rehearsals.
"She's in a very difficult situation whether to continue on, which legally she's allowed to," Savchenko added. "She's not breaking any rules. But I really hope, and we're all praying that they're going to figure it out, and we're going to continue on Tuesday."
One thing that's encouraging is that the WGA and the AMPTP have been in talks this week that seem to be moving in a positive direction, with more scheduled for Friday. The WGA strike is coming close to matching the length of the longest-ever writers strike back in 1988. The current strike is on day 143 while '88 lasted 154 days.
As of right now, Dancing with the Stars kicks off its new season on Tuesday, September 26 with a special two-and-a-half hour premiere at 8pm ET on ABC and Disney+. We'll let you know if that changes.