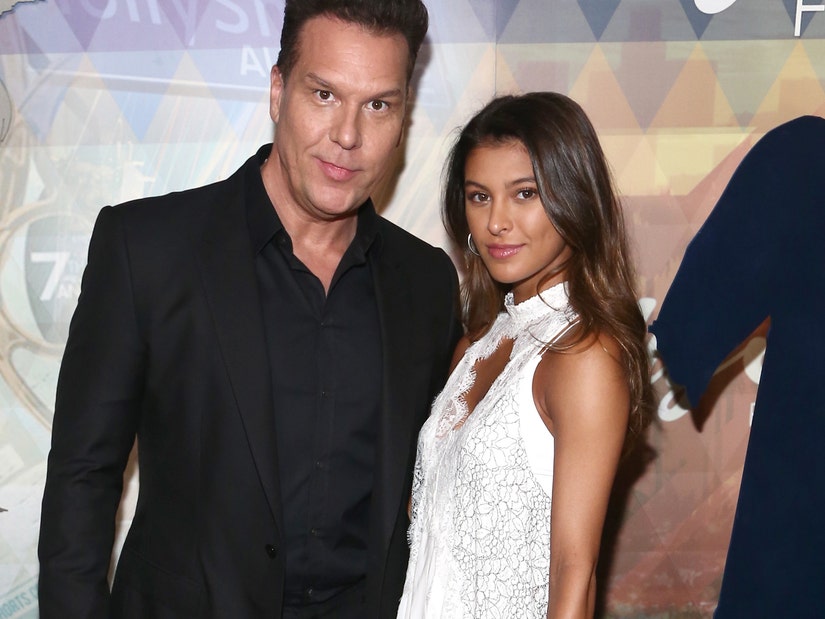 Getty
The 51-comedian and the 24-year-old fitness instructor tied the knot, with the latter calling her big day "a dream come true."
Congratulations are in order for Dane Cook, who just married fiancée Kelsi Taylor in Hawaii.
The 51-year-old comedian took to X to confirm his nuptials on Sunday, before he and his new wife. 24, opened up more about their special day with People.
"Last night I married the girl of my dreams here in Hawaii," wrote Cook. "The greatest feeling in the world is knowing you've got the strongest person you could ever imagine by your side and giving them all of your love in return."
"The years of laughs, adventures and accomplishments we've shared were solidified in front of some of our dearest friends and family during an emotional ceremony," he continued. "I can't wait to share more but for now just know this.. I've never felt this way. It's so wonderful."
Waiting for your permission to load the Instagram Media.
The pair also spoke with People about the wedding, which took place on a private estate in Oahu with only 20 people in attendance.
"We chose Hawaii because it has such a special place in our hearts and our relationship," said Cook. "It was one of the first trips we ever went on together and we continue to go back often."
"It's such an oasis, and we couldn't be more excited to have spent our wedding week surrounded by the beauty of Oahu," he added. "We envisioned something that was more along the lines of a gathering of our closest family and friend."
Adds his new bride, who is a fitness instructor: "Our wedding is an absolute dream come true. It is exactly what both of us envisioned. Staying in a beautiful home next to the ocean, saying our 'I Do's' in the lush green grass under the palm trees with the best view, and all of our favorite people there to witness."
The couple also shared some photos from the special day with the outlet, in which Taylor can be seen wearing a white gown from Grace Love Lace. Cook, meanwhile, wore a dark blue suit.
"We went for traditional vows — because to be perfectly honest, I had a feeling that Dane would totally outshine my speech," said Taylor. "He has the best way with words, and I knew I wouldn't even be able to match up to his delivery. I also really just wanted to keep our more intimate vows private and to give him a handwritten letter the morning of."
The two first met at a game night he hosted back in 2017 -- with Dane revealing that they were "friends for a while & soon after fell in like with each and then upgraded to love." In a 2019 Instagram Q&A, he also addressed the pretty giant age gap between them -- joking, "The only thing you have to do is plan that your deaths will be somewhat far apart."
Cook previously revealed that he popped the question in July 2022 during a trip the two took to York Beach, Maine -- the locale they went on their very first trip together as a couple.
"It's a place I spent much time in growing up so I have such fond memories there. After my mother passed away, she asked me and my siblings to release her at her favorite spot, the breathtaking location, at the tip of Cape Neddick Point, Nubble Lighthouse, where our vacation cottage is located. It felt like the right place," he added.
"The second he began to reach for his back pocket, my stomach flipped," recalled Taylor. "I couldn't have asked for the moment to have been more perfect. All that was going through my brain was, 'Wait, is this actually happening right now? Is he proposing?'"
"Family has always been such an important part of my life and the idea of expanding it and starting our own family together with the man of my dreams just fills my heart," she added.