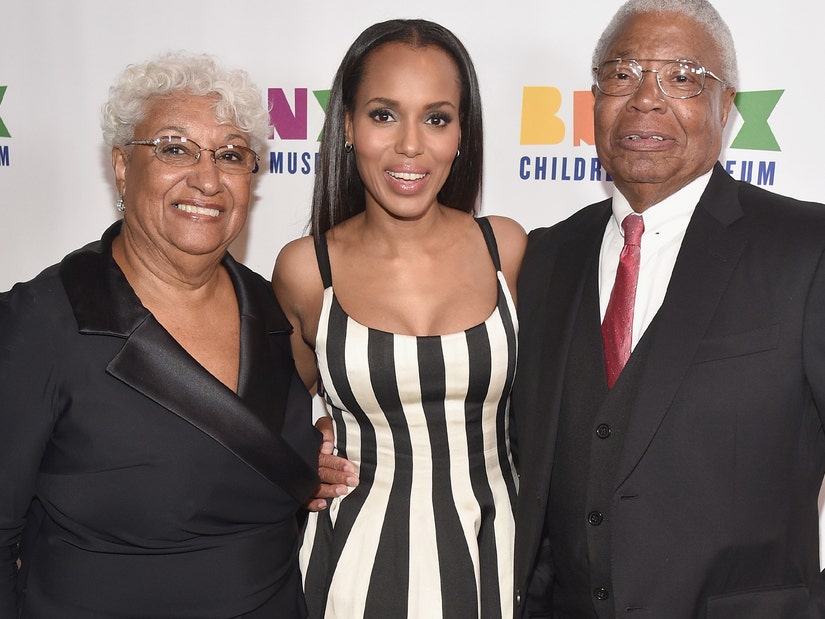 Getty
"My parents were not thrilled about me writing this," shared the Scandal actress -- who added the new information "felt like sort of the missing puzzle piece."
Kerry Washington is opening up about finding out that her dad, Earl Washington, is not her biological father.
The surprising life update came while Washington was set to make an appearance Henry Louis Gates Jr.'s Finding Your Roots, in which celebrities learn about their ancestry after taking a DNA test. After Washington's parents spoke with Gates about their secret, he advised them to discuss it together -- and, in 2018, they sent Washington a text inviting her to have a family conversation.
"When I got this information, I was like, 'Oh. I now know my story,'" said the Scandal actress. Washington said that that it was partially a relief because she had felt like something was kept from her.
"I didn't know what my story was, but I was playing the supporting character in their story," she explained.
She shared that her parents used an anonymous sperm donor after they experienced difficulty conceiving. Washington also said the situation was clearly a struggle for her parents, so she kept calm during the talk but continued to ask questions.
"I think that dissonance of like, 'Somebody is not telling me something about my body,' made me feel like there was something in my body I had to fix," said Washington, feeling like some of her issues with anxiety and self-esteem were rooted in this secret.
"This is really kind of me working to understand my life up until now, given this new information that I have that, in many ways, felt like sort of the missing puzzle piece," she said of her memoir, which was inspired by wanting to tell her story.
She added that her parents "were not thrilled about me writing this," but that this "really is a book about me. I now get to step into being the most important person in my life."
The actress also shared with Extra that the information "turned my world upside down," adding that "it forced me to rethink about who I am."
"My parents have always been in the public eye. I bring them to premieres and award shows and photo shoots, and so I felt a little bit that I had to be honest about my relationship with my parents because we are in the public eye and I didn't want to perpetuate a false narrative," she added.
"If you read the book, you get a glimpse into all of the complicated, multi-faceted reasons for why I slid into an eating disorder and struggled in those ways," said Washington.
Thicker Than Water releases September 26th.