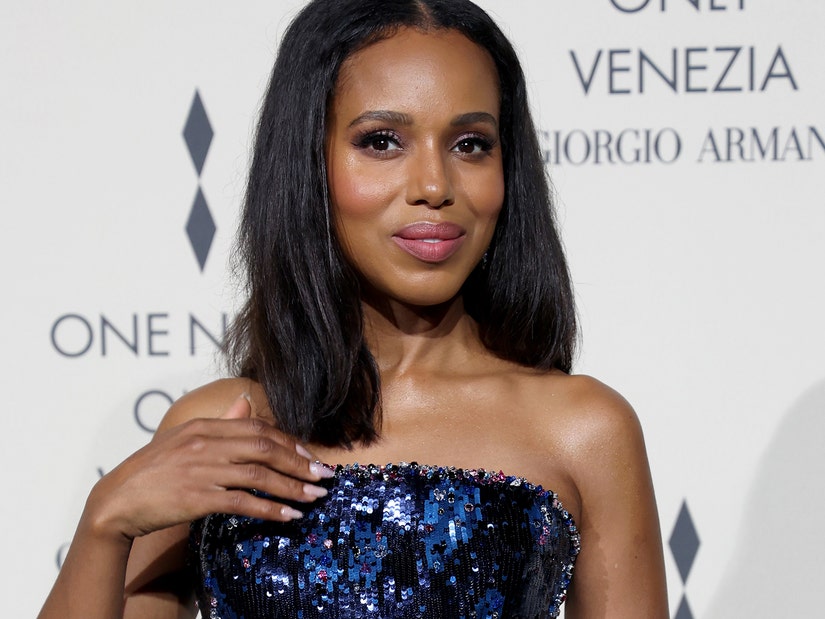 Getty
Scandal alum Kerry Washington called herself "high functioning" as she battled a "toxic" eating disorder and body dysmorphia that eventually led to her contemplating suicide.
Ahead of the release of her new memoir, Kerry Washington is opening up about one of the darker chapters in her life, where a battle with a "toxic" eating disorder and body dysmorphia left her contemplating suicide.
In a teaser for an interview with Robin Roberts set to air this Sunday on ABC's 20/20, Washington said she was "high functioning" as someone struggling with such a brutal disorder. "I was good at control," she said. "I was good at performing 'perfect.'"
"I could party all night and drink and smoke and have sex and still show up and have good grades. I knew how to manage," Washington said. "I was so high functioning."
Unfortunately, what may have presented to others as normal behavior was actually the Scandal alum and Unprisoned star masking a much darker internal reality.
"And the food took me out," she added. "Like, the body dysmorphia, the body hatred, it was beyond my control and really led me to feeling like I need help from somebody and something bigger than me or I am in trouble, because I don't know how to live with this."
Washington started to gain an understanding of what was fueling some of these behaviors, and it was self-destruction. "I could feel how the abuse was a way to really hurt myself, as if I didn't want to be here," she said. "Like, it scared me, that I could want to not be here because I was in so much pain."
Hearing the way the actress chose to phrase this, Roberts asked her directly if she'd ever actually contemplated suicide. Washington replied, "Yeah. The behavior was tiny, little acts of trying to destroy myself."
As the actress continued to struggle, she said that her eating disorder was the first time she was driven to prayer, seeking "some power greater than myself" for guidance and help.
This isn't the first time Washington has been open about her struggles with an eating disorder. Back in 2020, she told Essence magazine that there were times she would "eat anything and everything" to the point of passing out, sometimes.
"Because I had this personality that was driven toward perfectionism, I would tell people I was at the library, but instead go to the gym and exercise for hours and hours and hours," she revealed to the outlet. "Keeping my behavior a secret was painful and isolating. There was a lot of guilt and a lot of shame."
She does feel that she's come to a better place with her disorder, but it's not something that completely goes away. "I wouldn't say that I never act out with food, it's just very different now," she tells Roberts in the new interview. "it's not to the extreme."
For one thing, Washington said she no longer has suicidal ideation. She also has a greater awareness when she's approaching food with a potentially disordered mind.
"I know, 'Oh, I'm really in this chocolate, this is good information for me,'" she said. "The bottom has gotten a lot higher where just a little discomfort with it is enough for me to know this is a way to check myself. But it definitely looks a lot healthier. It's a lot easier. It's a lot saner than it used to be."
She also credited therapy during her chat with Essence in 2020. "Therapy helped me realize that maybe it's okay for me to communicate my feelings," she said. "Instead of literally stuffing them down with food, maybe it's okay for me to express myself."
Kerry Washington's Thicker Than Water: A Memoir is scheduled for release on September 26. Her 20/20 special airs Sunday night at 10pm ET on ABC.
If you or someone you know is struggling with an eating disorder, get help. Contact the National Eating Disorders Association (NEDA) at 1-800-931-2237 or go to NationalEatingDisorders.org.
If you or someone you know is struggling with depression or has had thoughts of harming themselves or taking their own life, get help. The National Suicide Prevention Lifeline (1-800-273-8255) provides 24/7, free, confidential support for people in distress.