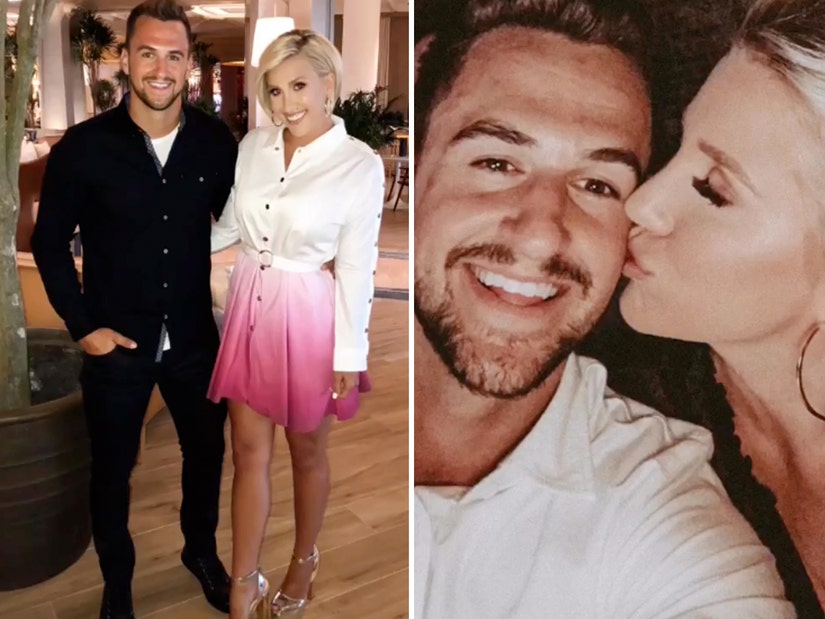 Instagram
"Some things aren't supposed to last forever, some things come into our life for a season, and our season was precious," she wrote on Sunday evening, "I keep texting your phone and just hope you respond."
After sharing a short tribute to her ex on Saturday following his death, Chrisley took to Instagram on Sunday evening to post a longer message celebrating Nic's life while also sharing her grief over his passing. The Chrisley Knows Best star and hockey player began dating in 2017, and announced their engagement in 2019. In September 2020, Savannah confirmed she and Nic had called off their engagement.
"Nicolas Henry Stephan Kerdiles ... I wish you could see all the people that are showing up and loving you right now. I can see that grin of yours so clearly. You left such a mark on this world and it's so empty without you," she shared.
Waiting for your permission to load the Instagram Media.
"It is impossible to believe that you are really gone. I am not sure how to even absorb that news, I don't know how to react. I am so sad and so numb. I don't want to believe it ... I keep texting your phone and just hope you respond," she continued. "I had just turned 20 when we met, you were only 23, we were just kids learning about life and love and trying to make it all work."
Reflecting on their time together and dating while in the spotlight, Chrisley said that aspect is "one of the hardest parts pf growing up in the public eye."
"People have this tendency to judge things by their best and worst moments. We look at things and define them by what happens at both ends of the spectrum. We had some really great, bright moments, and we had some really hard ones, but the part of our relationship I will hold on to will always be the moments in the middle," Chrisley continued. "It will be the day to day life we got to share for 5 incredible years.. It will be your absolute and total dependency on Starbucks and how no day could start without it. It will be your love for moms carrot cake, I feel certain no person has ever loved carrot cake like you. It will be your inability to ever get a famous cliche saying right, LOL, you would butcher every quote, every time. 'Peaches and rainbows' 🤣"
Though she acknowledged the pair "had some moments that were really, really hard," she wanted to focus on the "beautiful" days they shared as well.
Waiting for your permission to load the Instagram Media.
"Just because some things don't work out, or don't last forever, doesn't make them less special or less meaningful. We learned how to love together. We learned how to be adults and entrepreneurs and professionals. We tried new foods, explored new cities, and created so many memories along the way," she continued, calling their time together in San Diego "so unforgettable."
"I so badly wish I could hop on a flight and you be there waiting on me," she concluded, before continuing her tribute in the comments of her post.
"Many people don't know, they don't realize, that when it was time to take my father to Pensacola, one of the hardest days of my life, it was YOU who came along for the trip, it was YOU who was there for me and drove me through a very dark day. Thank YOU for that," wrote Savannah, referring to the day she had to drop her father, Todd Chrisley, off at Pensacola Federal Prison Camp.
"I will always miss seeing your sweet smile and getting to see your heart on full display. Some things aren't supposed to last forever, some things come into our life for a season, and our season was precious, it was special, and I am and will always be a better person because I knew you, because I loved you and was loved by you," Chrisley added. "Thank you for our season. I am thankful and I will treasure every moment, every memory, every photo and every good day we shared together. Oh gosh ... what I wouldn't do to hear an, 'I LOVE YOU KID' right about now. Gosh! I miss you ... this isn't fair!"
Waiting for your permission to load the Instagram Media.
Chrisley received some words of condolences in the comments from a few of her reality TV friends, including The Bachelor Colton Underwood, who wrote, "Sending you so much love and prayers ❤️"
"Oh my love I am so so so sorry for your loss and the immense hole that is left. Sending you angels to carry you through this time 🙏🏼" shared Meghan King, whole Joe Giudice added, "My condolences 🙏🙏🙏🙏🙏🙏🙏🙏🙏🙏🙏🙏🙏🙏"
Savannah's brothers Chase and Kyle Chrisley also shared tributes to their pages.
"Truly at a loss for words, Nic you were one of the kindest most caring people I've ever had the pleasure of knowing. The first one to help another in need and would give the shirt off of your back to anyone and expect nothing in return," wrote Chase. "Today I lost a brother but we will be together again one day my friend. I think of the countless hours we have spent together as a family and i would do anything to have one more with you. I know God has a plan but today i just don't understand it. I sit here as time passes by thinking this can't be true and i still can't accept it. I love you brother. Fly high my brother we love you."
Added Kyle: There are really no words. Nic was killed early this morning in a motorcycle accident. It's devastating for our family and my heart aches for his. Nic was a good soul all the way around. He was incredibly hard working and was always there for you. He wasn't just Savannah's ex fiancé, he was a part of our family. My daddy loved him, my nanny adored him and I know Savannah is beside herself. It's just absolutely heartbreaking. Please pray for comfort for everyone that knew him and loved him."