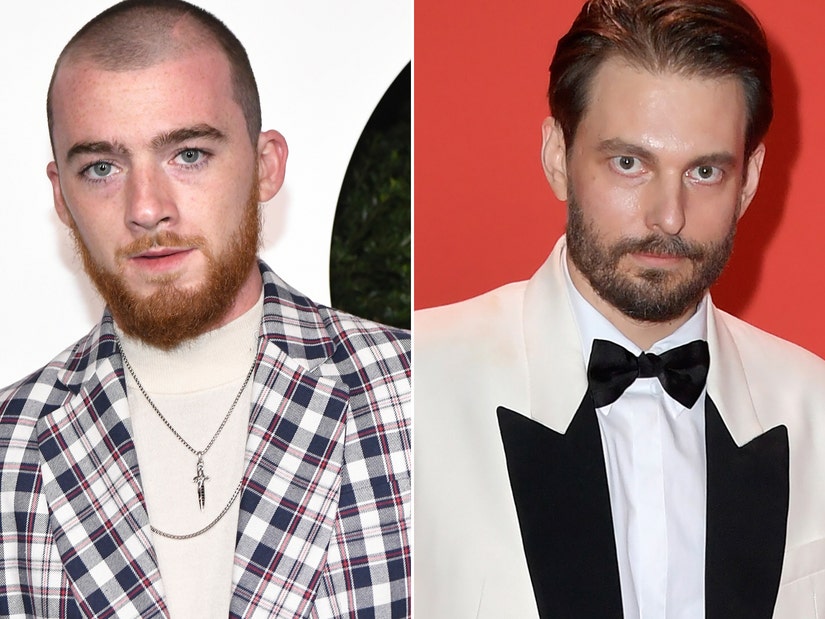 Getty
Euphoria creator Sam Levinson opens up for the first time about trying to help Angus Cloud with his addiction struggles while fllming the first two seasons, and fighting to keep his character alive as he was worried what the actor would have to look forward to without the show.
Angus Cloud, who tragically passed away of an accidental overdose in July at just 25 years old, quickly became a fan-favorite on HBO's Euphoria, but he was a favorite of creator Sam Levinson first.
In fact, Levinson revealed that Cloud's character, drug dealer Fezco, was supposed to die twice -- but he couldn't do it!
"Angus was supposed to die at the end of the first season, but I loved him so f--king much," Levinson told People in a new interview, crediting in part his "Paul Newman eyes." But it was more than just his look or even how good he was in the role.
"It killed me ... He was perfect," Levinson said of Cloud. "I think part of the problem is I would sometimes put actors ahead of the show at times. So I was like, 'Okay, I can't kill him because then what is he to look forward to?'"
During their time working together, Levinson took Cloud under his wings after he picked up on the fact that Cloud was struggling with addiction. Levinson has been open about his own past struggles with addiction, so it was something he definitely understood.
"I looked him in the eye and I knew that he wasn't doing well," Levinson said. "At the same time, I've been in these situations before where you're trying to get someone clean."
Levinson said that he laid it out for Cloud pretty plainly, telling him, "I love working with you and we've got this amazing season planned and stuff, but I need you to be sober because I got to be able to rely on you."
With help from HBO, who reportedly paid for it, he was able to get Cloud to agree to go into a 30-day in-patient treatment program. Unfortunately, according to Levinson, Cloud relapsed partway through the second season, leading to an intervention and he went into rehab.
As this was happening, Levinson said the same scenario was happening as they were laying out Season 2, with Cloud's character again slated to die after having a significant role in the first half of the season. Once again, though, Levinson went to the mat for the young star.
"I could just see the blood kind of run out of his face," he said of Cloud's reaction to learning Fezco's planned fate. "I think the hardest thing is when you have addiction issues -- it's about finding your purpose and finding your meaning in life."
"The one thing that I knew is he loved making this show. He loved the crew. He loved the actors. He loved everything about it," Levinson continued. "And I just thought, if this goes away, I don't know what's going to happen in his life."
After production wrapped on Season 2, Levinson said he want for a long walk with Cloud to talk about Season 3 and how important it was that he be clean. Cloud said he was "good," but Levinson said he "could tell, at that time, it was like he wasn't interested. He wasn't going to do anything, and yeah, he didn't want it."
Ultimately, Cloud lost his battle with addiction, succumbing to the disease on July 31, 2023. As reported last Thursday by TMZ, the actor "died from a lethal combination of fentanyl, cocaine, methamphetamine and more in what's being ruled an accidental overdose."
A source close to the family told the outlet that Cloud had been struggling with suicidal ideation since burying his father the week prior. He was staying with family; it was his mother Lisa who called 911.
"I could always feel that he didn't want [sobriety] as much as we all wanted it for him," Levinson told People. "That's where it gets tricky because the whole world can want it for you. But he didn't want it."
"It's just the self-destructive side of addiction and it outweighs everything," Levinson continued. "But you can't give up on people. I wasn't going to let anyone give up on him."
If you or someone you know is struggling with substance abuse, get help. The Substance Abuse and Mental Health Services Administration (SAMHSA) National Helpline (1-800-662-4357) provides 24/7, free, confidential support for people in distress.
If you or someone you know is struggling with depression or has had thoughts of harming themselves or taking their own life, get help. The National Suicide Prevention Lifeline (1-800-273-8255) provides 24/7, free, confidential support for people in distress.