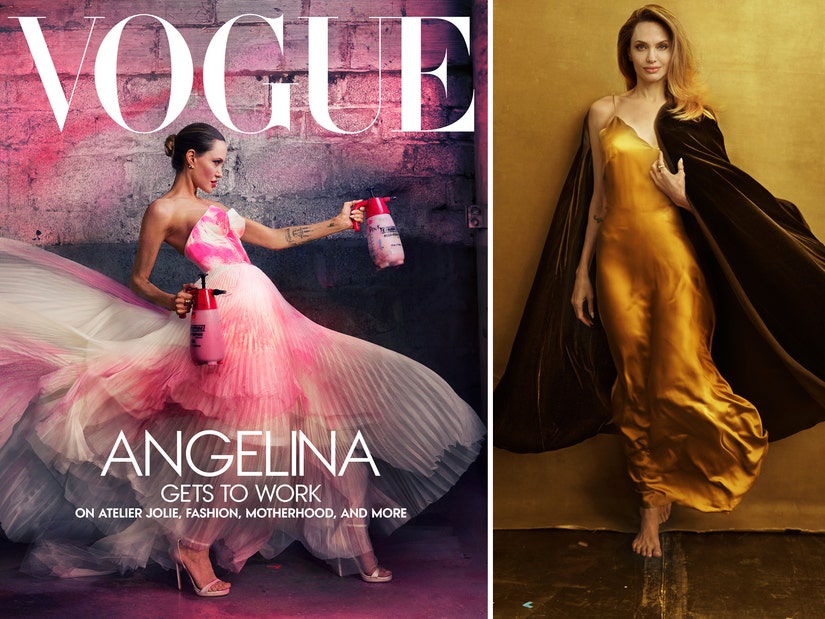 Annie Leibovitz/Vogue
"I feel a bit down these days. I don't feel like I've been myself for a decade, in a way, which I don't want to get into," she shares in a new Vogue cover story, in which she's also photographed alongside children Zahara, 18, and Pax, 19.
Angelina Jolie is revealing how her children have helped her through some tough times.
The actress/humanitarian stuns in the latest issue of Vogue, for a cover story about her new Atelier Jolie fashion house. And while the focus of the story is fashion, the 48-year-old Maleficent star also spent a lot of the interview gushing about her six children; Maddox, 22, Pax, 19, Zahara, 18, Shiloh, 17, and twins Knox and Vivienne, 15.
While she alludes to darker times more recently in her life, Jolie doesn't mention her ex-husband Brad Pitt -- from whom she split in 2016 -- at all, and his name is totally absent from the profile. That being said, the timeline she references lines up with their separation.
"I was 26 when I became a mother. My entire life changed. Having children saved me -- and taught me to be in this world differently," she told the publication. "I think, recently, I would've gone under in a much darker way had I not wanted to live for them. They're better than me, because you want your children to be."
She added that she hopes she's a "safe place" for her kids, and is able to provide them with "stability" -- before admitting she's also the one "they laugh at" as well.
Waiting for your permission to load the Instagram Media.
Jolie continued to speak about her current family dynamic when addressing how working in fashion has been a "therapeutic" process for her amid difficultly in her personal life.
"I want a woman to feel safe enough that she can be soft. After I went through something where I was hurt, I had a therapist ask if I would try wearing a flowing garment. Sounds silly, but I assumed that pants and boots projected a 'tougher' look, a stronger me," she shared. "But was I strong enough to be soft? At the time, no. I felt vulnerable."
Explaining that she's currently "in transition as a person," she admitted to feeling "a bit down these days." Said Jolie: "I don't feel like I've been myself for a decade, in a way, which I don't want to get into."
The actress explained that she decided seven years ago to only take jobs which "didn't require long shoots" away from her family and, in the time since, they've all "had a lot of healing to do" and are "still finding our footing."
"I think part of this has also been therapeutic for me," she added of the Atelier, "to work in a creative space with people you trust and to rediscover yourself. I'm hoping to change many aspects of my life. And this is the forward-facing one."
In the profile, Jolie admitted she didn't necessarily think she or her children were "overly 'fashionable,'" something she thought was pretty funny considering their latest venture. She was adamant, however, that she never tells her kids how to dress -- adding "nobody has to go anywhere if they don't want to, and if they don't want to dress up, they don't have to."
Of their style, she added, "I want them to be their own people."