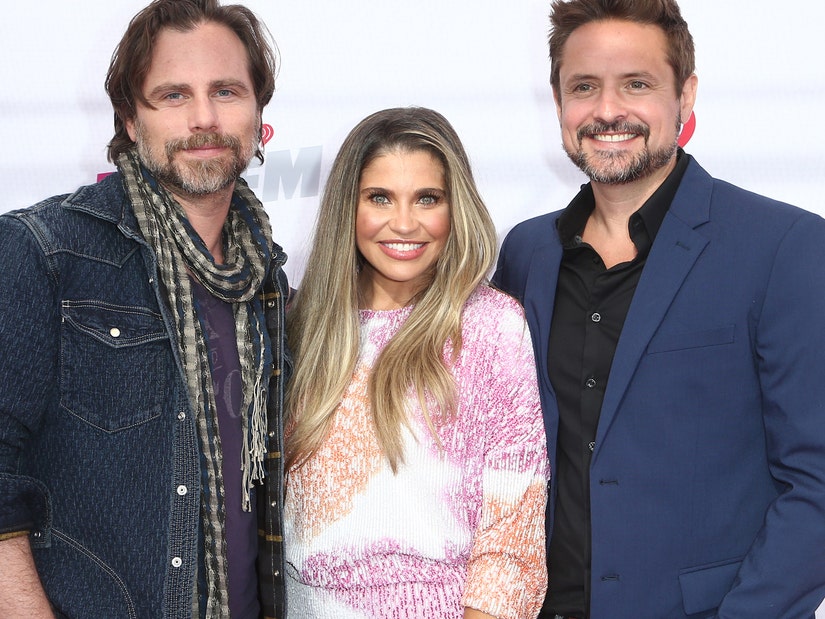 Getty
Danielle Fishel, Rider Strong and Will Friedle have been spilling on everything from crushes to "creepy" interactions with execs and one rumor they called "next level crazy"
Boy Meets World turned 30 this month and even three decades later, diehard fans are just as passionate about the show as ever. While most of the cast is reuniting at a convention for the milestone moment, fans have also been getting their Boy Meets World nostalgia fix with the Pod Meets World podcast. Former costars Rider Strong, Danielle Fishel and Will Friedle teamed up to launch the rewatch podcast in 2022 -- and since then, they've been spilling all the Boy Meets World behind the scenes secrets, both the good and the bad.
Here's all the drama that has been dished on the Pod Meets World podcast so far ...
Danielle had a secret crush on her costar Rider Strong
On the podcast, Danielle revealed that she had a crush on Rider that she kept a secret for almost 30 years! The actress came clean when a fan asked about on-set crushes and she admitted that she had feelings for Rider through season 2. Upon hearing the revelation, Rider was truly shocked.
"That's not true, you've never told me that!" Rider exclaimed. "You saved that for 30 years? So…I was your first celebrity crush. [It was] Jonathan Taylor Thomas and me. You really had the teen magazine thing covered way through the '90s."
Danielle explained that she thought Rider was "so smart" and loved that he was "very effusive," a quality she says he still has to this day.
"You know one of my favorite things about Rider, and it still stands to this day, Rider is very effusive. He will tell you how he feels and he's very free with his compliments, but he doesn't throw them out willy-nilly. When Rider compliments you it is thoughtful, it has meaning, and you can tell…it's coming from a very real place," Danielle shared.
The original actress playing Topanga got fired for not being "pretty enough"
Before Danielle was cast on the show, the role of Topanga originally went to a young actress named Bonnie Morgan. As a guest on the podcast, Bonnie revealed that she actually made it all the way to the ​​first day of production -- but ended up getting fired the following day.
Looking back, Bonnie says the first on set wasn't bad despite allegedly having a tense exchange with director David Trainer over how to deliver a line. But the next day, her father got a phone call saying that she had been fired. When her agent tried to figure out what went wrong, she claimed they were told Bonnie couldn't take direction. The agent pushed back at the accusation and later learned that David allegedly didn't think she was "pretty enough."
"It came out very quickly to my agent that the director didn't think I was pretty enough, literally did not think I was pretty enough," she said. "So that meant that a grownup, a man, a boss, could lie about me and tell me I was untalented because the fact was he didn't think I was pretty. I was shattered."
Danielle almost got fired during her first day on set
When Danielle was cast as Topanga after Bonnie's departure, things got off to a rocky start. During her first day on set, the then-12-year-old Danielle delivered her lines too fast and, despite working hard to slow down her speaking, she said she was reprimanded by series creator Michael Jacobs. She added that, at the end of the day, Michael gave notes to the cast but told Danielle to stay back because she had too many notes and he didn't want to waste the rest of the cast's time.
"Michael starts off the notes by saying, 'Danielle, I'm going to give you your notes all at one time, at the end and I'm going to give everyone else their notes now, because if I made everyone sit here through all of the notes I had for you, we would all be here for hours and no one would ever get to go home. So you're just going to wait for the end.' From that moment on, my eyes welled up because, you know, I'm now in front of everybody -- all the producers, all the writers, all the cast and all eyes are on me for a second," Danielle claimed.
She added, "What I know specifically was said is, 'All I know is, if you don't come back tomorrow doing this entirely differently, you are also not going to be here,' referencing the girl I had replaced."
After Michael went through the script line-by-line, Danielle and her mom stayed up until the middle of the night practicing. The next day, she said she was able to prove herself worthy of Michael's approval.
William Daniels almost wasn't cast as Mr. Feeny
William Daniels didn't immediately sign on to the show when he was offered the role of Mr. Feeny. Looking back, he admits he had some hesitations about the role that caused him to turn it down, beginning with the character's name.
"I asked for a meeting [with Michael Jacobs] because I turned it down and he wanted to know why. I said, 'Well, that's a funny name and I don't wanna make fun of teachers. I respect them and they're unpaid and all that," William recalled. "Then he told me what my role was based on, which was a mentor of his when he was in high school. I realized the plot would be written with respect."
While William did ultimately agree to do the show, he almost backed out following a bad first table read for the pilot episode. William threatened to quit the show so Michael ended up rewriting some of the script until William was pleased with how his character was being portrayed.
Danielle had "creepy" interactions with a show executive
Danielle knows she was pretty mature for her age while starring on Boy Meets World but looking back, she says some of the interactions she had with adults on set weren't very appropriate. While talking about how she became "an object of desire at such a young age," she recalled a "creepy" conversation with a show executive. Despite being just 16-years-old, the executive told her that he had hung a calendar photo of her on the wall in his bedroom.
"I had people tell me they had my 18th birthday on their calendar. I had a male executive -- I did a calendar [shoot] at 16 -- and he specifically told me he had a certain calendar month in his bedroom," Danielle said on the podcast.
At the time, Danielle says she felt some initial shock but then reasoned that they were peers and "this is how you relate to peers." She added that she had always "wanted to be seen as an adult" and getting attention from an adult male didn't seem "creepy or weird" to her back then.
"I felt like it was validation that I was mature and I was an adult and I was capable and that they were seeing me the way I was, not for the number on a page. And in hindsight, that is absolutely wrong," Danielle concluded.
Rider didn't like how the prom episode was handled
During a podcast where the cast discussed Boy Meets World episodes allegedly "banned" from airing on the Disney Channel, Rider brought up season 5's prom episode. On "Prom-ises, Prom-ises," Topanga considered having sex after prom with her boyfriend Cory and Rider says he doesn't like how the episode was handled.
"I remember being very upset during that entire week. I was very upset with the adults on our set -- the way that they were approaching this, specifically because we were not discussing safe sex," Rider said.
He continued, "The fact that we would not bring up Cory and Topanga using condoms or having a discussion about birth control at all, and yet the entire episode was about whether 'will they' or 'will they not' ...I just remember being so upset, and I brought it up. I remember talking to Michael about it, saying, 'Can we talk about this?'"
Looking back, Rider said nobody listened to his concerns, with Jacobs allegedly telling Rider that it was "a ridiculous thing to worry about."
Trina McGee thought her costars had her cut from the finale
"I was told, in kind of a weird, off-handed way by a very important person, that you guys all went to Michael Jacobs, and you said, 'We don't want her in the last episode. She's somehow taking our light.' [That] was the gist of it," Trina shared as a guest on the podcast.
She later added, "I know the last show was going to be the one with the ratings and the crying and all the stuff. I was under the impression y'all got together and did not want me in the last show, for some reason I was going to take some shine or something to that effect. That was really hurtful to me for a long time."
Rider, Danielle and Will were all shocked to hear that was what Trina had been told -- and swore that was definitely not the case, calling the situation "next level crazy." While it was shocking to hear, Danielle admitted that she had always felt that she and Trina were being pitted against each other on set -- but they have since hashed things out.
"What a shame we weren't able to talk about this from the beginning. We could have helped each other," Danielle concluded.
Jacobs hasn't publicly responded to any of the claims made on the podcast, though Fishel recently told Variety that "When the first two episodes had aired, he sent us an email telling us that he was proud of us and loved the show." She added, "Since then, we have heard he's upset."