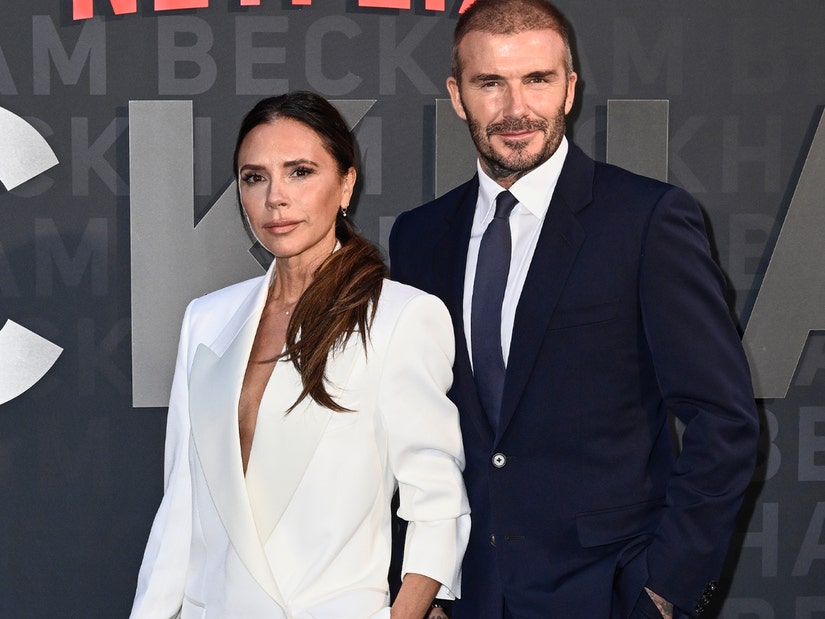 Getty
Victoria Beckham details her husband David's rumored affairs in the new four-part documentary on the soccer star, 'Beckham,' calling the trying time the most "unhappy" she's been in her life.
For the first time in her 24-year marriage to David Beckham, Victoria opened up about her husband's alleged affair, detailing the difficult time in Netflix's new four-part documentary, Beckham.
It all went down in 2003, when David moved to Spain to play for Real Madrid. With David turning his focus to his career, Victoria, remained in the U.K. to care for their sons, Brooklyn and Romeo.
It was around that time that two women -- Rebecca Loos and Sarah Marbeck -- claimed they had an affair with the now-retired athlete.
"It was the hardest period for us because it felt like the world was against us," Victoria said in the doc.
The rumors nearly tore the couple apart, with the Spice Girls star recalling being totally disconnected from her husband.
She continued, "And here's the thing, we were against each other if I'm being completely honest. You know, up until Madrid, sometimes it felt like us against everybody else, but we were together, we were connected, we had each other. But when we were in Spain, it didn't really feel like we had each other either. And that's sad."
"I can't even begin to tell you how hard it was and how it affected me," Victoria added.
She ended up moving to Spain amid the allegations, to be by David's side.
The media frenzy was already insane around the couple at the time, but only amplified during David's time in Madrid, and got significantly worse as the affair rumors began swirling.
"It was an absolute circus," Victoria said of their time in Spain. "It's really entertaining when the circus comes to town, right? Unless you're in it."
The pop star turned fashion designer said she ended up resenting her husband for it at the time, but internalized the trauma to support David's soccer career.
"Did I resent David? If I'm being totally honest, yes, I did," she recalled. "It was probably, if I'm being honest, the most unhappy I have ever been in my entire life."
Victoria added, "It wasn't that I felt unheard, because I chose to internalize a lot of it, because I was always mindful of the focus that he needed."
As for David's thought's on the topic, looking back, he said he doesn't know how the pair got through it.
"Victoria is everything to me, to see her hurt was incredibly difficult, but we're fighters, and at that time we needed to fight for each other, we needed to fight for our family," David said. "And what we had was worth fighting for."
The couple would go on to welcome their third son, Cruz, in 2005, not long after Victoria's move to Madrid, and expanded their family once more in 2011, with the addition of their daughter, Harper.
See the Beckham family in full force at the doc's premiere in the gallery bellow.
Beckham premiered October 4 on Netflix.