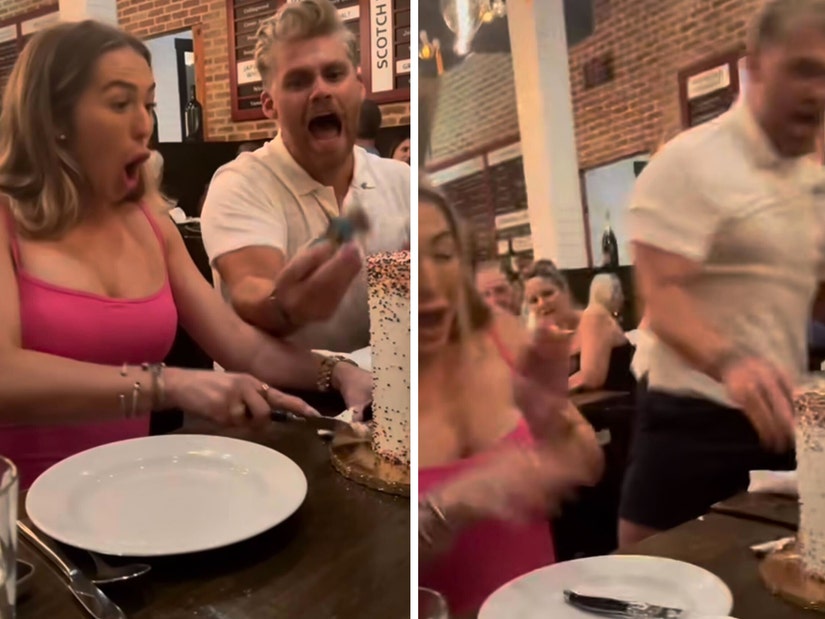 Instagram
The father of one was so excited after finding out the sex of his second child, that he broke a wine glass, startling both his family, and the entire restaurant where they received the news.
A Georgia dad could hardly contain his excitement upon finding out the sex of his second child.
Patrick and McKenna Hartmann, who are already parents to daughter, Maverick, opted for a simple sex reveal for baby no. 2, cutting into a cake to find out if they'd soon be welcoming a baby boy or girl.
And it didn't take long before they got their answer. As blue frosting peeked out of the cake, Patrick couldn't help but jump out of his seat, slamming a piece of the celebration cake onto the table in his excitement and startling the entire restaurant in the process.
In the caption for the video below, which has since gone viral, McKenna called it a moment the couple will "never forget."
Waiting for your permission to load the Instagram Media.
"The moment we found out we were getting our ✨ BOY ✨ was one we'll never forget!," McKenna wrote alongside the July clip, before admitting that she was "mortified" by her husband's reaction.
She said it was warranted though, as the pair have nothing but girls on either side of their family, and were expecting another one after welcoming their daughter last year.
She continued, "I have 2 sisters, he has 3 sisters, and our first child is a girl so we didn't have high hopes for any boys, to be honest. 🤣"
"Backstory on this POV... We didn't find out what we were having when I was pregnant with our first. Patrick swore it was a boy and called her a 'he' up until the literal moment our daughter was born! After that, he lost the little hope he had for a boy in our family! Until this day. 💙," McKenna added of her husband's reaction.
As for when they're expecting, McKenna revealed their son will be joining the family in January.
Speaking with People about the viral moment, Patrick said his reaction came "naturally."
"I feel like I need a boy to be able to keep up with our little girl Maverick!," he exclaimed.
"What you can't see in the video is that when Patrick hits the table, it actually made a wine glass pop up and break at the stem, spilling wine all over my dad!" McKenna revealed to the outlet. "So when you see me in the video trying to reign him in, that's what just happened!"
While it definitely jolted restaurant goers, the entire eatery erupted with applause after finding out the reason for Patrick's outburst.
"The whole restaurant was very confused and concerned until Patrick announced that it was a boy, and everyone started applauding. It's something I'll never forget," she added.