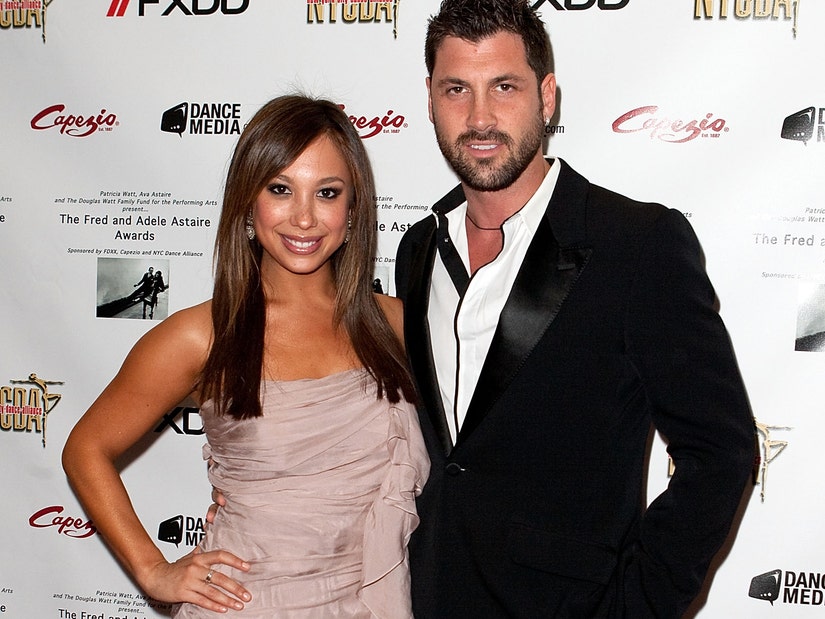 Getty
"He apologized years ago when this whole thing happened... I don't know if there's closure. I mean, it's not just because of him saying anything. It goes back to my dancing and competition career," Cheryl Burke said of being fat-shamed by fellow 'Dancing With the Stars' pro, Maksim Chmerkovskiy, during the show's height back in 2008.
"He apologized years ago when this whole thing happened. He apologized to me and my mother, actually, which was nice of him," Burke said of Chmerkovskiy. "But look, is there closure? I don't know if there's closure. I mean, it's not just because of him saying anything. It goes back to my dancing and competition career."
She continued, "This has always been an issue because I am a curvy girl and that's just the way it is. And I can't change where my bones are or my hips. And it's just -- it is what it is. And either I accept it or I don't. And obviously, when all your whole life it's been centered around basically that, it's hard to accept it."
At the end of the day, Burke said, she needs to find closure within herself to heal from some of those wounds.
"And in order for that to happen," Burke added, "I have to love me and the body that God blessed me with, really."
Burke said that the body-shaming started when she was paired with Drew Lachey in Season 2, just as the show was reaching its peak.
"It was pretty much at its peak. And with that, obviously, me dancing with Drew Lachey, [who] was my first partner. That was in the midst of Nick [Lachey] and Jessica [Simpson's] divorce. And I think that was when people started coming in a way after me, and you can't really -- it's hard because I was growing up in front of people's eyes on TV. I started when I was 21, and your hormones change, and I did gain some weight," she told The Post.
Getty
She continued, "I base my life off of seasons here, but I think it was like Season 7 or 8 right before I danced with Gilles Marini. And I'll never forget being the center of the tabloids, just like, 'Is she too fat for TV?' All of these horrible comments. And it wasn't just me. It was also Lacey Schwimmer at the time. And then some of these pro dancers agreeing with it."
"The messaging that we put out there in society today isn't necessarily healthy," Burke added. "I think we're slowly getting there. I think we're slowly getting better. But it is important to still represent that by action and not just by words."
The professional dancer's comments come just weeks after she had Chmerkovskiy as a guest on her show, where the pair discussed the long-running competition series and the body-rocking impact it has, particularly on celebrity contestants.
"We don't have a dietitian or anything like that on the show. We need it! It's stress. Some people eat when they're stressed, some people don't. And then some people lose sleep when they're stressed. But like, it's just the schedule," Burke explained. "You cannot have a day off on the show. I don't care what anyone says. Maybe in the beginning, during the training period you can, but it's all at your own risk."
She continued, "Yes, you could rehearse five days, three days a week. But again, if you want to look good compared to your competitors and your other competitors are rehearsing seven days a week and you have the option to, that's what you're going to choose to do. And with that comes a lot of stress and a lot of calories burned... the intake of calories isn't high. So it is an actual shock to the body, especially to people who've never moved their bodies like this before."
As for her advice for future contestants, Burke, who left the show after 26 seasons following the Season 31 finale in November 22, told both dance pros and celeb contestants to "enjoy" the ride.
"It goes by fast. And know that it is so important to really understand the show as a whole. Meaning it's not just the dance competition. It really is about being vulnerable, especially to the celebrities. My advice would be just to be vulnerable. Let it all hang out," she shared.
Burke added, "I think people like to see people struggle. And if you're not struggling, everything's all peaches and fun at rehearsals, we know that that's not real as the audience member sitting at home. So don't be scared to get in conflict once in a while, because that's normal. You're being completely vulnerable and you're doing this in front of millions of people every night. That can't be easy."