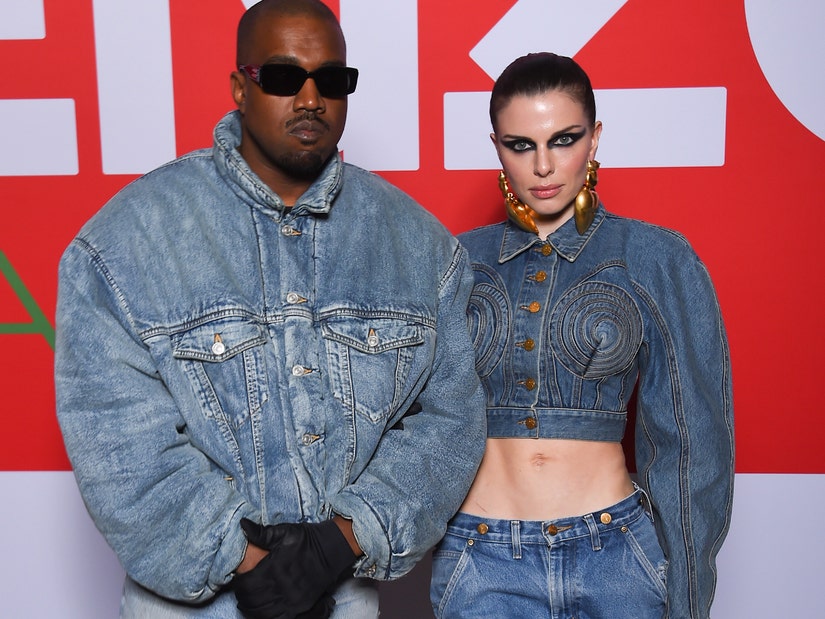 Getty
The comments come after Fox said she "felt like [Kanye's] little puppet."
Julia Fox says Kanye West offered to pay for a breast augmentation while they were playing games in a hotel room.
"We spen[t] the day playing Uno and a game that involves highlighting positive words in the dictionary," said the Uncut Gems actress.
She says the rapper then told her, "I'll get you a boob job if you want," to which she refused.
This is not the first time that Fox has spoken out about her short-lived romance with West.
In a recent interview with the Los Angeles Times about her book, Fox said that at first, she thought that her relationship with the rapper "could be something real."
"I really understood him on a visceral level," the actress said, operating under the presumption that she'd be "helping a precarious situation" amid West's high-profile split from ex-wife, Kim Kardashian.
"But I learned very quickly that I was being weaponized," she added. "I just felt like his little puppet."
The pair's relationship is also discussed in Fox's book, albeit "lightly." The couple were first linked in January 2022 after meeting at a New Year's Eve party and dated for just over a month.
"I'm not signing a f---ing NDA just on principle. I never have, and I never will," Fox said, refusing to keep the details of her relationship with West under wraps. "Unless it's a professional opportunity, then sure."
Though she hasn't shared all the details of their short-lived love affair, she has spilled some serious tea since their split, revealing they almost "never" had sex and that she kept the Birkin bag he gifted her for her birthday.
Fox also shared how the relationship impacted her career, telling the Times she was "up for certain" jobs and "couldn't do it because of dating Kanye."
"It's kind of wild," Fox quipped.
The relationship, Fox said, wasn't as big of a deal as the media made it, adding, "it really wasn't that big of a deal, but other people made it such a big deal."