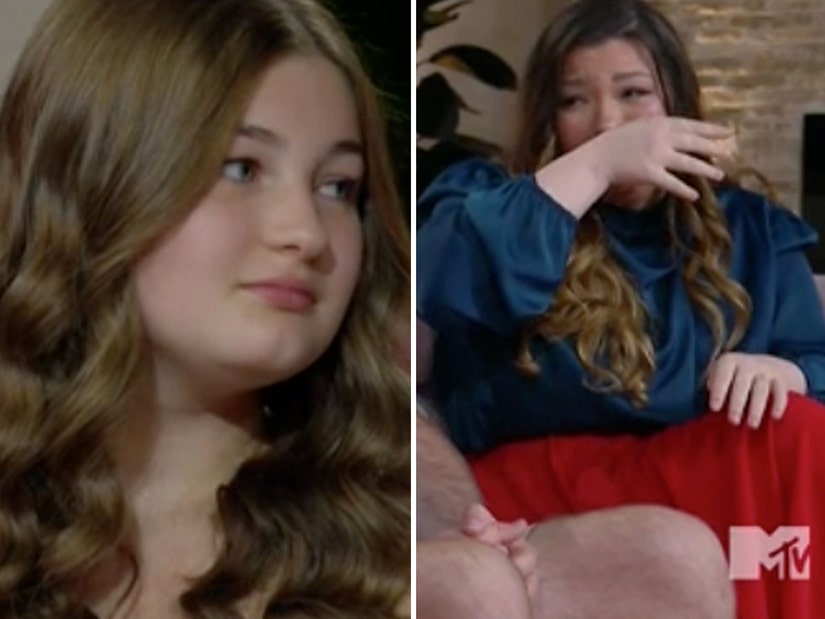 MTV
"I try my best and I'm happy that you see that," Portwood said through sobs after Leah opened up about her parents' support.
The reality TV star was joined by her ex Gary Shirley, his wife Kristina and her 14-year-old daughter on stage for a group interview with Dr. Drew Pinsky and Nessa Diab, as they opened up about their coparenting relationship.
Over the years, Amber has struggled to connect with her daughter, who at one point felt her mother abandoned her for the men in her life and during her time behind bars. More recently, however, they have gotten a bit closer and appeared to reach another milestone during the reunion.
Waiting for your permission to load the Instagram Media.
"I'm amazingly proud of Leah. Everything she's been through, she's found out ways to just navigate her life in the right way," Portwood said during the taping.
The hosts then brought up the birth control conversation Leah and Gary had during the most recent season, praising them for having it on camera. Gary explained they all agreed to have her start birth control to help regulate her period, adding that he trusted his daughter to not make reckless decisions regarding sex. That being said, Kristina still quipped that her husband was "scared" to have a daughter in her teens.
"I really appreciate everybody because being a teenager is stressful. It just makes it easier for me to go through the experience. I have a lot of trust in all of your guys," said Leah, looking at all three of her parents as she spoke.
That remark really caught Portwood off guard, getting choked up as she said that was the first time she ever heard Leah say something like that to her.
"She looked in my eyes … thank you, I love you," said Portwood. "I fought so hard to be there for her and I'm so happy that no matter what I did, she learned something. I love you so much."
"Sorry baby I'm depressed, I love you though. You're so incredible," she added, before Leah told her mother she only wanted her "to be healthy for yourself and your mental health." Portwood said she was trying her best and was happy Leah could see her attempting to make changes -- adding, "I didn't know you saw that."
"You've been a big difference in my life, you've really helped," Leah continued, sparking more tears from her mother. "Thank you for telling me things I've always doubted," Amber replied, as her daughter told her to never doubt herself. The talk ended with Portwood promising she was "gonna keep trying" to push doubt aside, before reiterating her love for her daughter.