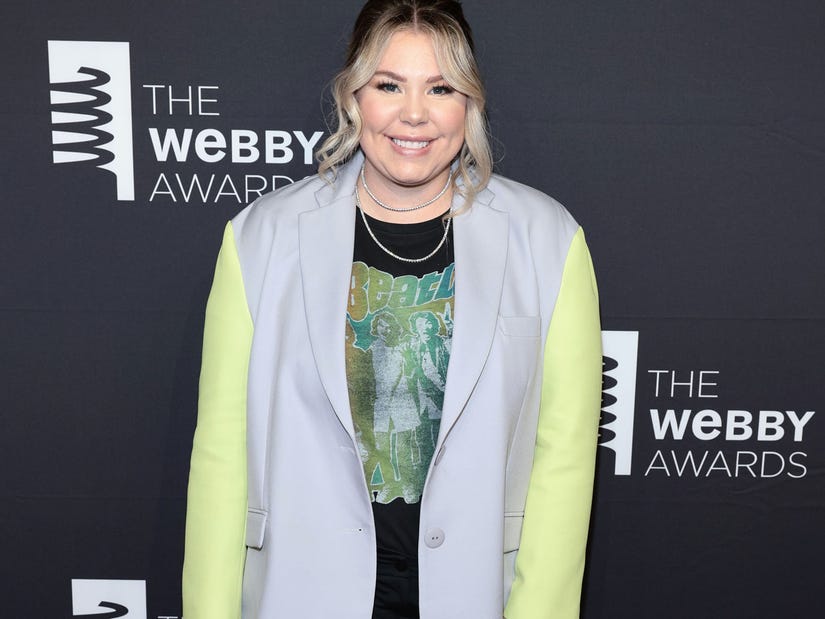 Getty
The Teen Mom alum also revealed that she wasn't planning to have another baby, but that "it was a pleasant surprise."
Kailyn Lowry just confirmed that she secretly welcomed her fifth child last year.
After fans have been speculating that the Teen Mom alum welcomed another child, Lowry is ready to share that information with the world.
In an interview with People, the podcaster revealed that she welcomed a son named Rio last year with her boyfriend Elijah Scott.
"I wanted to be able to tell my own story on my own terms and kind of share what information I wanted to share instead of being within a contractual obligation or storyline," said Lowry of why she kept it a secret.
However, the reality star wasn't necessarily "ready" to share the information with the world just yet.
"I feel like it was ripped out from under me time and time again," said Lowry. "I kind of feel like my hands are tied. People are announcing it for me and so, at this point, I might as well just talk about it."
"At this point, I can at least try to do it my way," added Lowry, who said they "weren't able to keep [everything] as private as we would've liked with the leak from the hospital and things like that."
She also noted that the leak is being handled "internally" from the hospital.
"That was definitely one of the sadder moments," said Lowry.
When her ex Chris Lopez made a reference to her "protect[ing] her belly" in a tweet posted roughly a year go, which has since been erased, it kickstarted a fan obsession over whether Kail was expecting.
Notably, Kail took her time unveiling her most recent partner, Elijah Scott, last year and they have since been rather quiet on social media about their relationship.
Lowry also revealed that they didn't expect to have a child together, the first from the pair, but that "it was a pleasant surprise."
"As chaotic as it was finding out about being pregnant again, he's been such an incredible baby that it really was a true light at the end of a really dark year for me," she shared.
"It was rough [last year] with the lawsuit, the depression that I dealt with and everything else. So, he has been really a joy for all of us."
The mom of five, who shares sons Creed, 3, and Lux, 6, with Chris Lopez and Lincoln, 9, with Javi Marroquin, along with Isaac, 13, with Jo Rivera, said that she wouldn't necessarily call herself a parenting expert.
"Do you ever really become a parenting expert? Because every child is so different and every experience is so different," she said.
"I definitely would not consider myself an expert, but I've been around the block a couple of times with kids. I feel like every experience is so new that I wouldn't say I'm an expert."
Despite this, Lowry added that she's "adjusting accordingly" to this new part of her life.
"It's an adjustment not having cameras around all the time, and it's weird because it still feels like it's a part of my life because it wasn't that far away. It wasn't."
"I'm trying to just get used to the normalcy and being able to go out and kind of move around and move about freely, run my errands freely, schedule appointments freely. That's been nice," she shared.
"And I'll just stay busy with motherhood and the podcast."