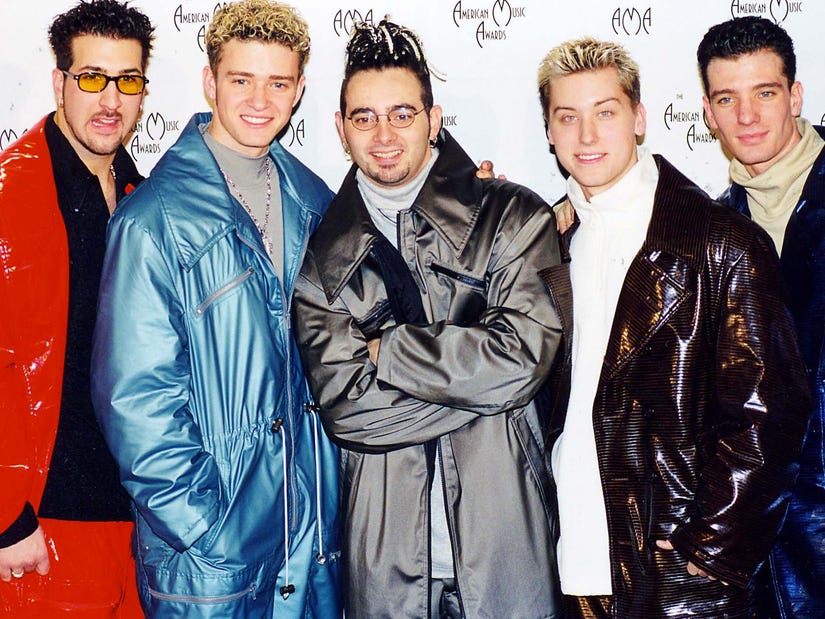 Getty
While it was time to say Bye Bye Bye, some said the breakup was Tearin' Up My Heart.
In 2002, *NSYNC was at the height of their fame when they shocked fans by announcing they were going on a hiatus.
Following the release of their third album, Celebrity, and two stadium and arena tours that made millions, the band told fans they needed a break.
"The break we're on was a conscious move. We all wanted to do it, and we were ready to do it. Performing at stadiums every night for 50,000 fans takes a little out of you," Justin Timberlake told the NY Post at the time. "I was 14 when we started, and we've been touring for the last seven years. The time was right; we were all in the same zone."
But as their hiatus stretched on well past the intended break, fans began to wonder if the band was ever coming back. Meanwhile, Justin embarked on a solo career that proved immediately successful -- all while his bandmates and fans assumed that the band would resume recording soon. It wasn't until 2004 that Justin officially left the band and the group parted ways.
Now, two decades after their split, the band is finally back together. With a new single and their first award show appearance in years, fans are wondering what comes next for the beloved boy band.
But for now, here's what *NSYNC had to say about the split…
While recently reflecting on the band's breakup, Joey Fatone shared that he wasn't surprised when the group split but he was taken aback when Justin began a full fledged solo career. Looking back, he says he wished he had known Justin wasn't planning on coming back so he didn't spend so much time waiting around.
"I was not blindsided by the breakup; I was more blindsided as far as him coming out with music and not knowing that he was going to go and do an actual album/tour thing," Joey told Yahoo Entertainment. "It was more of, 'Hey, I'm going to do some music, and then we'll get back together.' That's what that was."
He continued, "We thought he was just going to go out and just come back after the [Justified] tour. I was like, 'OK.' But then when he went on tour and then things started going, I was like, 'All right, I'll go do Broadway.' That's when I did Broadway. I started doing Dancing With The Stars. I started hosting TV shows and doing my own thing, and that was what led me…in that route…My career and my life led me somewhere else, and I'm good and I'm happy with it."
Lance has shared a similar sentiment as Joey, explaining that he wasn't just upset that Justin walked away from the band -- he was also upset that he wasn't told for quite some time. The singer says that the label knew that Justin wasn't returning for three years and failed to tell the rest of the band, which led Lance to turn down other opportunities.
"Me and the guys were never on bad terms…What I was most disappointed in was not just Justin leaving the band, it's that our whole team -- our record label, our management, everything like that -- they all knew. They all knew it was over for three years before they told me. And so for three years I'm sitting there getting ready for a new album as everyone else knows we're moving on," Lance said on the Inside of You podcast.
Looking back on *NSYNC's split, JC says he thinks things happened "organically" for the band. In the time leading up to the breakup, JC felt that all the members were leaning into different projects like clothing lines and acting careers.
"After you do something for a certain amount of time, you get into a rhythm of it and then new things spark your curiosity; you need new brain food. At that time, we just felt like we had exhausted every kind of idea for what we were doing and we just felt like 'OK, let's do something different.' So, that's what we did," JC told Huffington Post.
He later added, "You're thinking, 'OK, we've done this, we've done this, we've done this. I don't know what else we can do. I think I have an idea, but it's not for this, so I'm going to change gears.' At that point, everybody had been messing with different things. Chris was messing with clothing line ideas, Lance was working on being an astronaut. Joey was interested in making movies, Justin was interested in having a solo career, and I was interested in being in the studio. All of us were more interested in what was on our minds."
When *NSYNC broke up, Chris admits he wasn't quite ready for things to end. Despite what other bandmates have said, Chris says he didn't feel that he had a new direction for himself and walking away from his very regimented life in the band was difficult.
"I don't know if I was ready for it to end. In my 20s and into my early 30s, I was in a band touring the world every day. You wake up and there's a schedule on your floor saying you have a photo shoot this time, a meet-and-greet this time, a radio interview this time, a TV appearance this time and a show this time. Then, suddenly, you wake up and there's nothing. You're like, 'Oh man, where do I go now?'" Chris shared with Huffington Post.
While most members of *NSYNC shared that they were taken aback when the band parted ways, Justin says it shouldn't have come as a surprise. Reflecting on his decision to go solo, Justin expressed that everyone had been planning to go their own ways during the temporary hiatus that eventually turned into their breakup.
"[It wasn't big news] for us," Justin said in an interview with Zane Lowe for Apple Music Essentials. "At that time, I think everybody had aspirations of doing other things and we had talked about it. For me it was always -- I mean, when I was 10 years old, my dream was to have my own record."
In an interview with The Hollywood Reporter, Justin also admitted that everything had gotten too big and out of control -- and he felt that he needed to go his own way.
"We were on a stadium tour, and I just felt like the whole thing was too big. It started as a fun snowball fight that was becoming an avalanche. And, also, I was growing out of it," he told the outlet.
He continued, "I felt like I cared more about the music than some of the other people in the group. And I felt like I had other music I wanted to make and that I needed to follow my heart."