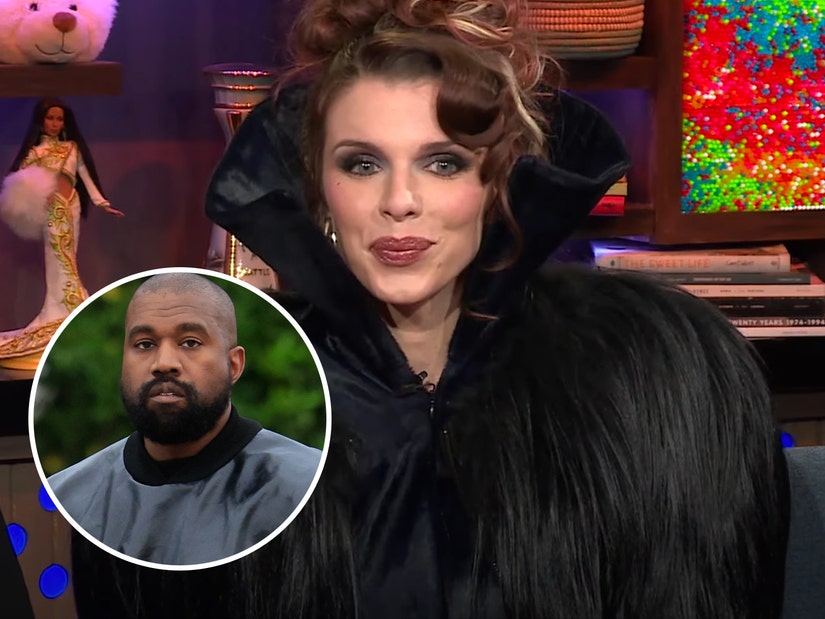 Bravo / Getty
Julia Fox appeared on 'Watch What Happens Live' Sunday, where she shared the response she's gotten from Kanye West since the release of her memoir, 'Down the Drain.'
It's been all quiet on the West front!
While appearing on Watch What Happens Live with Andy Cohen Sunday, Julia Fox shared that she has yet to hear from ex Kanye West since the release of her revealing memoir, Down the Drain.
In fact, she didn't hear from him ahead of the book's release either, telling a virtual caller there hasn't been a word from West or any member of his team despite revealing that he wanted her to sign an NDA during their short-lived romance.
The update comes after Fox dished on the pair's six-week love affair in the new tell-all, exposing some of the musician's odd behaviors, including peeing in public in front of her, offering to pay for her to get a boob job during their many fashion fittings and more.
Calling their relationship equal parts passionate and pretend, Fox said that she felt like a "show monkey" each time the rapper dressed her up to his liking to parade her around for the cameras.
"As we pose like puppets, I question his true intentions, feeling that this grand gesture is nothing more than a publicity stunt," Fox wrote.
Looking back on their romance, Fox recalled feeling like a pawn in West's divorce from Kim Kardashian, writing, "I feel like he's using me in some weird, twisted game... it makes me feel dirty."
The pair would go on to break up within weeks of making their relationship public, following a few contentious arguments, with West making a final attempt at Fox signing an NDA before officially ending their relationship last February.
"I can't be friends with you if you don't sign it," West warned. Fox replied, "I'll live."
Fox, who also opens up about her time as dominatrix in the book -- a career she held for quiet some time before becoming an actress and fashion star -- touched on what she learned about men while in the field, telling Cohen she found that many men lead double lives.
"I think the number one thing I learned about men, is that they sometimes lead double lives," the Uncut Gems actress said. "A lot of them have a whole arsenal of interests and kinks, and their partners, the closest people to them, will have no idea, and they'll come see someone like me... it's a little fascinating and a little scary."
She continued, "I was a dominatrix for many years, and I never had one female client. If I did, she was always there because a man wanted to experiment with her."