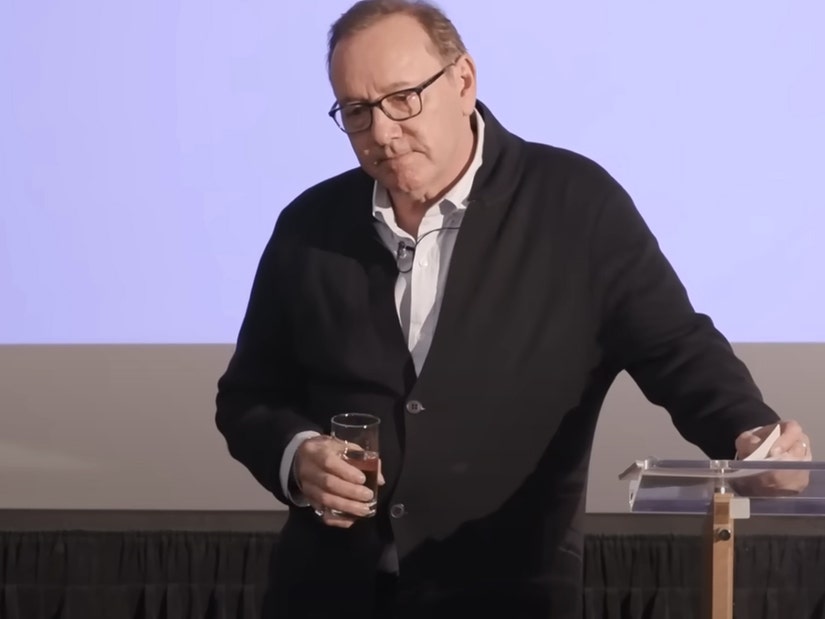 YouTube
In his first time on stage since being acquitted of sexual assault charges in London, the House of Cards star delivered a passionate Shakespeare monologue about cancel culture.
Kevin Spacey was just celebrated in the U.K. for an impassioned performance.
Spacey, who returned to the stage for the first time on Monday since being acquitted of sexual assault charges in London, attended an Oxford lecture honoring late conservative philosopher, Roger Scruton, where he was invited onstage by The Spectator associate editor, Douglas Murray, to perform a monologue from Shakespeare's Timon of Athens.
"In an era of cancellation and defenestration we sometimes forget that we cannot go on like this and that we have been here before. We know this because our greatest writers and artists have addressed this question in their own times," Murray said of Scruton -- who too was briefly cancelled from his career after being dismissed from a government commission in 2019, over remarks he made in an interview with the New Statesman -- before introducing Spacey.
Spacey delivered a rousing performance, making his way through the crowd before saying the monologue's final line: "I am sick of this false world, and will love it not!"
The 64-year-old actor dramatically stormed out of the room before reentering, where he was greeted with a standing ovation from the audience.
As for the scene choice, Murray told the Times it's about "what happens when a society drops a person for no reason. It's something that has been on Kevin's mind, as it was on Roger Scruton's mind, so I said I want him to be back on stage in the U.K."
The performance comes just three months after Spacey was acquitted of sexual assault charges in the U.K. after a four-week trial in London.
He was initially accused of allegedly sexually assaulting four men in the country between 2004 and 2013. Spacey's U.K. trial came after one in New York in 2022, in which he was also found not liable of sexual abuse following allegations from fellow actor Anthony Rapp.
Spacey's career has still not recovered -- with his latest film, the first since the allegations came out, faced backlash this past weekend.
While he does not appear in person in Control, instead serving as the voice of a villain who remotely hijacks the self-driving car of the home secretary, his mere affiliation to the project was enough to get the film's world premiere canceled by a London cinema.
"My staff as well as I are horrified that we are being mentioned in the same breath as his new film for the premiere," an email from Greg Lynn, who runs the Prince Charles Cinema, read, via The Telegraph.
The premiere was able to find a new location, however, and premiered as planned at London's Genesis Cinema over the weekend.
Control will be released in both the U.S. and the U.K. on December 15.