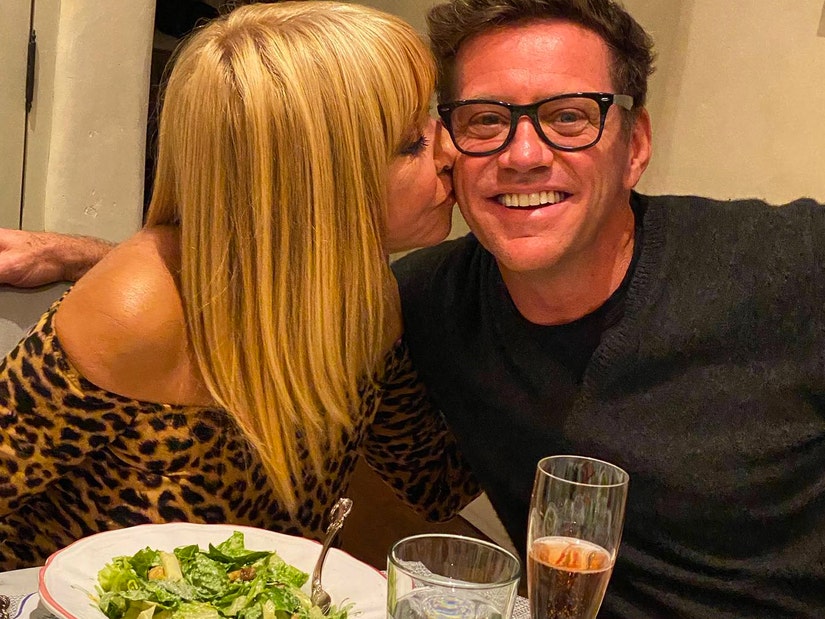 Instagram
Somers died Sunday at the age of 76 following a decades-long battle with cancer.
Suzanne Somers' family is sharing a special birthday tribute to the late actress, after she passed away earlier this week.
Somers died Sunday at the age of 76 following a decades-long battle with cancer. According to the announcement made via her official Instagram account, Somers was surrounded by her family, who had gathered ahead of her 77th birthday on October 16, when she passed away peacefully at home.
Somers' granddaughter Violet and her son Bruce Somers Jr. took to Instagram to share their well-wishes for the actress, and they had nothing but love to give for their late-family member.
Violet posted her "last birthday card for Zannie," witht he caption "Fearless. Unstoppable 💛."
"Dear Zannie, 'Thank you' is not enough. You've made me feel so loved. I know you'll go peacefully, but I miss you already," wrote Violet.
"I'll miss your handwriting in thick black ink on birthday cards. And satin ribbons on gifts. I'll miss watching you eat cake, and gorge on an extra piece, because you just love sweets. I'll miss hearing your voice, your singing at the dinner table. Fearless. Unstoppable. I don't know where you'll go, but I hope you'll be able to sing there. All your favorites," she continued.
Waiting for your permission to load the Instagram Media.
Her post also featured a carousel of pictures and videos of her grandmother, including some sweet text messages that Somers sent.
"I wish you the warmest welcome into the other realm. I'm sure there will be light, and you will follow it, and see everyone you've ever known," she said before listing off family members she will be reunited with.
"And I'm sure it will feel like a warm hug, or like being back in the womb. You'll be so loved. And some day when I go, you'll be the first person I hug. We'll cook together again, and go shopping, and eat Thanksgiving dinner, and every cake you could imagine. In the meantime, I hope you just relax," added Violet.
"Your legacy will remain here, and I'll always keep you with me. I know you'll guide me in certain moments when I need you, and in moments of surprise. You'll visit me as a yellow butterfly, or anything you'd like. I know you wanted to see my babies, but I guess we each have our own plan, and it's all just a beautiful mystery. Just know we're here, loving you. "Thank you" could never cover the gratitude. So it goes... I love you more than you know," she wrote.
"Happy Birthday Zannie. Love, Violet."
Somers' son Bruce also posted a tribute to his late mother.
Waiting for your permission to load the Instagram Media.
"She soared higher than most can dream," he wrote on Instagram. "She protected those who didn't have a voice. She asked the questions most didn't know to ask. She shared her challenges and brought light to solutions. To so many she was a brave warrior who articulated their fears. She wasn't fearless, but she faced them so we could learn."
"She was a friend, a wife, a sister, a daughter, an entertainer, an icon, and a legend. But to me, she was just Mom," continued Bruce. "I had the privilege as the only person who could call her that. Growing up, it was us against the world. And then she took the world by storm. It's always too soon, no matter how prepared we may be. But she will live through me as she taught me to be kind, to be present, to love and be loved, to care, to express, and to always speak from the heart… because THAT is the voice of God."
"Mom, you left me with all the tools, though I'll still need your guiding spirit around me. I feel you and know you are there. But I will miss your sweet hand and caring eyes that would look deep into my soul for verification that everything was okay. Thank you for being the best mother any son could ever dream of. I miss you already. Call me greedy, but 57 years wasn't enough. And yet, I received more love than I could ever imagine. I love you so dearly. Happy Birthday on what would have been your 77th birthday. Please gorge on all the birthday cake you want while you make all the other angels sing, dance, laugh and cry. Today, Heaven is lucky," he concluded.