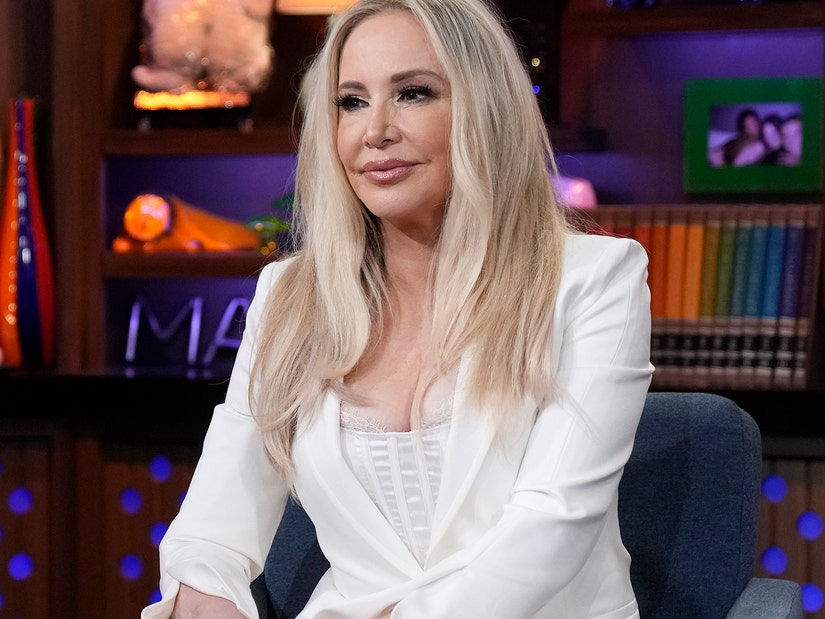 Getty
Shannon Beador was arrested for a hit-and-run and DUI Sept. 16 after the 'RHOC' star allegedly drove her car onto a residential property in Newport Beach.
Shannon Beador is speaking out for the first time after getting arrested for a hit-and-run and DUI last month.
"I know it's been a while since I posted and there's been a lot of talk about what happened recently," Beador said on Instagram Tuesday.
The Real Housewives of Orange County star continued, "But unfortunately right now, I'm not in the position to comment. But there will be a time when I can, and I intend to be open, honest, and authentic."
"Right now, I'm focusing on getting healthy and getting back to myself, and walking Archie," Beador, 59, added, before panning to her beloved golden retriever.
Waiting for your permission to load the Instagram Media.
The video comes nearly one month after Beador was arrested for driving under the influence. On September 16, the reality TV star drove her car onto a residential property in Newport Beach, and clipped the house, law enforcement sources told TMZ. Beador then allegedly turned back onto the road and kept going before parking her vehicle in the middle of the street and getting out with her dog.
Per the outlet, Beador reportedly tried to act like she was taking a walk when police arrived after receiving a 911 call. She was arrested by police shortly after, and booked for two misdemeanors -- hit-and-run and DUI alcohol.
She was cited and released without bond.
Beador's lawyer, Michael Fell, released a statement shortly after, telling TMZ that the reality star is prepared to taking responsibility for her actions.
"I spent quite a bit of time with Shannon yesterday. She is extremely apologetic and remorseful," Fell said. "We will be awaiting the official information on this case as it becomes available, and Shannon is prepared to accept full responsibility for her actions."
While this is the first time Beador has spoken out about the arrest, she's had co-stars and friends weighing in from the start, with former Bravolebrity, Jeff Lewis, rejecting the notion that Beador has an alcohol problem -- despite talks of her drinking on the long-running reality series.
"I don't think Shannon is an alcoholic. As her close friend, I think she's going through a lot of personal struggles right now and I think that she probably has been leaning on alcohol, but I don't believe she's an alcoholic," Lewis said on his SiriusXM radio show last month.
"I am happy to say that she is going to be entering counseling this week, so I am happy about that," he added.
"Yes, obviously, you can't ignore the fact that the irony of it is major," Kirschenheiter said during an episode of her Orange Country podcast. "At the end of the day, I've been thinking a lot about this and Shannon in general, and I just don't have it in me. I'm not gonna kick someone when they're down. And I've been down."
Kirschenheiter did admit to having a bit of an "I told you so" moment, however, calling the arrest karma for the vitriol Beador spewed toward her over her own arrest -- making claims that Child Protective Services could've taken Kirschenheiter's kids away after the arrest had it not been for Beador's help -- among other things.
"I'm not gonna lie to everybody and say I didn't wake up and be like, 'Oh s--t,' this is like karma," the fellow RHOC star, who quit drinking alcohol after her arrest, admitted. "Then very quickly, I moved past that. Then I got angry about a lot of it for a minute, and then I really have settled into appropriate sympathy for the situation and for her."
She added, "I don't want to see anybody down. I never have. I just didn't want to be put down."