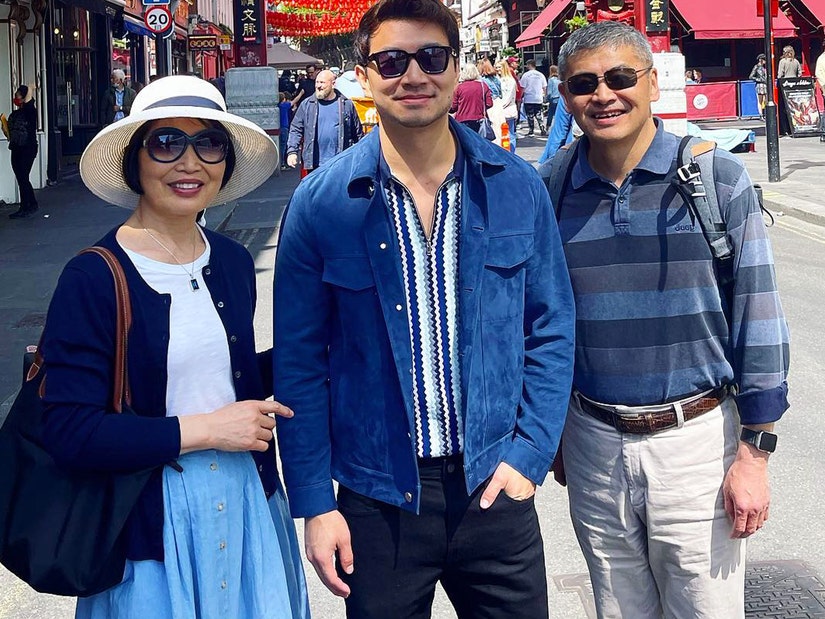 Instagram
"So, I get home many days later and the car is totaled, my shrubs are wrecked and my drugs are gone," the Shang-Chi star told Jimmy Kimmel.
Simu Liu just revealed his parents accidentally took edibles after mistaking them for snacks while housesitting, and ultimately crashed the actor's car into a bush.
It started with Liu inviting his mom and dad, Zheng and Zhenning, to housesit while he was out of town. His parents, whom he described as "frugal", didn't want to order delivery and decided to start "foraging around the house for things to eat."
"There was really nothing in this house except for very basic furniture, some clothes and some edibles and things that I consume recreationally, infrequently," recalled Liu, who added that his mom ended up making her way into the walk-in closet where he kept the edibles at hand.
"So, she finds what she thinks are gummy bears and trail mix with dried mushrooms inside," Liu told host Jimmy Kimmel. "And she's like, 'Oh, these are snacks.'"
"So she takes them to my dad and they start popping them like skittles," continued the Shang-Chi and the Legend of the Ten Rings star, who then described that the pair kept getting hungrier the more they ate, while also feeling like they're "gonna die."
The pair then decided to go get groceries to satisfy their munchies, which ended in disaster.
"They get into my car, immediately crash it!" said Liu, who said they crashed into some shrubbery in his driveway. "They're so high at this point, they're freaking out, they don't know what else to do, they knock on my neighbor's door."
The neighbor then got "roped into it" and helped his parents drive the car back up the driveway while his parents are "freaking out."
"So, I get home many days later and the car is totaled, my shrubs are wrecked and my drugs are gone," he concluded. "And I looked at my parents and I'm like, 'OK, first of all, I am never leaving you unsupervised in my house ever.'"
The whole incident began Liu's partnership with MìLà, who delivered a PR package the next morning out of chance and saved his parents from their edible-induced munchies with some soup dumplings.
"I got the 'Asian parent approved' stamp," said Liu.