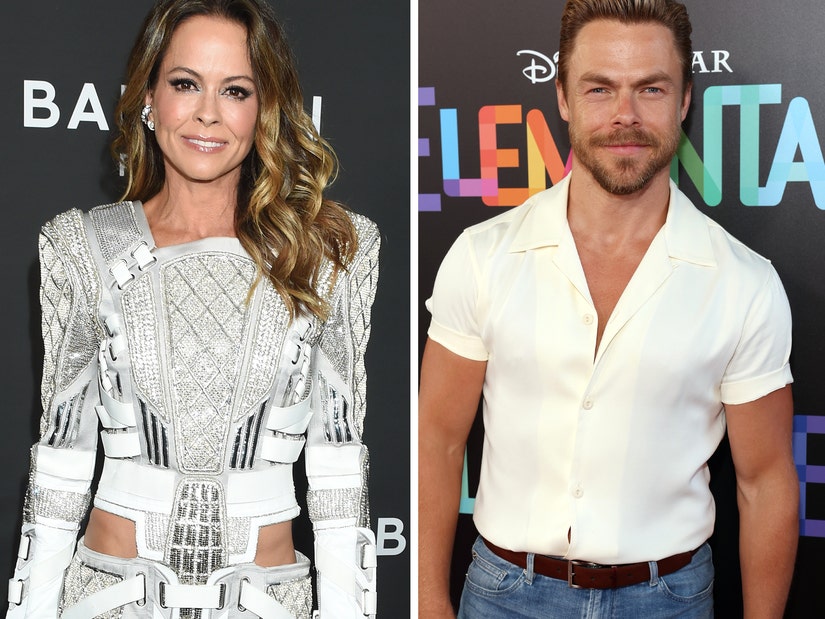 Getty
"I was in a faithful marriage. But it's like that dance where you're just, you're so close, and you're so connected, and that intimacy, you can't fake that," she recalled, sharing that she found the bond between partners can be "an extremely intimate experience."
In a preview for Monday's episode of Tamron Hall, Burke clarified her comments, sharing more insight about her partnership with Hough and the dynamic between DWTS partners.
"What I was talking about is the chemistry between pro and celebrity," she told Hall. "When you're on a show like that, you're dancing, you're breathing, you're in each other's arms. You're learning the dance, the rhythm, the struggle, the challenge, the triumph, the fear that you share when you step out onto that floor. It's an extremely intimate experience. Chemistry for sure."
"He's adorable. He's really like my little brother, saying I would have had an affair… I don't know, maybe I was just chatting," Burke added. "We didn't -- let me just set the record straight -- and I was in a faithful marriage. But it's like that dance where you're just, you're so close, and you're so connected, and that intimacy, you can't fake that."
The fitness personality described the experience on the show as "more than most people go through in a marriage."
"You're sharing. You're fighting. You're competing, you're learning, you're failing at times," Burke continued. "You're trying to win, you're communicating, you're not communicating. You're fighting. You're laughing. You're crying. You're scared out of your mind. So it's all of these human emotions."
"To me, it was extremely sensual. Sensual, not sexual," she said, adding that it's also "romantic."
Earlier this month, Burke appeared on former DWTS pro Cheryl Burke's Sex, Lies, and Spray Tans podcast, and opened up about her long association with the show, which began when she and Hough won Season 7 in 2008, and ended when she was fired as a cohost in 2013.
The actress recalled how she and Hough had a rough start on the show, with things so rocky producers actually arranging couples therapy with a life coach for them. That actually turned out to do the trick, though perhaps a little too well.
Burke said her emotional connection with Hough strengthened perhaps even more than she anticipated. "Had I not been married, I would have actually hoped we would have had a love affair," she admitted. She was married to David Charvet at that time. (They divorced in 2020.)
"You are intertwined with someone's body when you're a dancer," she added. "There is no way that I have ever been so connected, besides with a lover or a husband, than I was with Derek."
As Burke's remarks sparked headlines, the author jokingly admitted to Hall in their upcoming interview that she gave her fancé Scott Rigsby a heads up in case he read her comments online.
"He's so cool, and we have such strong boundaries. And I have those in my other marriage, which is why I feel so free to be honest," she said when asked how Rigsby reacted to her remarks about Hough. "It wasn't that I wanted to or we could have or we should have. It was the reality and an adult conversation of that beautiful chemistry that happens, and that's why some people fall in love. But with Scott, I had to say, 'Sorry, baby, you're probably gonna read about this a lot tomorrow.' And Derek's happily married [to Hayley Erbert]."
Burke went on to open up more about the dynamic between partners on Dancing with the Stars.
"I think when you're on the dance floor, the audience reads that, like you can't fake that. You're either gelling, and you're connected, and it's fun to watch, and you're telling a love story, with your bodies out there in a competition show," she said. "That's what people respond to. And people do fall in love on that show. People have gotten married on that show."
Ultimately, when asked if she "regret[s]" her "love affair" comments, Burke said, "I don't regret saying it because I'm comfortable communicating and I'm a grown-up and I'm in a monogamous, faithful relationship."