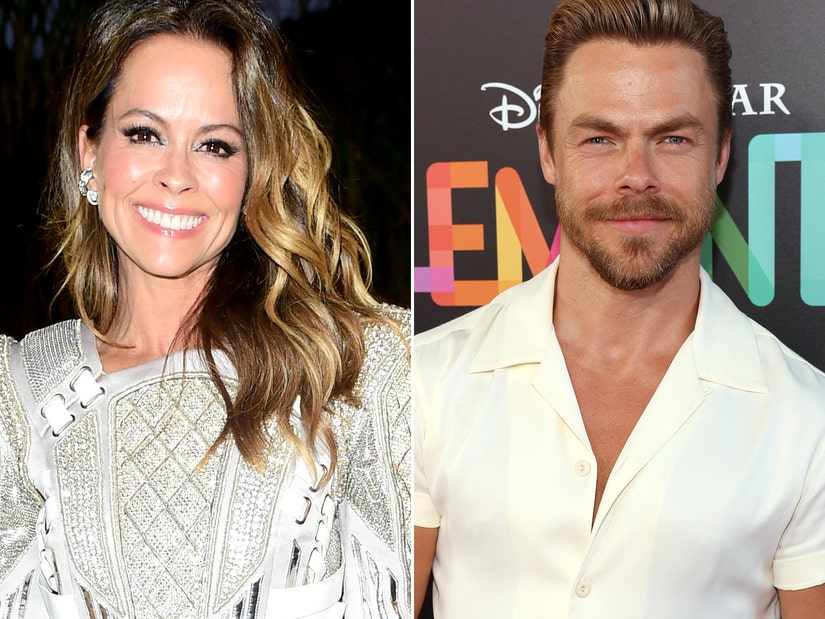 Getty
Brooke Burke, who won the show in 2008 with partner Derek Hough and later came back as a co-host, also opened up about feeling disrespected by the series when she wasn't asked back.
It happens more often than people might think, couples sparking romans during their intimate time together on Dancing with the Stars. Well, it didn't happen for Brooke Burke and Derek Hough, but that's not to say she wasn't fantasizing about it a little bit.
Speaking with former DWTS pro Cheryl Burke on her Sex, Lies, and Spray Tans podcast, Brooke opened up about her long association with the show. It began with her and Derek winning the Mirrorball trophy in 2008 and ended when she was fired as a co-host in 2013.
With all the changes that have been happening with Dancing with the Stars over the past few seasons, Cheryl asked Brooke if she'd ever consider coming back as a co-host, were she asked.
"That's a really hard question, I've asked myself this several times," Brooke said, but Cheryl shut that down telling her it's as simple as a "yes" or a "no."
"Really? Then no, if it's only yes or no," Brooke replied. "The no is because of the exit, the no is because of style, the no is because of integrity and respect."
Brooke went on to explain that she took serious issue with the fact she was never given a reason for getting the boot after eight seasons with the show. She was in the middle of building a house when the show pulled the floor out from under her.
"I didn't feel like I was met with the same respect that I gave the show, so that's what was frustrating," she told Cheryl.
Former host Tom Bergeron was also booted by the show, with the longtime man at the helm of the franchise saying he was let go because he didn't see eye-to-eye with producers anymore. He was replaced by Tyra Banks, who came on as sole host and a producer.
After two seasons flying solo to terrible reviews and a continued decline in ratings, former winner Alfonso Ribeiro was brought on as co-host. The show shifted to Disney+ for Season 31 before returning to ABC this season ... without Tyra. Alfonso stepped into the main hosting role, now flanked by Julianne Hough.
Julianne's brother Derek is one of the show's three judges. Despite Cheryl lobbying hard to replace Len Goodman as a judge following her retirement as a professional dancer after last season, the show opted instead to stay with three judges. Derek is joined by Bruno Tonioli and Carrie Ann Inaba, who've both been with the show since the beginning.
Had the fates aligned, and she been inclined, Brooke could have been reunited with her former dance partner had she returned to the show as a co-host. Despite a rocky start as partners, the two wound up really coming together on their way to their Season 7 win.
Brooke admitted that she and Derek had a rough start on the show, with things so rocky producers actually arranging couples therapy with a life coach for them. That actually turned out to do the trick, though perhaps a little too well.
On the positive side, Brooke said with the therapy, "something magical happened; we found faith in each other, at least I did, and we decided to win." She said the coach they worked with told them they "have to meet each other with honesty," which is a lesson she carries to this day.
On the other side, though, her emotional connection with Derek strengthened perhaps even more than she anticipated. "Had I not been married, I would have actually hoped we would have had a love affair," Brooke admitted. She was married to David Charvet at that time (they've since divorced in 2020).
"You are intertwined with someone's body when you're a dancer," she continued. "There is no way that I have ever been so connected, besides with a lover or a husband, than I was with Derek."
With years of hindsight, Brooke fully understands how easily it can happen. "So for three months, you are in someone's arms. Why do you think people fall in love?"
DWTS has a long history of professional dancers and their celebrity partners sparking up a romance. Just last year, Britt Stewart and CODA star Daniel Durant turned their dance partnership romantic, and they're still going strong.
"It can be more intimate than making love in a bedroom -- you're making love on a dance floor, you feel more connected," Brooke said. "If you have energy, you're doing this dance and you're in the rhythm, and then there's trust, then you're sharing fear, you're doing something you've never done."
All of that said, Brooke says that her time on the show with Derek did not have a negative impact on her marriage. In fact, it was quite the opposite, with her saying it was "really great on my marriage."
"I was exhausted at night but David really knew how to show up," she told Cheryl. "My family really took over to pick up the slack in raising each other. David was really supportive and he is also a bit of a performer so he understood the pressure."
You can check out their whole conversation embedded below.