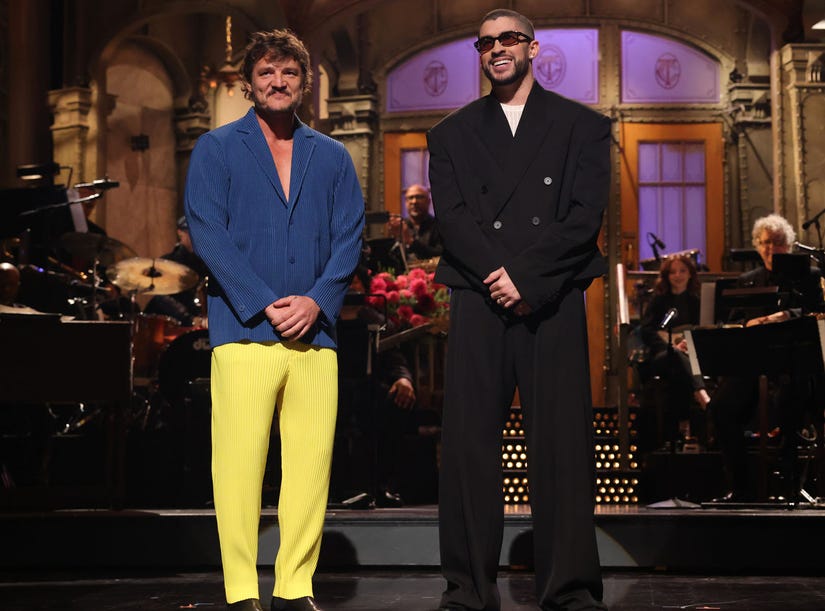 Getty
Bad Bunny's 'Saturday Night Live' hosting debut was a star-studded affair, with Lady Gaga and Mick Jagger also making cameos throughout the episode.
The "Where She Goes" rapper, who was serving double duty Saturday night as host and musical guest, had some celebrity guests by his side for the big gig, including the internet's favorite daddy -- Pedro Pascal.
Bad Bunny, whose real name is Benito Martínez Ocasio, kicked things off by addressing questions about him hosting, as English is not his first language.
"People are wondering if I can host this show because English is not my first language," Benito shared. "I don't know if they know this, but I do whatever I want!"
"Yeah, so I can host this show in English. I can order McDonald's in English. I can have sex in English," he continued. "But I prefer sex in Spanish because it's just better. I just prefer Spanish, you know?"
With that, Bad Bunny decided to just do whatever he wanted and began delivering his monologue in Spanish -- only for the show to subtitle his monologue as "Speaking in Non-English" -- a jab at the subtitles used to accompany his performance at the Grammys back in February.
"Whoa, whoa, whoa. Not again, please. Not again. Excuse me. Can we change that? Can we do it right?" Benito asked, as the subtitle changed to "Speaking a sexier language."
"You know what, I don't trust this thing. So I want to bring up my friend to help, Pedro," he said, before welcoming Pascal onto the stage to help him translate.
He also asked Pascal, who hosted SNL last season, for advice on his monologue.
"When you're doing a monologue, I find it's always charming when you make a self-deprecating joke," Pascal said, before explaining the concept to a slightly perplexed Benito. "OK, it's like you make a joke about a part of your body or your face that's unflattering."
"But I don't have any," Benito replied.
"Totally. Me either," Pascal shot back. "You know what else works? Audiences love it when you show an embarrassing photo of yourself."
The task seemed easy enough for Bad Bunny who proceeded to show the audience a photo of himself entirely naked, covered only by a strategically placed towel.
"I'm sorry. How is that embarrassing?" Pascal asked.
"Because I forgot to put on clothes!" Bad Bunny replied with a laugh.
Pascal wasn't the only famous face to join Benito Saturday night, Mick Jagger also made a cameo in one of the night's early sketches, which saw Bad Bunny and cast member Marcello Hernández playing telenovela actors who's scene kept getting derailed by an actress who can't speak Spanish.
Jagger, who appeared as a star on the telenovela, put his Spanish-speaking chops on display as another one of the actors equally confused about why the series cast an actress who can't speak the language of the show.
The cameo was a scene-stealing moment for Jagger, earning an eruption of applause from the audience and marking the Rolling Stones rocker's first time on SNL in 11 years, with Jagger last hosting the sketch comedy show back in Season 37.
Lady Gaga made an appearance during Saturday night's show as well, introducing Bad Bunny ahead of his first performance as the night's musical guest.
While Gaga's appearance was brief -- albeit surprising -- both Jagger and Pascal appeared in additional sketches throughout the night, bringing the laughs and bringing back some of the fan-favorite characters they've played during their prior appearances on the show.
"Saturday Night Live" returns next week with host comedian Nate Bargatze and musical guest the Foo Fighters.