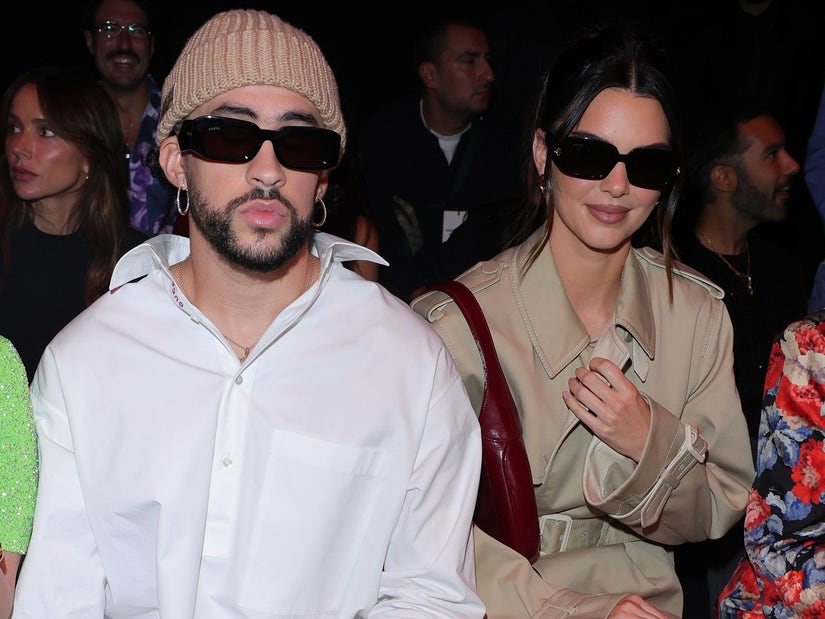 Getty
The model and Latin superstar marked the launch of the campaign by sharing posts on their Instagram Stories.
While Kendall Jenner and Bad Bunny have yet to officially confirm their romance, they have already starred in their first fashion campaign as a couple.
On Saturday, Gucci launched its latest campaign for the luxury brand's Gucci Valigeria travel line, which features the hot couple modeling Gucci Savoy luggage in an airport.
In one of the ads, the model and Latin superstar's romance appeared to shine through. As shown in the photo, Kendall and Bad Bunny were grinning from ear to ear while posing together for the shot.
Waiting for your permission to load the Instagram Media.
"The House's latest campaign embraces the spirit of 'Gucci Ancora,' as a celebration of the love that lies at the center of Gucci's community," the fashion house said in a statement, per E! News. "Shot in an airport, the meeting place where journeys begin, the campaign explores the intimacy of traveling together through the creative lens of Anthony Seklaoui. Stills capture the fleeting spirit of Kendall Jenner and Bad Bunny's airport stroll, redefining the Jet Set glamour of the 1990s."
Both Kendall, 27, and Bad Bunny, 29, whose real name is Benito Antonio Martínez Ocasio, marked the launch of the campaign by resharing multiple of Gucci's Instagram posts on their Stories. However, neither of them tagged each other.
See their Gucci ads in the Instagram posts, below!
Waiting for your permission to load the Instagram Media.
Waiting for your permission to load the Instagram Media.
Waiting for your permission to load the Instagram Media.
Waiting for your permission to load the Instagram Media.
Earlier this month, the pair were spotted sitting together in the front row at the Gucci Ancora as part of Milan Fashion Week.
Kendall and Bad Bunny were first romantically linked back in February. The former then supported the latter at Coachella before they had some public date nights at a Met Gala after-party and Lakers game in May. The two went on to make more appearances throughout the summer, and this month, including a date night at Carbone in New York City.
The pair has yet to comment publicly on the romance rumors. However, both Kendall and Bad Bunny have subtly addressed their relationship in interviews.
In the profile, the publication first brought up his personal life more generally, with the musician responding, "I know something is going to come out. I know [people are] going to say something. People know everything about me, so what's left for me to protect? My private life, my personal life."
When asked whether he would like to "clear up anything about his relationship status and the tabloid rumors with Jenner" specifically following rumors around the time of his Coachella performance, Bad Bunny added, "That's the only answer. In the end, the only thing I have is my privacy."
"I keep living," he continued after the public's interest in his love life was brought up. "Fans are always going to want to know more, but I don't focus on that. I'm always going to keep living my way."
"I try [to] find the balance of keeping things private and keeping things sacred, [and] also not letting the unfortunate frustration and stress of everyone trying to get in on it stop me from enjoying my side," she added. "Does that make sense? I'll go out of my way to do things as privately as possible because I just think that that's the healthier way of dealing with relationships anyway."
"They don't know how you feel, they don't know how you live, they don't know anything, and I really don't want them to know. I'm not really interested in clarifying anything because I have no commitment to clarify anything to anyone," Martínez told the magazine.
He continued, "There are people who say that artists have to put up with it. I don't have to accept anything and everything because I wanted to be an artist. At the end of the day, you listen to me because you want to. I don't force you to."