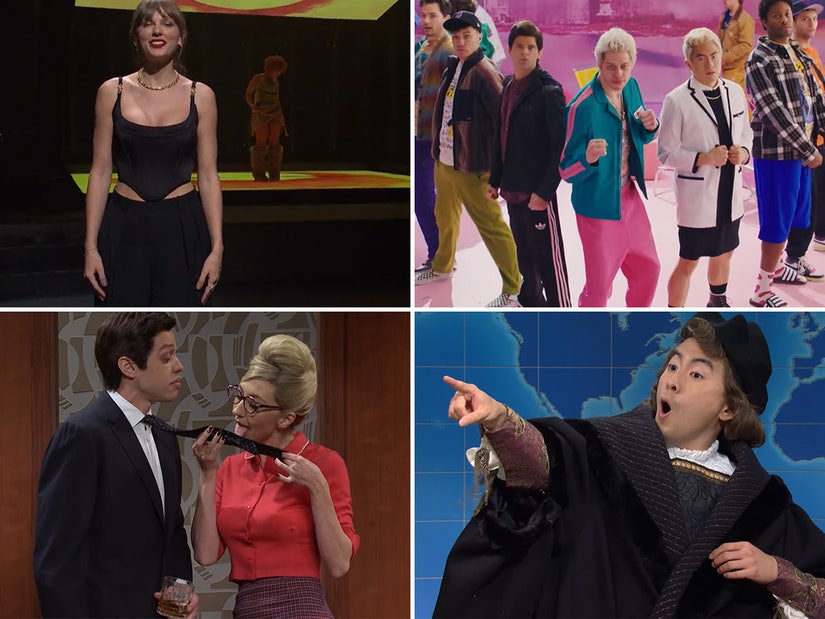 NBC
After getting punted by the strike five months ago, former cast member Pete Davidson returns to Saturday Night Live with Ice Spice for a very uneven show that still manages to have some huge laughs -- not to mention surprise cameos by Taylor Swift, Travis Kelce, and John Muianey.
In a serious cold open, Pete addressed the ongoing humanitarian crisis and violence in the Middle East, referencing the tragedy in his own past that connects him as someone who knows what it's like to suffer from terrorism.
Like Mayor Rudolph Giuliani did after the 9/11 attacks, Pete's role here was transition from the real horrors of the world to the healing power of comedy, which he promised to "try" to bring tonight. His show also brought in several unexpected special guests, including John Mulaney.
We're still not sure how the show also managed to nab the hottest couple in the world right now, with surprise appearances (separately) from both Travis and Taylor! You already know what's going to dominate the media coverage.
We have to say, though, that may prove a blessing in disguise for the show. After a five-month hiatus due to the Hollywood writers strike, the show returned in extremely mixed shape. The whole cast came back from the spring, which helped it remain comfortable and familiar after the long break. However, this was a very hit-or-miss show, with arguably more misses.
SNL also welcomed one new cast member in Chloe Troast, though as is tradition with newcomers, she was given very little to do. At least she got some lines in her very first show, and she delivered them better than Pete was delivering lines in his eighth season. He's a little better tonight -- but only a little.
This isn't going to go down as a classic in the annals of SNL history, but there is at least one sketch that might do just that. "Weekend Update" was on fire and there was some great comedy. Backwards to what they probably intended. The episode gets better as it goes along, with its best -- and most edgy -- material backloaded.
As usual, we're ranking all the sketches from worst to first, including the Monologue, Cold Open, "Weekend Update" and any sketches that were cut for time but made their way online. We'll skip the musical guests, because they're not usually funny -- unless Ashlee Simpson shows up. We wrap up with a look at the cast-member who had the strongest week.
Cold Open: Terrorist Attacks [not rankable]
After five months away, SNL took a moment before the funny -- much as they did in the first episode after the 9/11 attacks -- for a sobering commentary about the horrors and atrocity happening in the world outside of Studio 8H. It was just Pete Dadivson on a darkened stage talking soberly. He acknowledged that some might think it odd he's the one to deliver this serious commentary, but he also reminded the audience, "When I was seven years old, my dad was killed in a terrorist attack." He said that after seeing photos of children suffering on all sides of the current conflict in the Middle East, "It took me back to a really horrible place." His way out of the horrors was comedy, and that's what he promised to "try" to do tonight. It was simple, straightforward -- yes, a little unexpected -- and a genuinely impactful moment.
This was great use of a cameo, but the audience was perhaps a little too hyped. For our first actual sketch of the season, you couldn't have picked a bigger story than the NFL's obsession with Taylor Swift and Travis Kelce, so it was appropriate to see the NFL commentators shifting immediately from talking about the big game to the big romance (or is it?). Most of the deliveries were a little flat, but we'll give a shout-out to Mikey Day (as Howie Long) for really getting into character as a Swiftie. Pete was funny enough as the sideline reporter, too -- the audience prematurely laughed at his outfit before we got to even see it -- but it was the final cameo by Travis himself that really cemented the conversation. And before Swifties go crazy looking for her, she was pretty prominently present, too, as she introduced Ice Spice's second performance.
Wired Autocomplete Interview
A one-note sketch with fake celebrities reading off Google autofill questions that Wired likes to do from time to time, but this one was all about Pete's character having diarrhea on a Delta flight that had to be turned around. That's it. That's the joke. Pete gave a nice characterization as a slightly nebbish dweeb incensed that this was all of his questions, but the overall pacing of the sketch was weird, too. Why did Ego Nwodim's character only get one question? We get they were trying to keep realistic focus on the main narrative, but it pulled us out of the fiction a bit. This would have been funnier if they'd have been parodies of actual celebs rather than these nondescript stereotypes that never felt fully realized, even in the background.
Pete came out at an 11 on the 10-scale right from the jump. It felt a bit like he was overcompensating for his earlier more serious segment and it was a little jarring because the audience did not appear to be warmed up to this level of intensity in comedy. The Game of Thrones bits about watching all that incest with his sister didn't quite work, but when he shifted to Staten Island and his "origin story," it was much better. He seemed to relax a bit more into his storytelling and the audience was more connected to his message, and the unique cadence and beats of his standup style.
Like some kind of mad world Mad Men, Heidi Gardner was the clear star of this sketch as a vintage secretary who was ready to "anticipate" instead of "react" to her boss' every need. Pete, however, was not offering the same level of character work as either Heidi or Bowen Yang as his associate. The interstitial scene with Kenan Thompson and James Austin Johnson seemed completely unnecessary to the escalating absurdity, other than to show that her seemingly competent secretary was actually winging it. The ending pratfall, though, redeemed a lot of the preceding nonsense. Ultimately, while we loved Heidi in this role and her overall commitment to the sketch, nothing around her seemed to rise to her level, leaving the whole piece feeling disjointed.
The ending just about ruined the rest of the sketch, which was actually mildly enjoyable thanks to the work of Bowen Yang, carrying the lion's share of … well, pretty much everything. Michael Longfellow botched one of his opening lines, and we once again really enjoyed Heidi Gardner's full commitment to a character -- in this case an apparent android of some sort -- but any laughs we got came from Bowen as Marley, the guy who used to work here, crashing the bridge of a starship engaging with an enemy. It was all so bizarre, but very humanized at the same time. It's just a shame that the nonsensical ending appeared tagged on, making this another incident of an SNL sketch they didn't know how to write their way out of.
A surprisingly sweet sketch, with Pete delivering his strongest performance of the night after he hammed it up a bit with his opening lines. Andrew Dismukes was perfectly cast as the guy buried in the sand who was completely selfish in the face of Pete losing his grandmother's beet farm to a tornado. Everyone else was in a supporting role, leaving Pete and Andrew to really connect through Andrew really, really wanting to get a picture of himself buried in the sand. There was the funny visual of him trying to be sincere with just his head sticking out, and then him wanting to make sure it was still a lot about him in the aftermath of the devastating news. This is how an SNL sketch should hold together, and yet it was buried toward the end.
Riffing on Barbie's Ken, Pete took self-deprecation to new levels by tearing into every story, truth and stereotype about himself from his dating life, rehab, bipolar disorder, "butthole eyes," and how he generates headlines for everything but his comedy. It's a well-written song filled with lots of great humor, and a bonus laugh from Devon Walker after discovering he's "Black Pete." We also loved the quick Kanye non-shoutout. Considering Pete spent his entire tenure on this show making fun of himself and his public persona, this felt completely appropriate, as if it was a great way to update fans with the latest, while reminding everyone he's still out here making Super Bowl commercials and headlines, even if his latest show kind of bombed.
We didn't need the lazy comedy corporate tag at the end of this silly sketch about feet and figures (or fingers). Impressively, this 10-to-1 sketch was Pete's first real break of the night, and it came with a line that could have easily broken stronger performers than him. It did break Kenan after he broke. Andrew Dismukes, though, stayed fully in character throughout. This was the kind of role he was made for, a confidently nonsensical idiot saying really stupid things with a whole lot of gravitas. We had no idea where it was going from moment to moment, which was half the fun. The other half came from Kenan's reactions to some of the stupid things said throughout. All in all, save that ending, this was one of the most delightfully daft sketches of the whole night. They definitely saved their stronger material for the end, or it could be the cast was warming up after five months off the air.
Please Don't Destroy: Original Princes of Comedy
The first actual laughs of the night came in this clip of the PDD boys reminiscing with Pete about their respective teen standup careers, only it turns out they were "The Original Princes of Comedy" as pre-teens at the Apollo. The casting for their three youthful counterparts was spot-on and they delivered genuinely funny kid-raunchy jokes. Add to that a disastrous set for John Mulaney in the same venue and perfect pacing throughout and it felt like the first sketch that was fully ready for air. With the rest of the episode feeling so unpolished to this point, we found ourselves wondering if it wasn't filmed (or at least written) in May when Pete was originally supposed to host pre-strike.
We can see why this fake ad was bumped to the end of the show, but man it was funny even as it was pretty damned edgy. All of the women in the cast crashed Dr. Pete's gynecological exam one by one to extoll the virtues of this product to glam up down there, whether it's makeup, plumping or even a new hairstyle. Yes, it's as weird as it sounds, but the dramatic commercial line deliveries, led by Sarah Sherman right in her element as a performer here, really helped to sell the earnest silliness of the whole premise. The only thing that made it better was Kenan's punctuation at the end as the janitor with a quick question. His abrupt arrival was perfectly creepy and charming at the same time.
It took a while for the boys to get a groan from the audience, but leave it to Michael Che to dig deep enough to find one while talking about Jada Pinkett Smith and Will Smith have been separated since 2016 -- and tying it back to the infamous slap. Granted, most modern audiences are going to be more in touch with that story than their previous bits about political figures like George Santos, Bob Menendez and Jim Jordan. The jokes were on point, too, and we appreciated Colin Jost bringing up the ridiculous banned book story about the children's book challenged because the author's last name was literally "Gay," even though he took it to a very, very dark place.
Nobody embraces unexpected portrayals better than Bowen Yang, who was absolutely brilliant as Christopher Columbus. He tackled all the problematic elements of the man who "discovered" America. As it turns out, he discovered all kinds of things, including "Marco" Che himself, and even Ice Spice. The only thing Che was willing to concede, though, was that he did perhaps discover gentrification. It was a great way to highlight all the reasons Columbus is a problematic hero of America without letting him off the hook on any of them. From his over-the-top Italian accent to his overall characterization, Yang had us giggling the whole way through.
After Colin got off a solid joke at Russell Brand's expense, Michael Che set up one about California's new "ebony alerts" for Black children, setting it up as if its a new guest segment. "Here on more of that is Colin Jost," he said as the camera cut to Jost, clearly unprepared and laughing at the obvious ridiculousness of this choice. "Why?" he lamented. "It's the first show." Che then urged him to read the card, confirming this was a throwback to when they'd end seasons writing jokes for one another to read live on the air. The joke itself was both awful and hilarious, knowing the whole setup and situation. We still wish they'd do this every week. From here, the guys were on fire with one hit after the next.
Kenan Thompson came out as Deion Sanders following Colorado's shocking come-from-behind loss to Stanford after leading 29-0 at the half. It was a shocking headline-grabbing game and Kenan was so good with the blowhard confident cluelessness in the wake of his team's big moment in the spotlight. His little jabs at Colin over his previous Black jokes (when Che set him up) and his overall persona as a Harvard white boy were even funnier than his Sanders bits. We about fell out of our chairs when he cut to a shot of Sanders' actual musical performance on SNL. We also appreciated the shout-out to Sinead O'Connor ("brave lady") as a greater musical guest than Sanders considering what she had to endure for decades after her controversial appearance calling out the Catholic Church.
This was definitely a rough return after that long hiatus. Pete Davidson was always going to be an iffy lead for this show as he was always a somewhat inconsistent and iffy performer over all his years as a cast member. He basically did about as well here as he'd always done then, so we shouldn't have expected more.
This week marked the debut of the season's only newcomer, Chloe Troast. As we might have expected, she was given very, very little to do, but managed to appear twice and delivered her lines with more confidence than most of last season's newcomers (save Michael Longfellow). We've yet to see any hint of her comedic personality, but we'll be keeping an eye out.
It was a pretty balanced show for the cast, but it was also apparent who really came to put their stamp on the episode. Andrew Dismukes, Heidi Gardner, and Bowen Yang seemed to give the most fully committed performances, followed by Mikey Day and Kenan Thompson.
As far as really making us laugh, it came down to Heidi and Bowen. But we have to give the edge to Bowen for bringing the laughs in two fully-embodied characters (Christopher Columbus and Marley), while Heidi only got the chance to shine once as the Secretary. She was also great opposite Bowen's Marley, but her part was small and she played it straight.
These two have been such strong performers throughout their tenure on the show and have really risen as sketch leaders after the mass veteran exodus a couple of seasons ago. We can tell already this is going to be a real breakout year for both of them (if Bowen can be argued to have not broken out fully already).
"Saturday Night Live" returns next week with host and musical guest Bad Bunny.