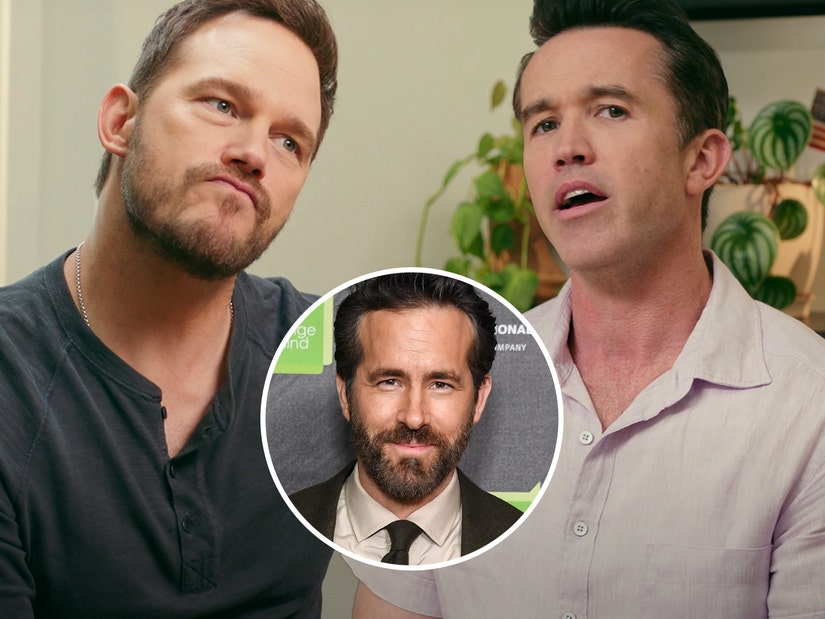 YouTube / Getty
Wrexham AFC Co-Chairman, Rob McElhenney, enlists the help of 'Parks and Rec' alum, Chris Pratt, to announce plans for Ryan Reynolds Memorial Park, set to open in Wrexham, Wales, in honor of Reynolds' 47th birthday.
In a video shared to YouTube Monday, McElhenney enlists the help of unofficial parks specialist and Parks and Rec alum, Pratt, to announce plans for a new park, created in Reynolds' honor -- the Ryan Rodney Reynolds Memorial Park.
While Pratt seems eager to get involved, he becomes less so once he realizes he was roped into the plans because of his affiliation to the cult-classic comedy.
"Oh," Pratt says excitedly. "Oh, because I was on Parks...," he continues, before the show's theme song begins, setting the stage for McElhenney to detail some of the park's specifics.
The project, aptly dubbed Parks and Wrex, will see the park take over the site of the old Wrexham Hippodrome in Wrexham, Wales. Per McElhenney, who serves as co-chairman with Reynolds on the Welsh football team, Wrexham, AFC, the park will have "open green spaces, pop-up restaurants, movie screenings" and "actual green lanterns," a nod to Reynolds' ill-fated role as the DC superhero.
The park will also include "benches for old guys to swing on" and a statue that "may or may not look like Ryan."
Per a press release sent out regarding the park, McElhenney will be working "in close partnership with Wrexham County Borough Council" to create a park that will be "a reflection of the spirit of Wrexham and Wales."
The release continues, "This public space is located in the heart of Wrexham and will be a place for the community to gather, grow, and play."
Pratt appears more enthused after hearing plans for the park, and even offers to take over Reynolds and McElhenney's ongoing birthday prank tradition and use his star power to make it "really go big."
Disappointed that he's unable to meet with Ryan, Pratt instead asks if McElhenney's It's Always Sunny in Philadelphia co-star, Danny DeVito, is in the building, prompting the pair to break character and explode in a fit of laughter.
Reynolds responded to the grand gesture on Instagram, thanking his friend and business partner.
Parks and Wrex!!! @RobMcElhenney, I don't know how you stuffed @PrattPrattPratt into your windowless panel-van and forced him into our little birthday charade but I'm grateful to you for eternity," Reynolds wrote before hinting that he has plans for McElhenney's birthday in April. "You've completely and totally outdone yourself. April is right around the corner.
The park is the latest in Reynolds and McElhenney's outlandish birthday celebrations, which in the past have included the dedication of urinals, blimps, and even a bespoke birthday song.
The park, however, is not a prank at all and will become a reality in the near future. Per the Parks and Wrex website, the date that Ryan Rodney Reynolds Memorial Park will break ground is currently TBD as well the date for the park's opening.