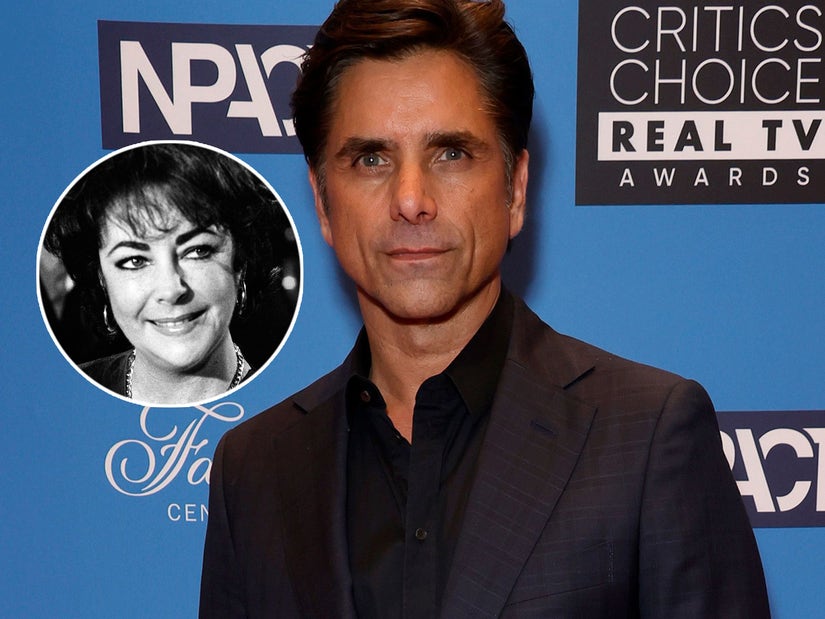 Getty
In his new memoir, Full House alum John Stamos also opens up about how he nearly tried to date co-star Lori Loughlin before ultimately meeting his then-future wife Rebecca Romijn.
John Stamos was trying to take his work as a young soap opera star seriously one day when a disturbance on set caused him to lash out. "For the first time, I really lose it on set and yell out, 'Will someone get that old woman out of my eyeline!'" he shared.
The Full House star recalled the moment in his new memoir If You Would Have Told Me, out today. It harkens back to his big break on General Hospital as Blackie Parrish, a role which launched his career and scored him a Daytime Emmy nomination.
As Stamos detailed in his book, per Hollywood Life, the infamous encounter with a screen legend happened while he was trying to film a scene and kept getting distracted by someone "putzing around in the distance."
He said that while he tried to ignore what looked like someone trying to set up a director's chair, he heard a popping sound and he lost it. Only he didn't know exactly who it was right away that he lost it about.
He was quickly told that it was the one and only Elizabeth Taylor, who had come to the set to visit her friend Anthony Geary, who portrayed fan-favorite Luke Spencer. She'd previously appeared on the sudser herself as Helena Cassadine.
"There she is, in all her lavender-eyed glory, poised in a director's chair, sipping champagne," Stamos recalled. It was, understandably, an absolutely mortifying moment for the young actor enjoying his first major role in the industry ... and having just shouted at a living legend.
"I can't believe I lost my s--t in front of Elizabeth Taylor," wrote Stamos. "My dad is going to kill me. I mute my tantrum, apologize profusely, make some excuse about calling her old, then slither back to the set and continue the scene. This time, I cry my eyes out."
Stamos stayed with General Hospital for two years before landing his first movie role in 1986. Just a year later, he would nab the role for which he's most well known, as Jesse Katsopolis on ABC's classic sitcom Full House. He would later return to the role for sequel series Fuller House.
While talking about the release of his new memoir, Stamos admitted that at one time he'd considered making his on-screen Full House romance with Lori Loughlin real. With a longstanding friendship through their time together on the show, he admitted to InStyle a feeling he was on the "precipice of [it] turning romantic."
it was around this same time that he met Rebecca Romijn at the 1994 Victoria's Secret Fashion Show, and suddenly he felt he needed to make a decision. Ultimately, he fell for Romijn, with the couple being wed in 1998 (they would divorce six years later).
As for Loughlin, she and Stamos have stayed close friends through the years, with him staunchly supporting her amid the recent college admissions scandal